Dallas Mavericks vanquish villains Miami Heat to win NBA title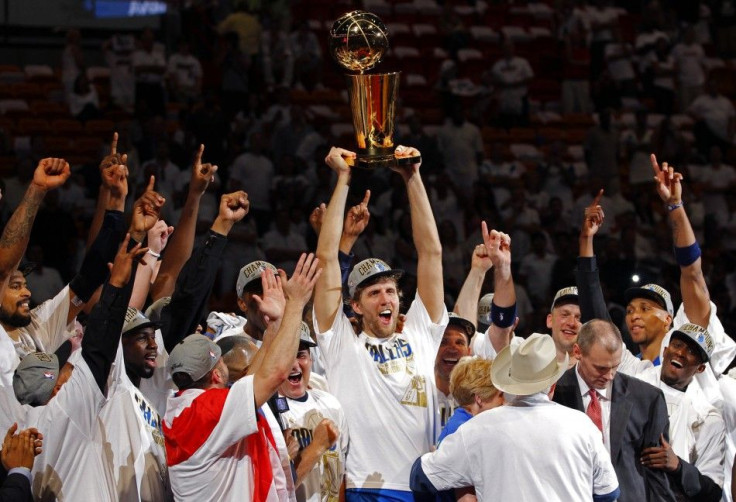 The Dallas Mavericks beat the Miami Heat 105-95 in Game 6 of the NBA Finals to win the NBA title for the first time in team history.
Dallas beat a Miami team with star players like Lebron James, Dwyane Wade, and Chris Bosh who were dubbed the villains of the NBA for James' infamous decision last summer and childish antics throughout the playoffs, including mocking Mavericks' star Nowitzki's illness in Game 4.
The game's featured wild swings in the lead as the Heat jumped out to a 20-11 lead in the first quarter only to see a long run by the Mavericks to take a 32-27 halftime lead. The Heat took the lead back with a 14 point run in the second quarter, but the Mavericks came back and played good defense down the stretch to win the game.
The Heat were only 20 of 33 from the free-point line that may have been the difference in the game.
Miami forward Lebron James has been on and off making his first 4 shots, but only going 5 for his next 11 and missing 3 free throws. Dwayne Wade has only 17 points in the game, while Chris Bosh had a solid game with 19 points on 7 of 9 shooting and 8 rebounds.
Dallas' Dirk Nowitzki had a nightmare first half going only 1 for 12 from the field. However, Nowitzki bounced back to score 21 points for the game with 11 rebounds.
Dallas won the game primarily behind the play of Jason Terry, who scored 27 points off the bench. J.J. Barea and Shawn Marion added 15 and 12 points each.
A skirmish occurred in the second quarter with Stevenson and Miami's Mario Chalmers, and Udonis Haslem all receiving technical fouls.
The Dallas Mavericks avenged their 2006 finals meltdown to the same Miami Heat led by Dwyane Wade and Shaquille O'Neal. The Mavericks were able to do in six games on Miami's home court.
© Copyright IBTimes 2023. All rights reserved.