Dana White Slams Rumor About Floyd Mayweather vs. Conor McGregor Deal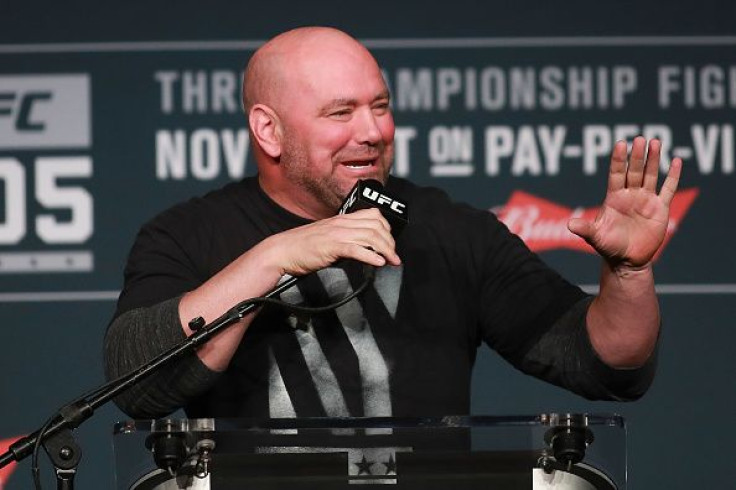 UFC head honcho Dana White called out the Los Angeles Times for erroneously reporting he was not involved in the negotiations for a fight between "retired" boxing great Floyd Mayweather and UFC lightweight champion Conor McGregor. It still hasn't been confirmed that the athletes will fight each other, but if they do, it's going to be White who seals the deal.
White confronted the rumor when he was approached by TMZ Friday. "The Los Angeles Times said you're not running the Mayweather deal anymore, what do you have to say about that?" the publication asked.
White then began to explain. "Let me tell you what… We live in a world right now where you can't believe anything you read," he said.
READ: Floyd Mayweather Says He's The Best In Boxing Because Of His Dad
He then slammed the rumor, saying, "Who else would be running the Mayweather, McGregor deal than me?"
When we asked if WME, the Beverly Hills agency ran by Ari Emanuel, was responsible for getting Mayweather and McGregor on board, White responded, "What does WME know about making big fights?"
He assured TMZ that he was at the help of the negotiations. "Trust me, I'm running the Mayweather, McGregor deal," he said. "I'm the only one in on it."
As far as when people can expect to see the boxing champion take on the MMA great, he said, "When I do, you'll know."
TMZ and White were referencing the LA Times article where reporter Lance Pugmire claimed "discussions to make the fight are underway" after talking to an "official."
"At this point, the official said, UFC President Dana White is not involved in the talks, as the parties are pushing to make a Mayweather-McGregor pay-per-view bout by 'early fall,'" the LA Times claimed, much to White's chagrin.
If the fight were to happen, Mayweather is favored by Las Vegas odds makers.
Last month, the 40-year-old said he wasn't 100-percent confident he could be McGregor, who is 12 years younger than him. Even though boxing is a different sport than mixed martial arts (MMA), Mayweather simply considers himself a "fighter at the end of the day."
READ: Floyd Mayweather Says How Conor McGregor Could Beat Him In Boxing
One of the big differences between MMA and boxing, aside from the fighting style, is the payout. "They say men lie, women lie but numbers don't lie. So all you gotta do is look up the numbers of boxing and look up the numbers of MMA. And you'll see who stands at the top," he told TMZ in the beginning of May.
"I've never seen an MMA fighter make $300 million in one night," Mayweather continued. "I haven't seen an MMA fighter make $100 million in a night."
Money aside, he still has respect for the sport and his possible opponent. "Conor McGregor is the 2nd biggest name in MMA," he said. "So, I'm not gonna sit right here and knock Conor McGregor. He's gone out there and done what he's had to do. It's obvious he's done something right thus far to get to the point where he's at."
Follow me on Twitter @mariamzzarella
© Copyright IBTimes 2023. All rights reserved.
FOLLOW MORE IBT NEWS ON THE BELOW CHANNELS