WATCH: Floyd Mayweather Says How Conor McGregor Could Beat Him In Boxing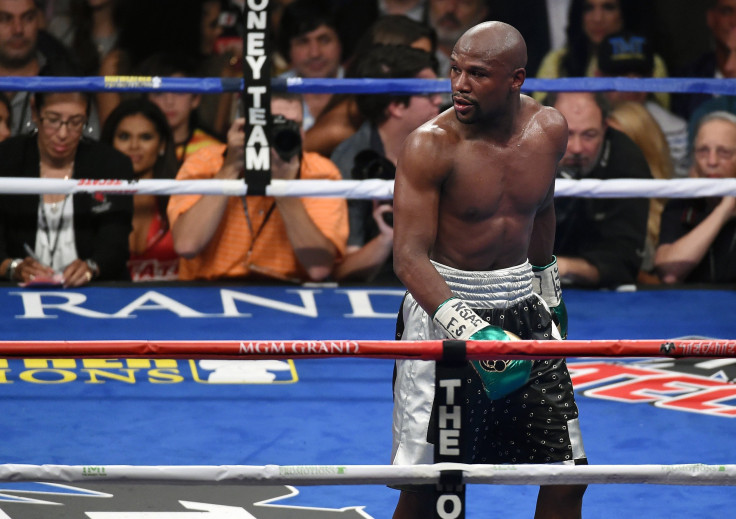 Boxing great Floyd Mayweather, Jr. isn't 100-percent confident he could beat UFC lightweight champion Conor McGregor, but that doesn't mean he is willing to shy away from a possible fight. Mayweather says he's retired, but the boxer made it seem like he would enter the boxing ring to battle the MMA star.
When asked if he would ever go into the Octagon, Mayweather told TMZ in Los Angeles Tuesday: "I'm just a fighter at the end of the day."
READ: How Floyd Mayweather Spends His Money: A Look At The Fighter's Life In Numbers
The 40-year-old has never been shy about his money, and he said one of the main differences between boxing and MMA is the payout: "They say men lie, women lie but numbers don't lie. So all you gotta do is look up the numbers of boxing and look up the numbers of MMA. And you'll see who stands at the top."
"I've never seen an MMA fighter make $300 million in one night," Mayweather continued. "I haven't seen an MMA fighter make $100 million in a night."
While he seemed to be dogging MMA in the beginning of his interview, Mayweather turned the interview around. "I respect MMA. That's the one thing I do. You can't disrespect MMA, you have to respect it. It's a contact sport. It's a brutal sport" he said. "I take my hat off to all those guys in MMA who go out there and compete."
He also has respect for McGregor. "Conor McGregor is the 2nd biggest name in MMA," he said. "So, I'm not gonna sit right here and knock Conor McGregor. He's gone out there and done what he's had to do. It's obvious he's done something right thus far to get to the point where he's at."
If they were going to fight, McGregor, 28, would have age on his side. "I've been off for a couple years and I'm 40 years old now. So, I'm a lot older and he's still in his 20s and I'm in my 40s now," he said. "So that could play a major key, we don't know. And he's a heavy hitter."
Mayweather threw another compliment McGregor's way, saying most of the knockouts the MMA fighter had was when he was standing up. "Every time he goes out there and defeats fighters, he's standing up. He's in a boxing position and he's beating fighters," he said. "Does he have a good chance of upsetting Floyd Mayweather? I can't say, but anything can happen in the sport of boxing."
When asked why he would even bother getting into the ring after such an illustrious career, Mayweather said the people want to see a Mayweather vs. McGregor battle and he wants to give them what they want. The money might also have something to do with it, but that's just our speculation.
Follow me on Twitter @mariamzzarella
© Copyright IBTimes 2023. All rights reserved.
FOLLOW MORE IBT NEWS ON THE BELOW CHANNELS