Daniel Cormier Reveals Extent Of Eye Injury From Loss To Stipe Miocic
KEY POINTS
Daniel Cormier suffered a torn cornea in his loss to Stipe Miocic in UFC 252
Cormier said he is retiring from the sport
Miocic was responsible for two of Cormier's only three career losses
Daniel Cormier revealed the extent of his injury following his trilogy fight against Stipe Miocic in UFC 252 on Sunday. In what supposed to be his swansong match, the heavyweight legend was reported to have suffered a torn cornea as the mega bout resulted in a unanimous decision defeat for the 41-year-old.
"Daniel Cormier suffered a torn cornea last night," Ariel Helwani of ESPN wrote. "No timetable yet for recovery. Doctors said he won't need surgery just yet but they have to monitor how it heals before knowing for sure. He was discharged from the hospital late Saturday night."
Cormier's left eye was accidentally poked by Miocic during the second round of their fight and appeared to have struggled with his vision since.
At post-fight, the UFC icon said that he completely lost his sight from the injured eye. He, however, refused to use it as an excuse for the loss.
"Look at my eye. I couldn't see the rest of the fight. I can't see anything out of my left eye. It's black. It is what it is. It doesn't matter," said Cormier. "I told Marc (referee) that he poked me, but he said it was a punch. But then after the fight, he said, 'Yeah, I saw it on the replay.' I just can't see out of my left eye. It doesn't matter, though. It is what it is."
Cormier said that his decision to call it quits had already been made prior to entering the octagon for the third time against Miocic. Although a win would have been the perfect ending to his storied career, "DC" appeared adamant with his decision to head for the exits.
"I'm not interested in fighting for anything but titles, and I don't imagine there's going to be a title in the future, so that will be it for me," he said. "I've had a long run, it's been great. I just fought my last fight for a heavyweight championship, and it was a pretty good fight."
With the loss, Cormier will enter retirement holding a professional MMA record of 22 wins in 26 fights, including 10 victories via a stoppage, one draw, and three defeats – two of which were served by Miocic.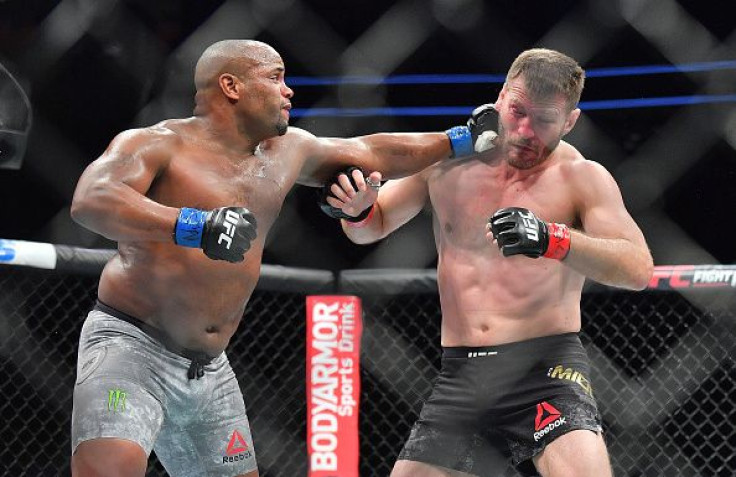 © Copyright IBTimes 2023. All rights reserved.