Danny Garcia vs. Lamont Peterson: Live Round By Round Coverage Of Premier Boxing Champions Series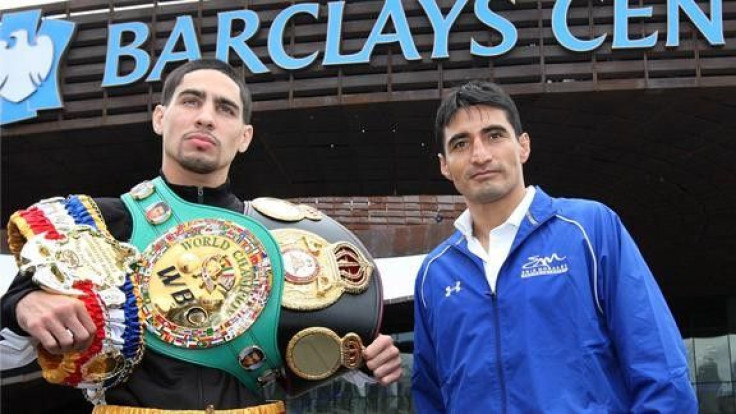 BROOKLYN - The Premier Boxing Champions main event on NBC showcases a a showdown between two elite pound-for-pound boxing stars, as Danny Garcia (29-0) takes on Lamont Peterson (33-2-1) on Saturday night at Barclays Center in a non-title bout between light welterweights at a catch weight of 143 pounds. Both boxers are seeking to gain a stronger position in arguably the most important division in boxing.
With the Floyd Mayweather - Manny Pacquiao fight just weeks away, a strong performance on national television would do wonders for the winner's marketability. Garcia has delivered against some of the top boxers in the division, having defeated Amir Khan, Lucas Matthysse and two wins over Erik Morales. The Philadelphia native with the vicious left hook is considered a rising star in the welterweight division, and could be in line for a major title fight.
Peterson has not fought in eight months, and only has two consecutive wins after losing on a technical knockout to Matthyse in May 2013. Peterson could be prime for a surprise victory, as the Washington D.C. star has a split decision victory over Khan on his resume, albeit a controversial one due to Peterson testing positive for a performance-enhancing drug, and had delivered a solid performance against Dierry Jean in Jan. 2014.
Harvey Dock is the referee.
In the earlier main event, Peter Quillin and Andy Lee engaged in a spirited 12 rounds that resulted in a draw. There were three knockdowns, with Quillin dropping Lee in the first round, and nearly again before the bell. Quillin knocked down Lee in the third round, but had stepped on Lee's foot. Lee would deliver a right that would floor Quillin.
The crowd booed the decision, but it was hard to declare a winner. Lee called it a "fair decision." It was not a title fight, as Quillin didn't make the weight. Lee said he would accept a rematch for a title.
Here is a round-by-round look at the fight that is scheduled for 12 rounds between Garcia and Peterson:
Round 1
Garcia was more aggressive, and landed a solid right hook. Peterson didn't look hurt, but didn't provide enough to win the round.
Garcia 10-9
Round 2
Neither boxer showing much in Round 2. Peterson is doing an excellent job of moving around the ring, and avoiding punches, but has barely landed one punch of consequence.
Even Garcia 10, Peterson 10
Round 3
This remains a very tight fight. Neither boxer has landed a punch of consequence. Peterson remains evasive, and landed a couple of decent jabs. Garcia may be slightly frustrated.
Peterson 10-9
Round 4
The crowd is not happy. The fight has lacked in exciting moments. However, in this round Garcia was able to land a pair of solid punches. Peterson hit the canvas, but it was ruled a slip. Peterson remains interested in having Garcia chase him.
Garcia 10-9
Round 5
A more eventful round. Peterson landed a solid combination. But Garcia was able to provide some strong punches to Peterson, though they seemed to do little damage. Garcia remains the more polished fighter in this fight. Crowd chanted "Garcia Garcia Garcia" late in the round.
Garcia 10-9
Round 6
Garcia landed a quality combination, but this was another uneventful round. Peterson is not showing much desperation, though he seems more interested to go toe-to-toe.
Garcia 10-9
Round 7
A pair of solid exchanges made this round a bit more entertaining. This is not nearly as exciting as the previous fight, but it's far more tactical and therefore perhaps more interesting.
Garcia 10-9
Round 8
Peterson with his best round. He chased after Garcia, and landed some solid jabs, and power punches. Garcia is not hurt, but looked a bit vulnerable.
Peterson 10-9
Round 9
Excellent round, as Peterson is showing confidence and has become more aggressive. But Garcia seemed to win the round with a pair of solid right hands.
Garcia 10-9
Round 10
Peterson reverted back to dodging, which is a questionable strategy. Garcia seemed to get in some decent punches, particularly a left late in the round.
Garcia 10-9
Round 11
An entertaining round, Peterson seemed to get some good punches in. Garcia at one point pushed Peterson down in frustration. The fight is quite interesting at this point.
Peterson 10-9
Round 12
The last round needed to be big by Peterson, and he failed to make much of an impression. It was a tactical round, with Garcia appearing to get in some decent punches and looking more aggressive than Peterson. Like others, this was a tough round to call.
Garcia 10-9
Decision:
We have the fight in favor of Garcia, 117-112. This was a very difficult fight to call, as a few rounds could have gone either way. However, Garcia's punches seemed to do more damage. Though Peterson's winning rounds seemed to be more convincing than Garcia's winning rounds. Garcia seemed to do just enough to edge Peterson, particularly in the early rounds.
According to CompuBox, Garcia connected on 147 power punches, compared to Peterson's 105. Garcia also connected on 173 total punches, compared to Peterson's 170.
Two judges give the fight to Garcia 115-113, and one gave it a draw, 114-114.
Garcia wins by majority decision.
Notes: Attendance was announced at 12,300. It's the largest crowd for boxing event at Barclays Center.
© Copyright IBTimes 2023. All rights reserved.