Dante Fowler And Other NFL Rookies With Season-Ending Injuries Face Psychological, Contractual Obstacles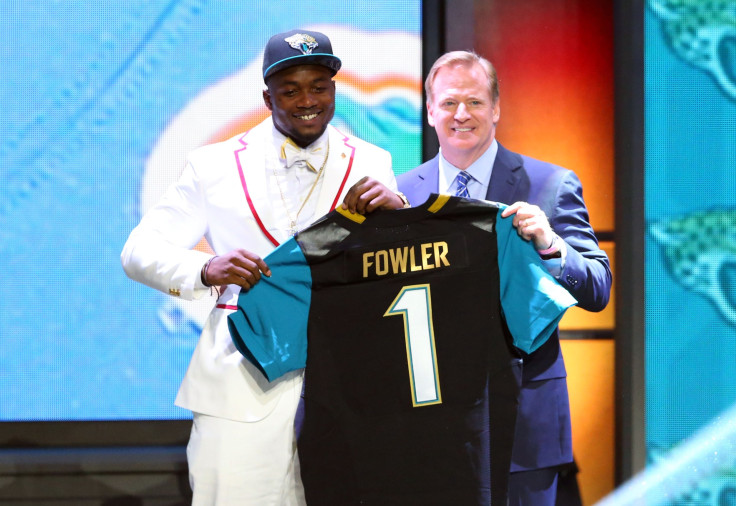 Jeremy Newberry feels Dante Fowler Jr.'s pain. About 17 years before last Friday, when Fowler tore up his left knee within an hour of his first Jacksonville Jaguars minicamp workout, Newberry was a promising second-round draft pick focused on carving out a spot on the San Francisco 49ers' offensive line.
But a fluky occurrence at the 49ers' final minicamp workout before the 1998 season delayed that dream. Newberry remembers it like it was yesterday: He reached back to catch an errant pass during a routine conditioning drill and felt a bang that rattled through his body. Like Fowler, he had torn his ACL – an injury which cost him the entirety of the 1998 NFL season and required months of rehabilitation. Newberry, who had never before suffered a serious injury and already had doubts whether he'd make it in the NFL, was devastated.
"You're thinking, 'oh man, here goes my NFL dream, here goes my career.' Everybody's assuring you, 'hey, we'll get this right, we'll fix this, it's not a big deal.' But it's a huge deal to you when it first happens," said Newberry, whose story had a happy ending. He went on to play 11 seasons in the NFL and earn two Pro Bowl selections before he transitioned to his current gig as Co-Director of Client Management at Octagon, a player representation agency based in McLean, Virginia.
The outcome of Fowler's story remains far more uncertain. As the third overall pick in the 2015 NFL Draft, the skilled defensive end was touted as the savior of Jacksonville's anemic pass rush. The University of Florida product will instead spend the next year working his way back from a devastating knee injury, all while he attempts to learn the Jaguars' playbook and fit into the team dynamic. Denver Broncos rookie tight end Jeff Heuerman, who tore his ACL just hours after Fowler, will endure the same struggle. Aside from their physical concerns, these rookies will have to overcome numerous psychological and even financial hurdles before they make it back to a football field.
Fowler met the news of his season-ending injury with a smile and a sense of optimism. "It's just one of them unfortunate things," Fowler told reporters Saturday, according to ESPN. "In the future, a year from now, we'll be all smiling again and talking about me sacking people."
He'll need to maintain that outlook to fight his way back.
Mind Games
For a rookie, constant rehabilitation assignments and medical examinations aren't the hardest part of recovery from a serious injury; football players have hit the weight room, gone through conditioning drills and dealt with pain since they were teenagers. Rather, an injury that robs a young player of crucial early playing time can cause any seed of doubt that may have existed in their mind to expand. What if I'm not good enough to play in the NFL? What if my leg never regains its full strength?
Even for someone like Fowler, who was touted as one of the best players in his draft class, an injury at such a critical time in a football career can turn the mind into a mess. The rookie may think that he's blown his chance to earn a role on his team, or that the injury is somehow proof that his body can't hold up to the rigors of football at the next level. Robbed of the ability to compete, players can struggle with depression, lethargy or even turn to substance abuse as a coping mechanism, said Dr. John Murray, a Florida-based sports psychologist.
"It's a devastating thing. These athletes their whole life have been refined and tuned up like a great violin to become a great performer. When you miss that, the overall experience can be more devastating emotionally [than physically]," he said.
The first 48 or 72 hours after an injury occurs are often the most difficult. It's important for a franchise, player agents and teammates to make it clear to a young player that he has their support and to offer themselves as an outlet should the injured player want to discuss his situation, Murray said. And while it may not be possible for the athlete to play his sport, mental exercises, such as studying the playbook or attending meetings, can help to assure a rookie that he's part of the team.
Newberry suffered his season-ending knee injury in June 1998. He didn't play in a regular season game until the 1999 NFL season, but returned to practice less than a year after he tore his ACL. A serious leg injury won't stop Fowler from strengthening the other parts of his body in the gym, nor will it prevent him from attending game plan meetings and studying his playbook. Those tasks, coupled with rehab assignments, keep an injured player focused on his recovery and not on his lost season.
"When you go home and you're exhausted tired because you worked your ass off the whole day, that'll help so you're not laying around worried about your damn leg," Newberry said. "You're going to go home and sleep well because you've been working so hard."
Agent Concerns
As the No. 3 pick in the NFL Draft, Fowler was before his injury entitled to a fully-guaranteed four-year contract worth approximately $23 million, as well as an option for a fifth year, according to ESPN. Fowler had yet to sign that deal when he suffered his knee injury, but he did sign an injury protection waiver before his fateful minicamp workout. That means the Jaguars will negotiate his contract "in good faith" -- Fowler will likely be paid as if he was never injured.
But Fowler's representatives have now lost any leverage they had in negotiating his deal, said Robert Boland, a former NFL agent and professor of sports management at New York University. The contract Fowler eventually signs may include language that will shield the Jaguars if his knee acts up in the future. And there's a chance the injury will affect Fowler's long-term earning potential, as teams exercise caution or pursue protective clauses when signing players who have a history of leg problems.
"It could be something that follows him through his entire career as a disclaimer against continued liability," Boland said.
Fowler's agent will also have to navigate aspects of his recovery process, such as how he will rehabilitate the injured leg and which surgical procedure he will undergo to repair the damage. Team doctors often push players to have an operation that will speed up their return to the field, to the detriment of the athlete's long-term health.
"It's really a proving time for an agent-player relationship. If you have a strong one, the player may get the best of this outcome. If you have a weak one, the player may suffer," Boland said.
Long-term Prospects
As with any situation, each NFL player recovers differently from serious injury. Former University of Miami running back Willis McGahee was considered a surefire Pro Bowler before he suffered a gruesome knee injury in the final game of his collegiate career. The Buffalo Bills nevertheless opted to take McGahee in the first round of the 2003 NFL Draft, despite the fact that he would miss the entire season while recovering from the injury. McGahee rewarded their faith in 2004, when he rushed for more than 1,000 yards and 13 touchdowns. Ultimately, he rushed for more than 8,000 yards during a 10-year NFL career.
Other players were less lucky. Former Florida State University defensive end Andre Wadsworth was considered a "can't-miss" prospect out of college; so much so that the Arizona Cardinals made him the first pick in the 1998 NFL Draft. After a promising rookie season, Wadsworth saw his career derailed by knee injury after knee injury. He underwent microfracture surgery on his knee after the 2000 season and never played another down in the NFL. By age 26, a player once considered a future Hall of Famer was out of the game.
Fowler can't give in to the doubts that inevitably follow a serious injury, Newberry said. Rather than worry about his place in the Jaguars locker room or how he will play when he returns, the rookie defensive end should focus on the one thing he can control – his health.
"Get healthy. Don't worry about the side effects, don't worry about where you fit in," Newberry said. "You're going to find that out soon enough."
© Copyright IBTimes 2022. All rights reserved.
FOLLOW MORE IBT NEWS ON THE BELOW CHANNELS