Meet Ali Marpet, Combine Star, Division III Standout And 2015 NFL Draft Sleeper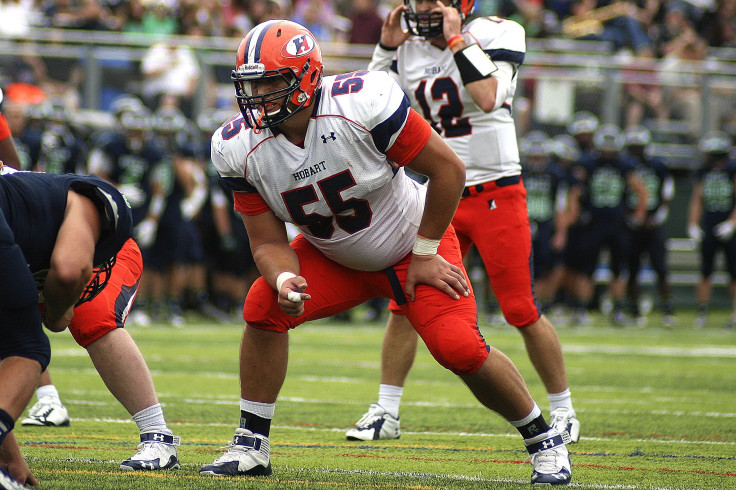 Ali Marpet knew he had the tools to compete at the 2015 NFL Scouting Combine in Indianapolis in February. The 6-foot-4, 310-pound offensive lineman had trained for months for the event's vaunted series of physical and mental drills.
He practiced technique for each drill until it became pure reflex. He knew his scores going into the day, knew they projected well enough to give him a shot at being selected in the 2015 NFL Draft. But neither Marpet nor the NFL scouts could have anticipated the way his combine performance would cause him to rocket up draft boards.
"I knew what my times were going to be and I thought I'd average out to be pretty good. But to actually see that I was first or second in some of those categories was pretty huge for me and obviously another confidence boost, knowing that I'm one of the more athletic offensive linemen in this draft," said Marpet.
A product of tiny Hobart College in upstate New York, Marpet had already begun his unlikely ascent up NFL draft boards a month earlier, when he became the first Division III prospect in more than two decades to earn an invitation to the Senior Bowl, a showcase event typically reserved for college football's top stars. But Marpet exploded onto the national scene when he showed out at the combine.
He ran the 40-yard dash at 4.98 seconds, faster than any other offensive lineman. He finished in the top five among all offensive linemen in the 225-pound bench press test, the three-cone drill and the 20-yard shuttle. What followed was a whirlwind tour of team visits and private workouts, as NFL franchises clamored to get a glimpse of the D-III kid who had outperformed so many players from premier college football programs. Once considered a late-round pick, Marpet now projects to be selected in the second or third round of the NFL Draft, according to NFL.com. Once selected, he'll become the first Division III player to be taken in the draft since 2012, and the highest D-III player taken since Ferrum College product Chris Warren went in the fourth round in 1990.
It's an outcome that Mike Cragg, head football coach at Hobart for the last two decades, could not have predicted back in 2011, when Marpet committed to play for the Statesmen. Back then, Marpet weighed just 235 pounds, divided his time between football and basketball and didn't receive a single offer from the Division I college football programs that regularly churn out 300-pound behemoths.
"I knew he had great feet and he was a great athlete, but there's a reason that Division I's weren't on him at that size," said Cragg. "He was just going to be undersized for what they were looking for."
Marpet decided to play football and study economics at Hobart, with an eye toward using connections among the school's alumni to springboard into a career on Wall Street. He earned an academic scholarship, but did not receive any money from football toward Hobart's $57,000 annual tuition.
"There's a very good network of ex-football guys at Hobart on Wall Street, and they hire their brothers and stuff. We were hoping to use football to help him get a job that way. That was it," Marpet's father, Bill, told ESPN.
But Marpet also dedicated himself fully to football. He arrived at Hobart in 2011 at 250 pounds. He saw some playing time as a freshman, but spent most of his time on the bench, where he continued to watch and learn. Kevin DeWall, Hobart's former offensive line coach, worked with Marpet to refine his technique. Marpet kept growing and he kept getting stronger.
The Hastings, New York, native came into his own as a sophomore, starting all 13 of Hobart's games on the offensive line and earning All-Liberty League first team honors. Marpet was dominant all year, but it wasn't until a playoff game against the University of St. Thomas in St. Paul, Minnesota, that his teammates began to suspect he was a special player.
"There was a defensive lineman for them that was getting some looks from the NFL. He held his own with that guy and dominated him," said Michael Green, who played with Marpet on Hobart's offensive line for three years and later served as Hobart's assistant offensive line coach during Marpet's senior year. "That was when we started to realize he had the chance to play at the next level."
As he became more confident in himself and his abilities, Marpet shed his soft-spoken demeanor and became a vocal leader in Hobart's locker room. In 30 years on Hobart's coaching staff, Cragg has seen just two players became team captain as juniors. Marpet was one of them. He didn't allow a single sack in his last two years at the school.
Eventually, NFL scouts started to take notice. During his junior year, Blesto, a national football scouting service, put Hobart players through a battery of combine tests. When the results came back, Marpet's numbers were comparable to those of the nation's top prospects, and the possibility of a professional career began to take shape.
"They did all the measurements and I sort of matched up with other guys that were trying to continue playing," Marpet said. "At the time I was not 100 percent certain that I would be drafted. I was just hoping for an opportunity to make a roster."
After his senior season, Marpet signed with NFL player agent Andy Ross and decided to pursue the league in earnest. Ross wanted to get his client into the Senior Bowl showcase, to raise his profile and show the Division-III player could handle the physicality of play at the next level. Ross contacted Chip Smith, a noted football trainer who has helped hundreds of players reach the NFL. Tutelage under Smith, who has the ear of NFL franchises, would help to legitimize Marpet.
Smith had never trained a D-III player and was initially skeptical of the notion, but agreed to work with Marpet starting in mid-December. He spent two hours per day working on technique with former NFL lineman Bob Whitfield, two hours per day with Smith for position-specific training and two hours in the weight room.
By the time the Senior Bowl rolled around, Marpet had put on 20 pounds of solid muscle and added 10 reps in the 225-pound bench press test. He vastly improved his "punch" at the point of contact, as well as his explosiveness. His technique improved by leaps and bounds.
"He was like a sponge," Smith said. "Everything we taught him in technique, he did exactly right every time."
Marpet proved to be a standout performer at Senior Bowl practices and in the game itself. Coaches purposely placed him "on an island" at left tackle, in a one-on-one matchup against top Division I pass rushers, to see how he would respond. They tested his versatility by placing him at guard. In both cases, the results were impressive.
Marpet returned to Smith's facility in the weeks ahead of the combine. Smith knew in advance his drill scores were solidly in line with historic combine averages, but hoped adrenaline would push Marpet closer to the top. He wasn't disappointed.
"During the combine, we have TV's in our facility and we were watching it. As soon as Ali runs his second 40, I get a text from a team. One of the guys at the finish line texted me and said, 'We just clocked your boy at 4.88,' " Smith said. "I was smiling from ear to ear."
Marpet has hardly had a night to himself since his Pro Day last March. He has met with officials from several NFL teams and performed in private workouts, all while juggling the schoolwork required to complete his degree. While he can play any position on the offensive line, Marpet has worked hard in recent weeks to improve his technique at center, where many, including Smith, expect him to play in the NFL.
There's no denying the interest Marpet has generated among NFL teams, but some questions remain, most of which are related to his small-college pedigree. Scouts have expressed concern about the quality of competition he faced in school, his lack of ideal lineman size and his sometimes-shaky technique. One NFL director of personnel described Marpet as a "project" player who was years away from becoming a starter, according to NFL.com. Marpet said the level of skill he'd face during every single play at the next level would be the hardest part of the transition.
It will take time for Marpet to adapt to the size and speed of NFL talent, but talk of him as a project player is overblown, Smith said.
"He proved at the Senior Bowl against a top D-lineman that he deserved to be there and could play and compete. I think he's only going to get better every day in a system with good coaching," Smith said.
Marpet won't be there in person to hear his name called in Chicago, where all seven rounds of the 2015 NFL Draft will be held. He plans to wait for his phone call at home, with his family, in Hastings. And he's doing his best to appreciate how far he has come.
"The reality is that it is a fun process, and the best advice I've gotten is just to enjoy this process," Marpet said. "It's a once-in-a-lifetime experience. Everyone once in a while, it's OK to sit back and enjoy these days."
© Copyright IBTimes 2023. All rights reserved.