David Cameron Re-Election: 'Thug Life' Video Goes Viral Amid 'Money-Back Monday' Campaign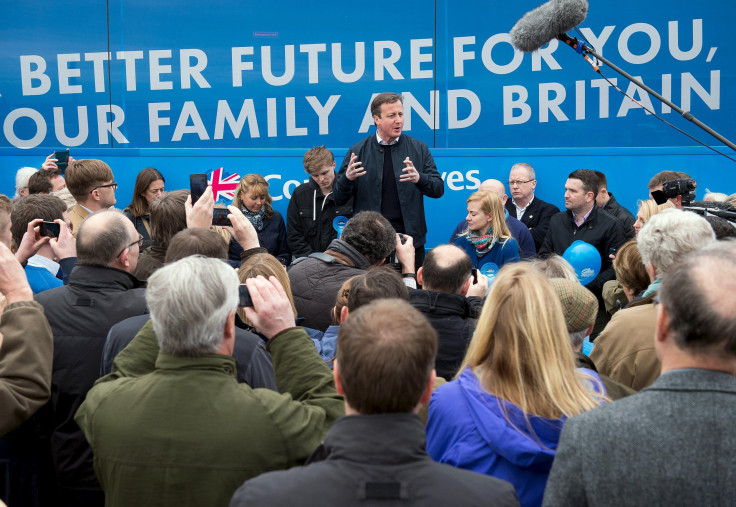 British Prime Minister David Cameron campaigned for lower taxes Monday, arguing that there is "no such thing as public money" and voters deserve to pocket as much of their income as possible. Cameron's "money-back Monday" campaign strives to paint his party as prudent with taxpayers' dollars, while making the case that the opposing Labour Party would raise taxes.
"We know that there is no such thing as public money -- there is only taxpayers' money. And we know how we'd rather see it spent: not on bureaucracy or bloat or the latest crackpot Government scheme but on you, your family -- your future," Cameron was expected to tell taxpayers Monday, according to media reports. "Quite simply, it's your money -- you earned it. And we believe it's people -- not politicians -- who know best how to spend their own money."
Cameron was expected to further detail his "money-back Monday" plan, which would allow millions of working-class Brits to gain access to their pension savings more easily and introduce a tax break for married couples. His announcement comes as a YouTube video called "David Cameron Thug Life" has gone viral in Britain.
The parody video shows Cameron putting down a member of the Labour Party during debate after being asked whether he would disassociate himself from a bingo and beer advertisement tweeted by the Conservative Party Chairman Grant Shapps that claims beer and bingo would "help hardworking people do more of the things they enjoy." Cameron answered: "I am sure that you enjoy a game of bingo -- it's the only time you will ever get close to No. 10." His verbal sparing is set to the tune of the hip-hop track "Breathe" by Sean Paul in the parody video as the words "THUG LIFE" appear on screen, according to BCC News.
Cameron is running for re-election in the May 7 national election. Labour leaders accuse Cameron's leadership of "a cost of living crisis" and claim that the government has been borrowing much more than planned.
© Copyright IBTimes 2023. All rights reserved.