David Ortiz to Yankees from Red Sox: Would he be a Good Fit?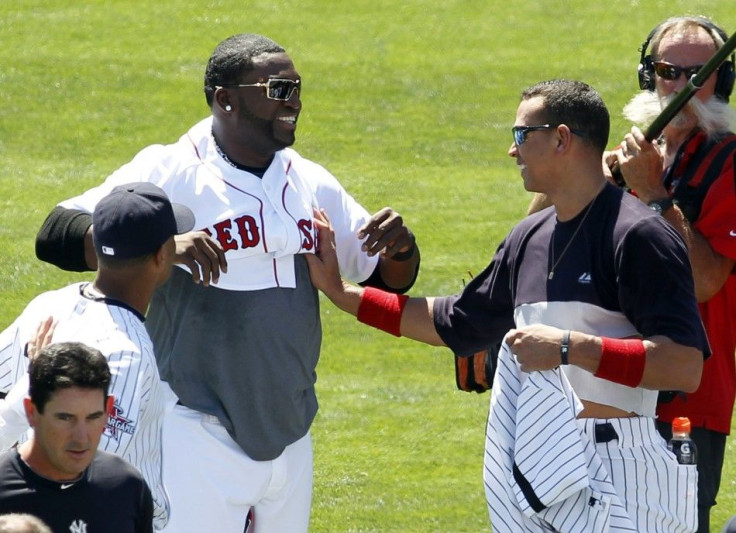 David Ortiz caused a bit of a stir in the New York and Boston media Thursday after his comments made in an interview with ESPN.
Ortiz looks to be the latest Red Sox member to depart the organization after the franchise's September meltdown has slowly been erasing good memories of the past eight years in Boston. Meanwhile, he told ESPN that not only does it seem likely he will leave the Red Sox, but that he would also be open to playing for the rival Yankees.
There's too much drama, man, Ortiz said in the interview about the Red Sox. There's too much drama. I have been thinking about a lot of things. I don't know if I want to be part of this drama for next year.
Then he was asked if he would consider playing for the Yankees.
That's something I have to think about. I've been here on the Red Sox a long time, and I've seen how everything goes down between these two ballclubs, Ortiz said.
It's great, from what I hear. It's a good situation to be involved in. who doesn't want to be involved in a great situation where everything goes the right way?
One thing appears to be clear: Ortiz looks to be on his way out of an organization where, like manager Terry Francona and general manager Theo Epstein before him, he built so many memories. He was a part of the Red Sox's first two World Series-winning teams since 1918.
Now, he's at least pondering a move to the hated Yankees. But would he fit? Would the Yankees fit with him? Here are three reasons the move doesn't quite make sense for both parties:
1. The contract
Ortiz was unhappy with his contract throughout the season. He signed his last contract, an extension, in 2006, which was for four years and $52 million. The Red Sox picked up his $12.5 million option this season.
This season was Ortiz's best since 2007. He had a .952 OPS and got back to the level that had so many teams fearing him in his prime. That said, he'll want to get rewarded in what will be the last big contract he'll sign as a professional.
The last time the Yankees gave a big contract to a designated hitter, it was Jorge Posada. And he only became a full-time DH in 2011. The Yankees would be foolish to tie up so much money into the DH spot again for an aging player. And that's because...
2. Other players need the DH spot
For the long-term viability of the club going into October, the Yankees have to devote a select amount of games at the DH slot to players on their roster that sometimes need a half-day off.
Most prominent are Alex Rodriguez and Derek Jeter. Rodriguez and Jeter each played 10 games at the DH slot this year. They're a year older. Throw in a few games for Robinson Cano, and that's somewhere in the neighborhood of 25 to 30 games.
Ortiz and his salary will be useless in those games. He cannot play any position in the field well, and first base is taken by Mark Teixeira, a top-five fielding first baseman.
What's the point in paying Ortiz millions to sit on the bench for nearly one-fifth of the season? Or be forced into playing him and not be flexible with the lineup? Especially when there's a better, much more cost-effective option. And that is...
3. Jesus Montero
Let's not pretend that Montero's 61 at-bats this September completely justify the hype. But they did enough to earn him a shot at this position.
Montero hit .328 in those 61 at-bats, with four home runs, 12 RBI and a .996 OPS, showing why general manager Brian Cashman refused to include him in any trades this year.
At 21, Montero is a viable, cost-effective option who can fill in at catcher -- or even possibly the corner outfield, if he learns -- when someone else needs the DH spot. And he's only starting to unlock his potential as a hitter.
© Copyright IBTimes 2023. All rights reserved.