Days Of Fighting Ahead In Ukraine As Territory Up For Grabs Before Minsk Ceasefire Takes Effect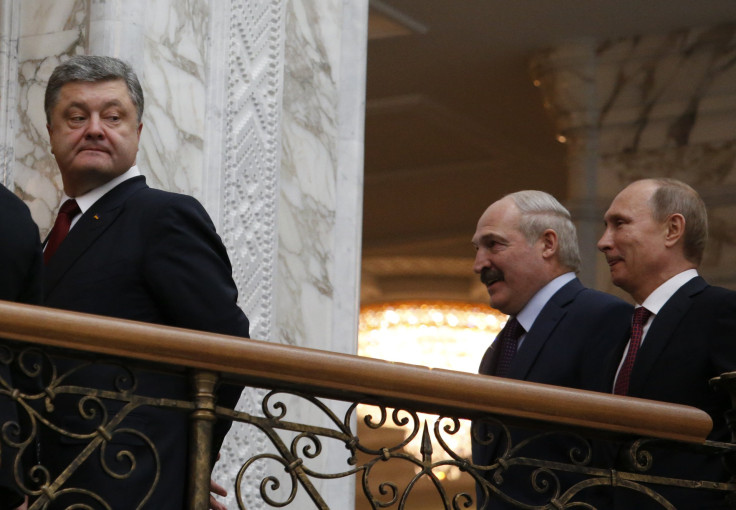 A new Ukraine ceasefire deal was reached during overnight negotiations in Minsk, Belarus on Thursday, but that does not mean fighting on the ground is ending -- until the ceasefire comes into effect Sunday at midnight. The deal will also not require troops to withdraw from territory already gained. While the deal is a "glimmer of hope" for lasting peace, German Chancellor Angela Merkel said, it is still facing serious hurdles, and the days before the Ukrainian army and the pro-Russian rebels have to lay down arms could see an increase in fighting from both sides as they make a final push for territory.
"It does seem that the next few days will be about taking as much territory as possible for pro-Russian rebels and Ukrainian forces," said Igor Sutyagin, a senior research fellow and expert on Russian affairs at the Royal United Services Institute, a London-based military think tank. "They will be able to keep those gains when the ceasefire begins, because the military withdrawal only applies to heavy artillery and weapons."
According to the agreement, which was negotiated by Merkel, French president François Hollande, Ukrainian president Petro Poroshenko and Russian president Vladimir Putin, the Ukrainian military will withdraw from the current frontline, but pro-Russian rebels will be required to withdraw only from the frontline as it was at the time of the previous Minsk ceasefire agreement, last September. (That agremeent was not respected by the conflict parties.) That will mean that the safety zone, as it was referred to in the newest documentation, will be between 50km and 150km wide (30 to 90 miles), enough to put each side out of range of enemy heavy artillery.
The Organization for Security and Co-operation in Europe will oversee the ceasefire using drones and human observers.
According to the Guardian newspaper, the talks nearly collapsed a number of times as Poroshenko walked away from the negotiating table saying that the he was being confronted with "unacceptable conditions."
After a deal was finally reached Thursday morning, Putin showed optimism. "We believe that all the parties will show restraint in the near future before the start of the total ceasefire," said the Russian president, whose army is being accused by Ukraine of not only supporting the rebels but also intervening directly in the conflict.
On the ground, however, fighting is continuing. In the last 24 hours, 19 Ukrainian soldiers have been killed and 78 injured in the contested city of Debaltseve, according to Ukrainian officials. Reports coming out of the city suggest that rebel troops have encircled thousands of Ukrainian soldiers. The fighting in the city will continue, said Sutyagin, until Sunday morning.
But according to CNN, some pro-Russian rebels have already said they will ignore the ceasefire agreement and continue fighting past the deadline. It's yet to be seen how, or even if, Putin and rebel leaders can exert control over those fighters, who according to Sutyagin could ignite the conflict all over again.
William Harrison Courtney, former U.S ambassador to Georgia and Kazakhstan, said that Debaltseve will be a crucial battleground over the next few days. The details of the ceasfire "kind of suggests that Putin believes they'll be able to capture the city now that it's been under siege and almost encircled by rebel forces," he said. "Then, of course, by Saturday midnight, if the Russians (sic) haven't captured the city then they may well find some excuse to continue fighting until they do capture it."
Ukrainian officials allege that Russia has moved approximately 50 tanks, 40 rocket system and 40 armored vehicles into Ukraine while the ceasefire agreement was being thrashed out. NATO and Western leaders have said that Russia has reguarly been providing pro-Russian rebels with military assistance since the conflict began nearly one year ago. Russia denies the claim.
Andriy Lysenko, a spokesman for Ukraine's Anti-Terrorist Operations headquarters -- the Kiev government calls separatists "terrorists" -- made the accusations on Thursday at a press conference, while also saying that the rocket systems were a mix of Uragan and Tornado systems, both known recently as being responsible for firing of cluster munitions, which both sides have been accused of deploying.
"It's hard to speculate on what Russia is doing adding more weapons into the conflict," Sutyagin said. "Either it's an insurance policy if the ceasefire doesn't work out, enabling them to quickly and forcefully engage in the conflict again, or they will use tanks and missiles units over the next few days in order to make big territorial gains."
© Copyright IBTimes 2023. All rights reserved.