Ceasefire Deal Announced For Ukraine After Minsk Meeting That Lasted For 17 Hours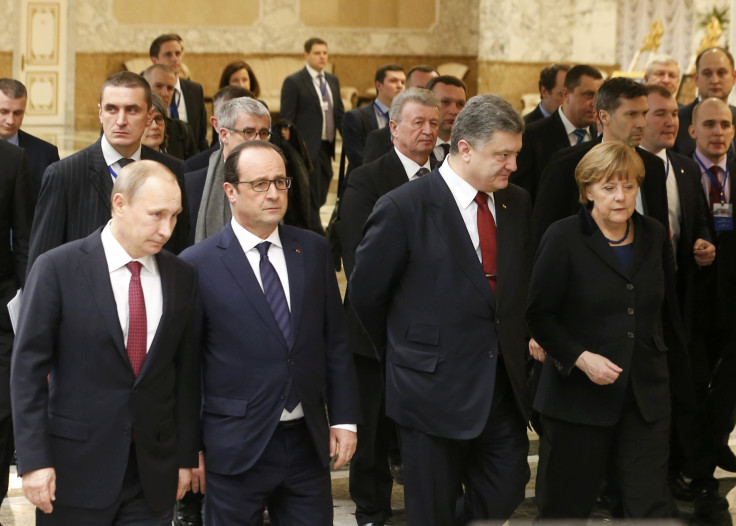 Leaders of Russia, Germany, Ukraine and France said Thursday in Minsk, after 17-hour talks, that they had reached a ceasefire deal that will ensure heavy weapons are pulled out from the violence-torn eastern Ukraine. The ceasefire is scheduled to begin at midnight on Saturday.
"We have agreed upon the basic points," Russian President Vladimir Putin said, according to Deutsche Welle.
It was a "serious deal" but everything had still not been agreed upon, French President Francois Hollande said, according to BBC. "All matters are dealt with by this document signed by the contract group and the separatists," he told the media, according to Deutsche Welle.
Hollande also said, according to Russia Today, that leaders of the self-proclaimed Donetsk People's Republic and Luhansk People's Republic had signed an agreement with Kiev. Ukrainian President Petro Poroshenko said that there was a commitment from all sides to withdraw foreign military from the country's territory.
Details of the ceasefire were not immediately clear but the Minsk draft reportedly contained 13 points of agreement to resolve the fighting between pro-Russian rebels and Kiev's forces. The draft also reportedly called for Ukraine to take full control of its borders by the end of this year, and facilitate the withdrawal and disarmament of foreign troops and all "illegal groups" in eastern Ukraine.
The announcement for the ceasefire comes despite Poroshenko saying earlier in the day that Russia's conditions were "unacceptable." Poroshenko had said that there was "no good news yet," but there was "always hope" as the talks were still ongoing, BBC reported. The four-way meeting, which was led by Merkel and Hollande in Belarus, began late Wednesday and continued for about 17 hours.
"We're in non-stop talks, as you can see; the situation is very difficult. [German chancellor] Angela Merkel and [French] president Francois Hollande are helping us a lot, but for now the situation is difficult," Poroshenko had said earlier on Thursday, according to the Guardian.
Meanwhile, the IMF offered Ukraine a funding package worth $17.5 billion to help the country, which is struggling to save its economy amid increasing violence on its eastern border. IMF chief Christine Lagarde also said that the funding would reach $40 billion over a four-year period, BBC reported.
© Copyright IBTimes 2023. All rights reserved.
FOLLOW MORE IBT NEWS ON THE BELOW CHANNELS