Daytona 500 Results: Hamlin Edges Truex In Photo Finish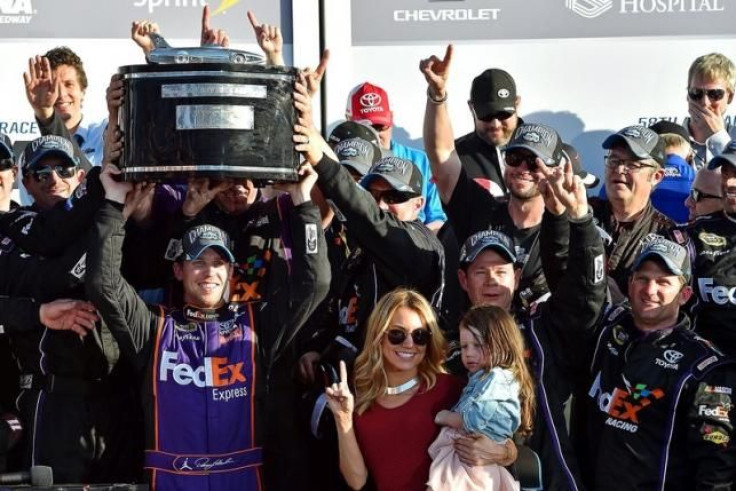 In one of the most memorable finishes of all-time, Denny Hamlin won the Daytona 500 on Sunday, holding off Martin Truex Jr. in a photo finish. The win ended Joe Gibbs' 23-year drought and lifted Toyota to their first ever win at the "Great American Race."
Hamlin, who led a race-high 95 laps, won NASCAR's biggest race by just .011 seconds in the closest finish in the race's history. It was the 35-year-old first Daytona 500 victory, and the first for Gibbs since Dale Jarrett won in 1993, and the first for manufacturer Toyota.
Matt Kenseth, Carl Edwards, and Kyle Busch all were in the hunt for much of the race, but Hamlin was able to prevail when he jumped out of line with Kenseth leading Truex until the final lap.
"I don't know where that came from," Hamlin said. "I don't know what happened, I can't even figure out what I did. It all just came together. But this wouldn't be possible if it wasn't for Toyotas sticking together all race long."
It was a momentous victory for Hamlin, who has finished in the top 5 in three of the past four years and finished fourth in 2015. He said that the last thing he wanted to do "was wreck off Turn 4" to deny his Toyota teammates.
"Great day for Joe Gibbs Racing, really pumped for Joe to get back to victory lane here in the Daytona 500," said Busch. "I figured it was five to go that it was every man for himself. Once Denny jumped up, he just got such a huge boost from (Harvick). Once he did it, I swore I thought about doing it. Once I thought about doing it and didn't do it, it was too late. That was it. You can't think that long and not make the move at the same time."
The loss was particularly difficult for Truex, who exceeded expectations. He entered the race at +2000 betting odds.
"It hurts a little bit," Truex said. "We were in the right spot, we made the right moves. You can second-guess all day long, the only thing I could have done different was be more aggressive to the line."
Reigning Daytona 500 champion Joey Logano finished sixth.
Here are the complete results from the race.
© Copyright IBTimes 2023. All rights reserved.