De'Andre Johnson Punch Victim Used N-Word Before Bar Incident, Former Florida State Quarterback's Rep Says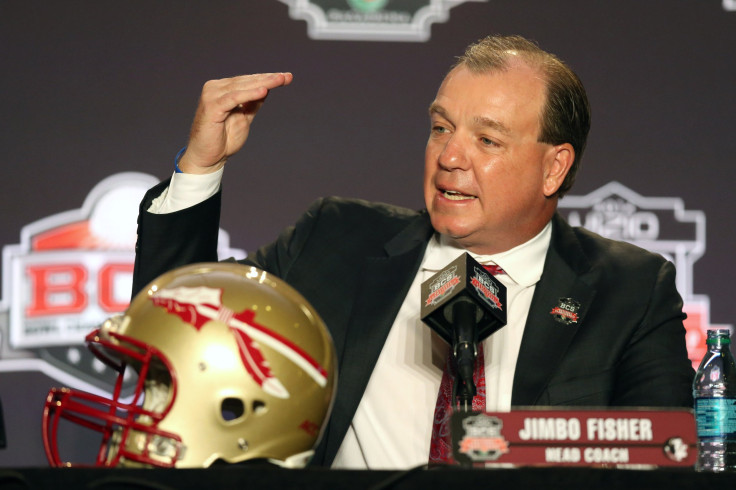 Former Florida State University quarterback De'Andre Johnson claimed Tuesday that the woman he punched in the face last month at a Tallahassee bar called him the N-word before the incident. Florida State Seminoles head coach Jimbo Fisher kicked Johnson off the school's football team on Monday after video of the attack surfaced.
Speaking through a representative, Johnson said she punched the woman after she said, "Get off me you [expletive] n-----," TMZ Sports reports. Multiple witnesses heard the exchange and were willing to testify about it in court, Johnson's representative added.
Johnson was charged with misdemeanor battery last month when he struck the 21-year-old woman after a verbal altercation at a bar near Florida State's campus. The state's attorney's office released surveillance video of the incident Monday. The woman, whose name was not redacted in Tallahassee police reports, suffered facial swelling and a bruised left eye due to the punch, ESPN reports. One of the woman's family members declined to comment on her alleged use of a racial slur, TMZ Sports notes.
"While it is clear from the video that De'Andre Johnson was not the initial aggressor, his family wants to take the lead in helping him learn and grow from this experience," Johnson's attorney Jose Baez said in a statement Monday. "He is currently participating in community service and faith-based programs focused on battered women, substance abuse and the empowerment of children."
"De'Andre is extremely embarrassed by this situation and would like to express his heartfelt apologies to everyone, including those who were directly affected, Coach Fisher and his teammates, the entire Florida State University community, as well as his family and friends," the statement added.
Tallahassee police booked Johnson and released him on $500 bond on June 30. The woman plans to participate in Johnson's trial. "She's a good witness and she wants to testify," Florida State Attorney Willie Meggs told the Tallahassee Democrat. "She's a little nervous about it."
Originally from Jacksonville, Florida, Johnson enrolled at Florida State University in January 2015, ESPN notes. He was not expected to be the Seminoles' starting quarterback when the college football season starts this fall.
© Copyright IBTimes 2023. All rights reserved.