December Jobs Report: As Commodity Prices Sink Worldwide, American Workers Feel The Pinch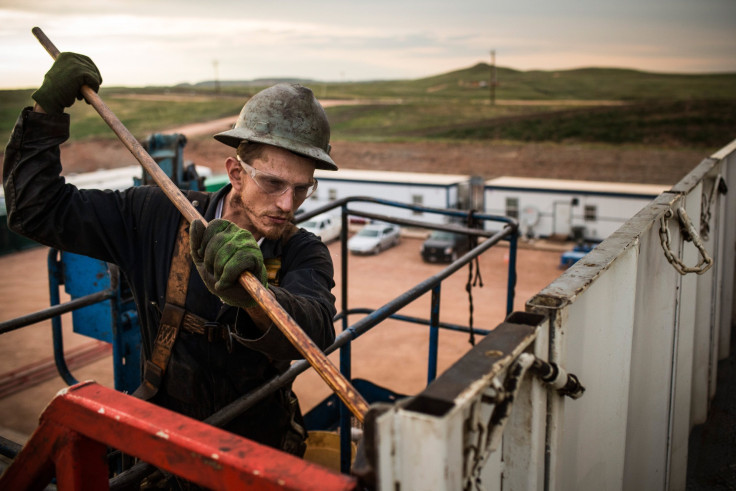 In advance of the federal government's monthly jobs report due later this week, analysts and economists are sounding a hopeful note, and not without reason: Over the last year, U.S. employers have added around 200,000 jobs a month, driving down the official unemployment rate to a healthy 5 percent.
But one section of the labor force has emphatically missed out on the recent hiring wave: Workers involved in the production of commodities. As global prices for oil, gas, coal, copper, steel and aluminum all plummeted in 2015, American workers in these industries felt the effects.
Employers in the mining, quarrying and oil and gas extraction sector have shed 123,000 jobs since December 2014, according to the Bureau of Labor Statistics. During that same stretch, the primary metal manufacturing sector -- which includes steel and aluminum production -- lost roughly 17,000 jobs. Layoffs in all these fields could continue well into 2016, analysts say.
"I expect we'll continue to lose jobs," said Ed Hirs, an energy economics professor at the University of Houston. "You're not going to see a big recovery in the oil patch, barring someone doing something really outrageous in the Middle East and cutting off supply."
Over the last year, benchmark crude oil prices have fallen by nearly 40 percent, to around $34 a barrel. The plunge has hurt many U.S. producers, but especially those drilling in the shale fields responsible for the boom of recent years -- places like western North Dakota and west Texas. Thanks to the relatively high cost of extraction, American producers of this sort are finding it increasingly difficult to compete against foreign imports.
"None of the shale plays work at $35 a barrel," Hirs said. "It's very difficult to justify building rigs that aren't going to be able to pay for themselves."
By the count of one industry consultant, global job cuts in oil and gas have now topped 250,000. A large chunk of them have hit the United States: Since peaking last year, oilfield services provider Halliburton has laid off nearly 16,000 employees worldwide, most of them in North America. Its chief competitors -- Schlumberger, Weatherford International and Baker Hughes -- have axed 20,000, 14,000 and 13,000 workers, respectively.
OPEC projects a continued growth in oil supply. So long as that happens without a global upswing in demand, the rough spell for domestic producers -- and workers -- will continue well until 2016. "Based on current market fundamentals, there's not going to be much change in [the oil] price," Hirs said.
The United States has also seen a steady drop in natural gas prices. That, in turn, has wreaked havoc on the domestic coal industry, as power plants increasingly view gas as a cheaper source of fuel. As a result, some of the biggest names in the coal mining business went bankrupt in 2015, including Alpha Natural Resources, Patriot Coal and Walter Energy.
'This Just Seems Much More Dramatic'
Meanwhile, China's economic slowdown has helped drive down prices for commodities like copper, aluminum and steel. While China continues to grow, it has effectively applied the brakes to an economy that once had a frenetic growth rate of 10 percent. Today, the nation's growth rate is around 6 percent. As consumption drops, Chinese-produced metals have flooded global markets, and groups of production and manufacturing workers in the United States have felt the pinch.
This year, copper mining giant Freeport-McMoRan laid off about 1,000 workers in Arizona and New Mexico, with more cuts likely to follow. One of its chief competitors in the region, Asarco, recently announced 200 layoffs.
Meanwhile, Alcoa, the world's third-largest aluminum producer, has announced 900 layoffs at two smelters in Washington state. Last September, the New York City company said it would split into two publicly traded entities, dividing its struggling aluminum smelting operations from its newer "innovation and technology-driven value-add" business.
Caterpillar, too, has felt the effects of the Chinese slowdown. The Illinois company, the world's largest construction and mining equipment producer, announced a staggering 10,000 layoffs last September.
American steelworkers have also suffered under the weight of low-cost imports from China and other parts of Asia. (In October, the Financial Times noted Chinese steel had become as cheap as cabbage in some markets.) Tough business conditions have loomed over tense labor negotiations, resulting in a lockout of more than 2,000 workers at ATI Technologies -- a dispute that persists today. Thousands of workers lost their jobs in 2015.
Doug May, 61, is one of those casualties. He was laid off from his job at U.S. Steel in Granite City, Illinois, last December. A hot metal crane operator, May had worked at the mill for 42 years. He's been through rounds of layoffs before, but says "this just seems much more dramatic."
More than 2,000 workers in Granite City will lose their jobs when all the plant's operations are idled. As the U.S. oil and gas industry struggle, demand for steel pipe is down. May also fears global overcapacity will worsen without a strong response from the federal government. He said he and his co-workers are frustrated by the lack of attention their plight has received in Congress.
"A lot of people are saying, Why isn't D.C. doing anything about it?" May said. "The reality is we're outnumbered by the end-users. The National Association of Manufacturers, the Chamber of Commerce, they don't care if we have cheap steel."
Scott Paul, president of the Alliance for American Manufacturing, also hopes the U.S. government plays a more active role in protecting the steel industry.
Trade cases filed with the federal government that target the so-called dumping of foreign steel can help "provide some breathing room for the industry." Still, he believes more significant intervention that causes Chinese steelmakers to scale back production is ultimately what's needed. "I don't see the fundamentals changing," Paul said.
© Copyright IBTimes 2023. All rights reserved.