To Defeat Rebels, Ukraine Military Might Allow Foreigners To Join Armed Forces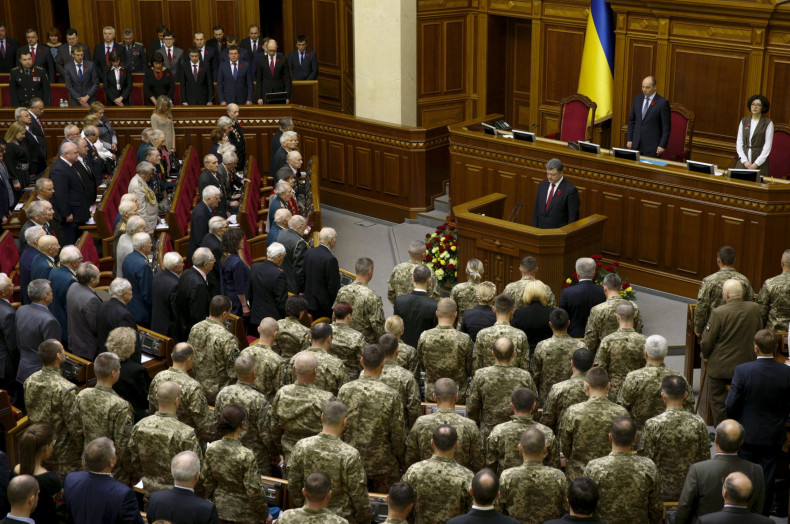 Ukraine's parliament gave Tuesday its first approval to a bill that would let foreigners serve in the nation's military. The Rada voted to pass the first reading of the bill, which would enable non-Ukrainians to serve as privates and junior officers in the armed forces, the Associated Press reported. It will now go to a second reading.
The bill was motivated by the ongoing conflict between pro-Russian separatists and the Ukrainian government. Foreigners have joined both sides of the fight, even though Ukraine's current laws forbid it, Sputnik reported. The new legislation would change this. It would also take the pressure off Ukraine's military recruitment efforts and mean fewer payments to soldiers' families, the bill's authors said.
"There are grounds to hope that after foreigners and individuals without citizenship receive the legal possibility to serve in the armed forces, our country will get several battle-ready, experienced, and motivated units of up to 1,000 men," a note attached to the bill explained. The legislation needed 226 votes to pass Tuesday, and it received 257, Sputnik reported.
The concept behind the bill is not new. In January, Russian President Vladimir Putin signed a decree allowing foreigners between the ages of 18 and 30 to take on five-year contracts with Russia's army, firefighters and Interior Ministry, the Moscow Times reported. They must speak Russian and have a clean record.
At the time, military expert Alexander Golts told BBC News there were likely 300 foreigners already in Russia's military. Overall, the conflict has drawn small numbers of citizens from countries like France, Spain, Germany, Poland, and Sweden.
The first foreign casualty for Ukraine came this past August, when an American died with the volunteer Donbass Battalion there. Mark "Franko" Paslawsky, a 55-year-old investment banker from New York, had a military background and Ukrainian citizenship. "Given what I saw, the level of incompetence, the corruption, the lack of activity — I just decided that I needed to go and participate," he told VICE before his death.
© Copyright IBTimes 2022. All rights reserved.