Democracy Vs Democracy: India Reacts Sharply As US Breathes Life Into Pak's F-16 Fleet
KEY POINTS
U.S. decision to offer an F-16 fleet-sustainment aid program to Pakistan has angered India
U.S. says its F-16 fleet-sustainment package for Pakistan is to support counterterrorism operations
India blames Pakistan for harboring and exporting terrorists
After pitching for an alliance of democracies to counter China in the Indo-Pacific, the U.S. decision to offer an F-16 fleet-sustainment aid program for Pakistan is seen as a message to India over its relations with Russia. With Washington's decision having angered New Delhi, the U.S. is now trying to mollify India with a promise to boost US-India military cooperation.
Secretary of Defense Lloyd J. Austin on Monday met with India's Foreign Minister S. Jaishankar in the Pentagon — a meeting that comes weeks after the U.S. approved its first major security assistance to Islamabad in four years.
"We're taking significant steps to deepen our defense cooperation from stronger information sharing and defense industrial ties to cooperation in emerging defense domains, including through the launch of a new dialogue later this year," the U.S. Defense Secretary said.
For decades, the U.S. has wooed India as a natural ally and counter-weight against China, as Washington seeks to exert influence and strengthen democratic partnerships in the Indo-Pacific region.
Pakistan, on the other hand, has been a key ally of the U.S. during its decades-long involvement in Afghanistan. India, which has fought three wars with Pakistan, blames Islamabad for harboring and exporting terrorists. Significantly, the Trump administration suspended security assistance to Pakistan in 2018 for its alleged failure to tackle terrorist groups operating in the region.
In a decision that is bound to strain the narrative built around the alliance of democracies in the region, the Biden administration on Sept. 7 reversed its predecessor's decision and agreed to a US $450 million F-16 fighter jet fleet-sustainment aid program to Pakistan.
The U.S. said the package was aimed at helping Islamabad meet current and future counterterrorism threats. New Delhi has for decades viewed the U.S.-Pakistan alliance as a counterbalance against India.
The U.S. sought to clarify that Washington's decision to sell F-16 equipment was not designed as a message against India for its relations with Russia. However, speaking at an Indian-American event in Washington, India's Foreign Minister S. Jaishankar said that the U.S. is "not fooling anybody by saying" that the military package to Pakistan is for counter-terrorism.
"For someone to say I am doing this because it is all counter-terrorism content and so when you are talking of an aircraft like a capability of an F-16 where everybody knows, you know where they are deployed and their use. You are not fooling anybody by saying these things," Jaishankar said.
Expressing his thoughts about the US-Pakistan alliance, he added, "Very honestly, it's a relationship that has neither ended up serving Pakistan well, nor serving American interests. So, it is really for the US to reflect on what are the merits of this relationship and what do they get by it."
The Russian invasion of Ukraine subtly changed the dynamics of the India-US partnership. The face-off between Moscow and the West over Ukraine brought pressure on India to pick sides with intense parleys to woo New Delhi.
Having shared a close partnership with Russia since the Cold War, India's decision to chart out an independent foreign policy stance on the Ukraine invasion ruffled feathers in Washington.
While the West pitched the prospect of deeper ties and a security boost in the Indo-Pacific, Russia offered the prospect of selling more oil to India. Despite Western pressure, New Delhi defended its decision to buy Russian oil saying the situation naturally warranted every country to try and get the best deal possible for its citizens.
Following the announcement of the F-16 fleet-sustainment package, New Delhi had on Sept. 11 registered its strong objections saying the deal had serious implications for India's security and the country's Defense Minister Rajnath Singh on Sept. 14 conveyed India's concerns to the U.S. Defense Secretary Lloyd Austin.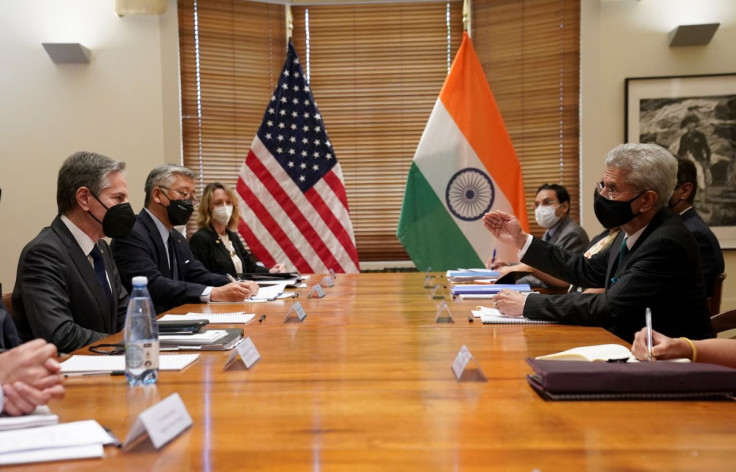 © Copyright IBTimes 2023. All rights reserved.