Democratic Forum 2015: Martin O'Malley Finds His Footing At MSNBC South Carolina Event With Rachel Maddow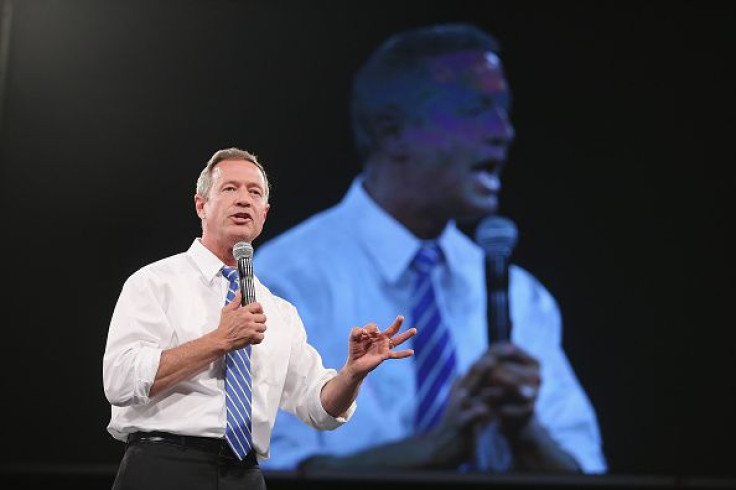 As Rachel Maddow's first guest for her "First in the South" forum in South Carolina on Friday evening, former Maryland Gov. Martin O'Malley had the spotlight. Unlike in the "sanctioned" debates, O'Malley didn't have to compete for attention on the MSNBC telecast with higher-polling competitors Hillary Clinton or Vermont Sen. Bernie Sanders.
The Democratic presidential candidates were given the opportunity to sit down, one on one, with moderator Maddow. O'Malley won plaudits for his clear, strong responses, as he addressed the Black Lives Matter movement and economic matters. The audience at the forum at Winthrop University in Rock Hill was racially mixed and young.
"Given the legacy of racism and slavery and the way it is intertwined with law enforcement ... all of us have a responsibility to be on a constant search for the policies that work," O'Malley said.
Martin O'Malley Presidential Candidate Profile | InsideGov
O'Malley repeatedly highlighted the differences between the Republican candidates and those of his party. "Contrary to Donald Trump's assertion, the enduring symbol of this country is not the barbed-wire fence but the Statue of Liberty," he said.
Civil rights activist Deray McKesson praised O'Malley for his responses. "I think he's doing much better than he normally does re: conveying a message," McKesson wrote on Twitter.
In a dig at Clinton's left turn on the Keystone Xl pipeline policy, O'Malley said that his stances are not swayed by the polls. "Leadership is not about following polls," O'Malley said.
Maddow questioned O'Malley about his low poll numbers. He asserted that there was plenty of time for him to pull ahead.
"After toiling away in obscurity for much of the year, barely registering in polls or even in the public consciousness, O'Malley suddenly finds himself -- as he likes to put it with his dry wit -- in sole possession of third place," Yahoo Politics wrote before the telecast.
O'Malley was followed on the telecast Friday by Sanders and Clinton. In the latest Quinnipiac University poll, the former Maryland governor received backing from less than 1 percent of likely Democratic Party primary voters. Sanders drew support from 35 percent, while Clinton received 53 percent.
Candidates could not respond to one another onstage as part of the forum rules. There were no time limits placed on the candidates' answers. The forum began airing at 8 p.m. EST on MSNBC.
© Copyright IBTimes 2023. All rights reserved.