Democrats Introduce A New Face: Julian Castro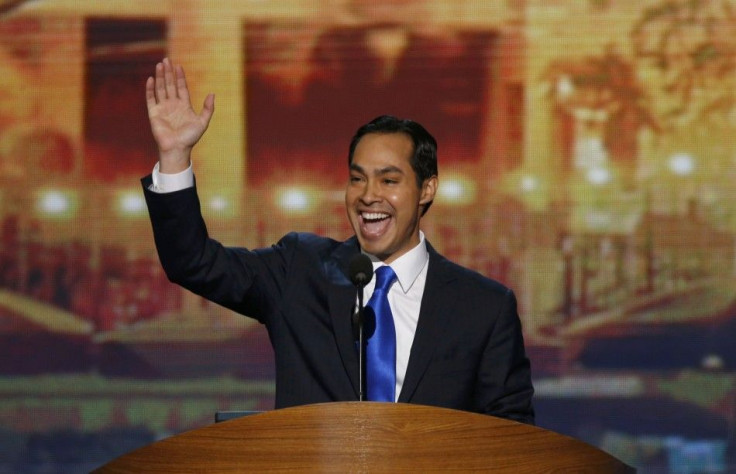 San Antonio Mayor Julian Castro presented a fresh, youthful, smiling face for Democrats at the opening night of their convention Tuesday - while hurling stinging attacks on the Republicans and their nominee.
Noting Mitt Romney's turnaround on health care from his days in Massachusetts, he said the Republican has undergone "an extreme makeover, and it ain't pretty."
Introduced by his twin brother Joaquin, a Texas state legislator who is running for Congress this year, Castro -- a boyish-looking 37 -- proclaimed himself a representative of the post-9/11, digital generation.
But he also stressed his Mexican-American's family story. Hailing the struggles of his grandmother and mother - and implicit critiquing radical individualism, he said, "The American dream isn't a sprint, or even a marathon, but a relay."
"My grandmother [a Mexican immigrant] didn't live to see us begin our lives in public service," he said. "But she probably would've thought it extraordinary that just two generations after she arrived in San Antonio, one grandson would be the mayor and the other would be on his way -- the good people of San Antonio willing -- to the United States Congress! My family's story isn't special. What's special is the America that makes our story possible. ... Ours is a nation like no other, a place where great journeys can be made in a single generation. ... No matter who you are or where you come from, the path is always forward."
Touting his record in San Antonio, Castro said, "Texas may be the one place where people actually still have bootstraps ... and we expect folks to pull themselves up by them. BUT we also recognize there are some things we can't do alone. ... We have to come together and invest in opportunity today for prosperity tomorrow."
Attacking the opposition, he said, "Now, like many of you, I watched last week's Republican Convention. They told a few stories of individual success ... we all celebrate individual success. But the question is: how do we multiply that success? The answer is President Barack Obama. ... Mitt Romney, quite simply, doesn't get it. A few months ago he visited a university in Ohio and gave the students there a little entrepreneurial advice. 'Start a business,' he said. But how? 'Borrow money if you have to from your parents,' he told them. Gee -- why didn't I think of that?'...
"We all understand that freedom isn't free. What Romney and Ryan don't understand is that neither is opportunity. We have to invest in it. Republicans tell us that if the most prosperous among us do even better, that somehow the rest of us will too. Folks...we've heard that before. First they called it 'trickle-down.' Then 'supply side.' Now it's 'Romney-Ryan.' Or is it 'Ryan-Romney'? Either way, their theory has been tested. It failed. Our economy failed. The middle class paid the price. Your family paid the price. Mitt Romney just doesn't get it."
Romney is "a good guy," he granted, but one "who has no idea how good he's had it."
"Four years ago, America stood on the brink of a depression. Despite incredible odds and united Republican opposition, our president took action. And now we've seen 4.5 million new jobs. ... He knows better than anyone that there's more hard work to do. But we're making progress.
"And now we need to make a choice. It's a choice...between a country where the middle class pays more, so that millionaires can pay less...Or a country where everybody pays their fair share. It's a choice between a nation that slashes funding for our schools and guts Pell grants...Or a nation that invests more in education. It's a choice between a politician who rewards companies that ship American jobs overseas...Or a leader who brings jobs back home. This is the choice before us. And to me, to my generation, and for all the generations that will come after us, our choice is clear. Our choice is a man who's always chosen us. A man who already is our president -- Barack Obama."
The Democratic Party's first Hispanic keynote convention speaker (the Republicans had one in 1984), Castro was elected mayor in 2009 and re-elected last year with a 82.9 percent share of the vote, The Atlantic reported.
While some Republicans have touted figures like Louisiana Gov. Bobby Jindal and Florida Sen. Marco Rubio as their "Obamas," Castro has certain parallels with the Illinois state senator who delivered the Democrats' keynote in 2004. Both were raised by single mothers, attended Harvard Law School and have sought to transcend racial politics while maintaining a connection to (and base in) their ethnic groups.
Former George W. Bush adviser Mark McKinnon once told The New York Times Magazine, "Julián Castro has a very good chance of becoming the first Hispanic president of the United States."
But other Democrats have been touted as the great Latino hope before, like Henry Cisneros, Antonio Villaraigosa and Bill Richardson.
But Cisneros, like Castro a former mayor of San Antonio and then secretary of housing and urban development under President Clinton, was indicted on 18 counts of conspiracy, giving false statements, and obstruction of justice in relation to payments he'd made to his former mistress, as the Daily Beast noted. Cisneros made a deal, pleading guilty to one misdemeanor count of lying to the FBI and paying a $10,000 fine. He was later pardoned by Clinton.
Villaraigosa, the mayor of Los Angeles, saw his public support plummet amid reports of nepotism, an investigation into alleged ethical violations, and an extramarital affair with a television reporter. Villaraigosa said the violations were unintentional and wound up paying a hefty fine. He was never charged with nepotism, and he acknowledged having an affair.
And Richardson, the former governor of New Mexico, was forced to withdraw as Obama's nominee for secretary of commerce because of a federal grand-jury probe into pay-to-play allegations. The Justice Department decided against pursuing indictments in the matter.
he Republicans have their own Latino rising stars, too, and they made the most of them at their convention last week: Rubio, New Mexico Gov. Susana Martinez, Nevada Gov. Brian Sandoval, Puerto Rico Gov. Luis Fortuño and Texas Senate nominee Ted Cruz.
© Copyright IBTimes 2023. All rights reserved.