Dennis Rodman Is Handing Out Art Of The Deal In North Korea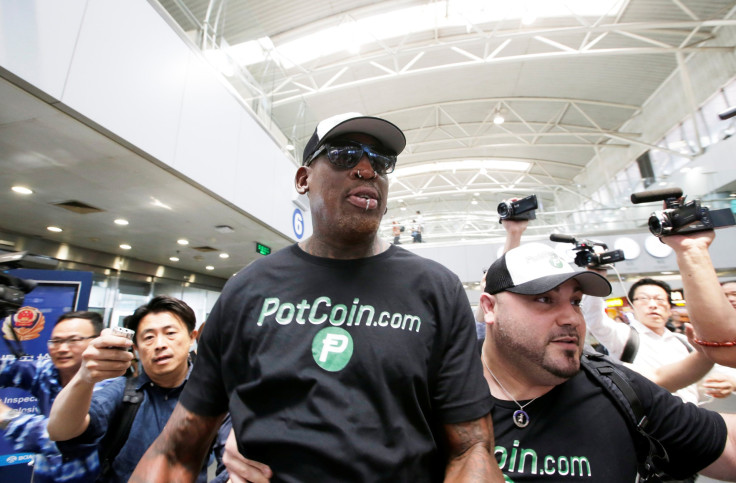 Former NBA star and all-around colorful figure Dennis Rodman is instructing North Korea on President Donald Trump's business secrets. TMZ reported on Thursday that Rodman presented North Korean Sports Minister Kim Il Guk with a copy of Trump's 1987 book "The Art of the Deal."
Rodman also gifted the minister bath products and generic basketball jerseys with his old number.
READ: What Is PotCoin? Why Dennis Rodman Went To North Korea, Again
Trump and Rodman both appeared together on two seasons of the reality show "Celebrity Apprentice" on NBC.
Rodman arrived in North Korea's capital Pyongyang, the same day that Otto Warmbier, a 22-year-old student from Ohio was released from prison in North Korea. Secretary of State Rex Tillerson announced the news of his release Tuesday morning.
Warmbier had been in prison for 17 months and came home in a coma. He was medically evacuated by way of a U.S. military base in Sapporo, Japan. While in North Korea, Warmbier suffered a severe neurological injury, University of Cincinnati Medical Center spokeswoman Kelly Martin said in a press conference Thursday.
CNN reported that the U.S. officials said that Rodman's arrival Warmbier's release were unrelated. Warmbier's father, Fred, said the same thing at the press conference.
"Dennis Rodman had nothing to do with Otto," Fred Warmbier said.
Otto Warmbier was arrested for allegedly attempting to remove a propaganda poster and was sentenced to 15 years hard labor.
There are three American prisoners left in the country.
Rodman's latest trip to North Korea has been sponsored by digital currency website PotCoin. The website aims to be a platform for transactions between marijuana retailers and customers, given banks weariness of the marijuana industry and the federal regulations against the drug.
"I'm really looking forward to spending time with the wonderful people of North Korea and of course, visiting with the Supreme Leader, Kim Jong Un. I want to thank the folks at PotCoin," said Rodman in a statement Tuesday. "They realized the importance of this trip and made it all possible for me."
This is Rodman's fifth visit to North Korea. Rodman's last visit in 2014 was to engage in what he called "basketball diplomacy." Rodman brought a group of former NBA players for a friendly exhibition game against North Korea's national team. A video emerged from the trip showing Rodman singing "Happy Birthday" to North Korea's leader.
The last trip proved controversial, as Rodman didn't pressure the regime to release American prisoners. At the time, Kim also had just had his powerful uncle, Jang Song Thaek, removed from his government position and executed.
READ: With Rodman In North Korea, US Blames Country For Hacking Spree That Started In 2009
Rodman's first visit was with the Harlem Globetrotters and a Vice News team. Previous trips were sponsored by Irish online betting company Paddy Power, but the company gave up their sponsorship of Rodman's trips after critics condemned them due to North Korea's track record of human rights violation.
Rodman, 56, was a teammate of Michael Jordan, Kim's favorite player, on the Chicago Bulls. Rodman also played for the Detroit Pistons, San Antonio Spurs, Los Angeles Lakers and Dallas Mavericks. The five-time NBA champion was inducted into the Hall of Fame after a 14-year professional career.
© Copyright IBTimes 2023. All rights reserved.