Dennis Rodman Interview Meltdown: Former NBA Star Rants At CNN Host Chris Cuomo After Kenneth Bae Question [VIDEO]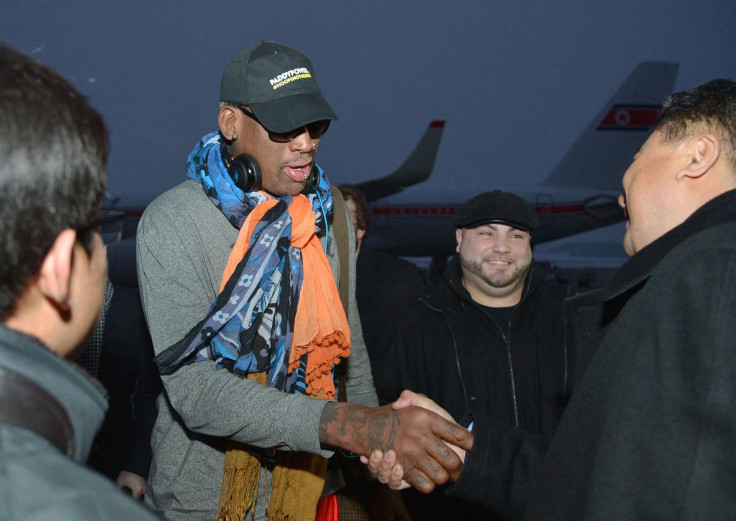 CNN host Chris Cuomo's interview with former NBA star Dennis Rodman took a bizarre turn on Tuesday when Cuomo asked the North Korean national team's basketball coach about his relationship with Kim Jong Un.
On Tuesday morning, Rodman, 52, appeared on CNN to discuss his current trip to North Korea, where he and several other former NBA stars will play in an exhibition basketball game. Near the end of the interview, Cuomo asked Rodman if he planned to use his relationship with Kim, whom he had previously described as a "friend," to act as an advocate for Kenneth Bae, an American citizen who is currently imprisoned in North Korea under dubious circumstances.
Cuomo's line of questioning rankled Rodman, who began to mumble under his breath as soon as Bae was mentioned. When given a chance to respond, the former Chicago Bulls star seemed to struggle to articulate his thoughts -- the result was a rambling, at times incoherent rant that may have been influenced by alcohol, Gawker suggests.
Initially, Rodman asked Cuomo if he was aware of what Bae had done to warrant an arrest. When Cuomo asked him to elaborate, Rodman began to yell.
"I don't give a rat's ass what the hell you think. Look at these guys here. Look at them," Rodman said to the CNN host, gesturing to the basketball players who sat around him. "They came here."
Cuomo pointed out that he hadn't questioned the motives of the basketball players, and that Rodman was about to discuss Bae's case before getting sidetracked. Rodman's advisers attempted to end the interview, but he insisted on continuing his rant.
"You're the guy behind the mic right now," Rodman continued. "We have to go back to America and take the abuse. Do you have to take the abuse?" He added that he and his fellow basketball players had the ability to "open the door" to improved communications between North Korea and America. Rodman then yielded the floor to fellow player Charles Smith.
Smith defended Rodman, noting that the group's trip to North Korea was primarily about basketball and did not have any specific political motives. "We've been doing these games for 3½ years," he said. "Outside of what people know of Dennis, you don't know Dennis. He's got a great heart, his passion is about children and families, that's why we are here."
The video of Rodman's meltdown on CNN can be viewed below.
© Copyright IBTimes 2023. All rights reserved.