Dennis Rodman Says He Is Sorry For His Remarks About Kenneth Bae; Veteran NBA Star To Visit A North Korean Resort With Kim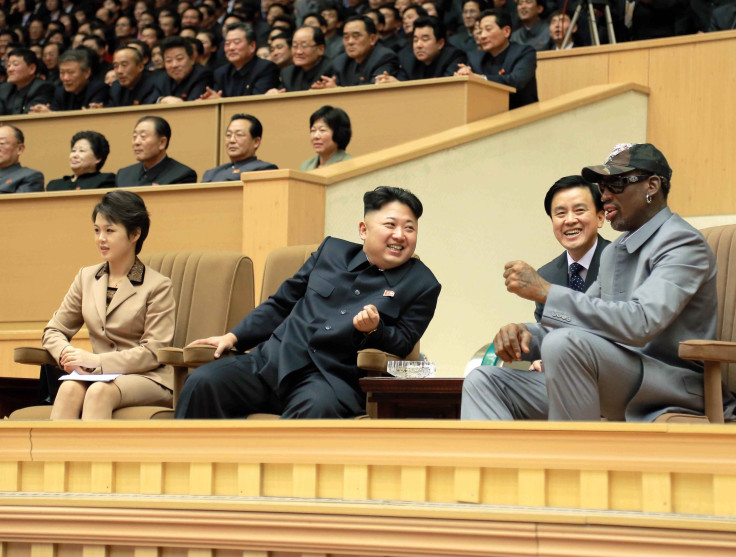 Former NBA star Dennis Rodman has said he is sorry for what he said in a television interview about an American citizen detained in North Korea.
The veteran basketball player said he was stressed out and was drinking while he made his much-criticized remark on CNN about Kenneth Bae, an American who is currently serving 15 years of hard labor in the North. Rodman followed up his comments with a statement, issued by his publicist, apologizing to Bae's family as well as to Chris Cuomo, who conducted the interview.
"I want to first apologize to Kenneth Bae's family," Rodman said, according to a CNN report. "I want to apologize to my teammates and my management team. I also want to apologize to Chris Cuomo."
Rodman, in the interview that aired on Jan. 7, had appeared to imply that Bae was responsible for his fate and he might have done something to deserve the arrest.
"I take full responsibility for my actions. It had been a very stressful day. Some of my teammates were leaving because of pressure from their families and business associates," Rodman said, in a statement emailed to the Associated Press.
"My dreams of basketball diplomacy was quickly falling apart. I had been drinking. It's not an excuse but by the time the interview happened I was upset. I was overwhelmed. It's not an excuse, it's just the truth," he added.
Rodman has defended his friendship with North Korea's young leader -- which has been described as strange and bizarre by observers -- as well as frequent visits to the totalitarian state, as an attempt at basketball diplomacy aimed at improving the North's ties with the West.
However, his visits and activities in the North have been subjected to much criticism and ridicule by defectors from the North, who claim that the veteran player is being used by the nation's dictator Kim Jong Un as a "doormat and not diplomat." Rodman's critics believe that his actions toward the regime and its leader imply that he supports the alleged human rights violations in the country.
Rodman is currently in North Korea, where he took his team of NBA players for a friendly match to commemorate Kim's birthday.
He reportedly sang "Happy Birthday" to Kim before heading to the game at Pyongyang Indoor Stadium on Wednesday. His serenading of the repressive leader has stirred up a huge controversy in the U.S., and some of the spectators at the game compared it to Marilyn Monroe's performance for John F. Kennedy at a 1962 fund-raising event.
According to the latest media reports, the 52-year-old sports personality was scheduled to visit a new multi-million dollar resort, which is one of Kim's showcase projects in the impoverished country.
Rodman's comments on Bae, who was leading a tour group in the reclusive and repressive communist country when he was detained, drew outrage from Bae's family who asked him to stop harming ongoing efforts to rescue the captive American.
"My family and I are outraged," Bae's sister Terri Chung said in a statement about the interview. "He is playing games with my brother's life. There is no diplomacy, only games, and at my brother's expense."
© Copyright IBTimes 2023. All rights reserved.