Deontay Wilder Beats Up Internet Troll Charlie Zelenoff At LA Boxing Gym; Cyberbully Used Racial Slurs, Mocked Boxer's Daughter [VIDEO]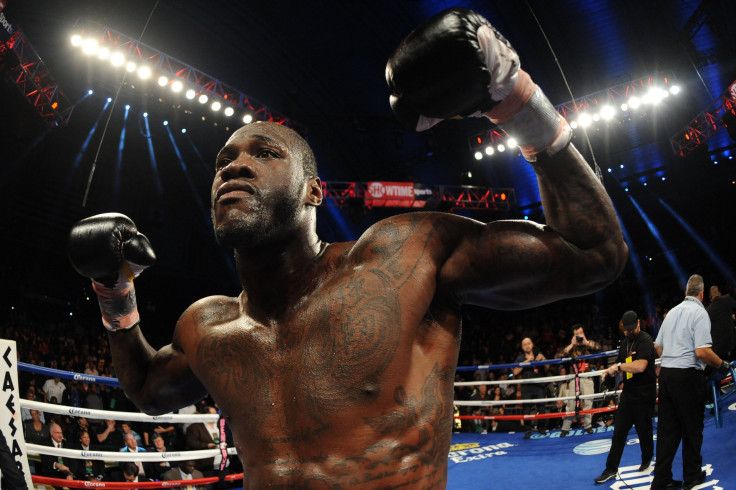 Boxer Deontay Wilder got into a real-life fight on Wednesday with an Internet troll who has reportedly harassed him online for years.
Wilder, a 28-year-old boxer with a 31-0 professional record, came face-to-face with Charlie Zelenoff, a would-be fighter who has harried him for years, TMZ reported. According to the website, Zelenoff has subjected Wilder to harassing phone calls and personal attacks on social media.
Zelenoff's messages to Wilder reportedly included the use of racial slurs and contained insults directed at the boxer's daughter, who suffers from spina bifida, a debilitating condition that affects the spinal cord. Eventually, the Internet troll decided to challenge Wilder to an actual fight, which Wilder accepted on Wednesday night at the Hollywood Boxing Gym in Los Angeles, California.
Initially, Zelenoff confronted Wilder in a boxing ring, throwing a sucker punch before the pro fighter had fully stepped onto the mat. But when Wilder countered Zelenoff's punch with a vicious hook, the Internet troll fled the ring and ran out a nearby door.
When Zelenoff returned to the area, he and Wilder faced off on the wooden floor next to the gym's boxing ring. Wilder dominated the encounter; after a few hard punches, Zelenoff fell to the floor and said the fight was over.
"It's gonna stop," Wilder told Zelenoff. "Don't you ever call me a n----- again. Don't you ever say you're going to tape my daughter."
Despite the beating he endured at Wilder's hands, Zelenoff continued to hurl insults at the boxer. "I could've knocked you out outside," he said. "I'm the best, I'm still the best."
Zelenoff then ran from the building, according to TMZ.
This isn't the first time Zelenoff had a conflict with a professional boxing figure. In 2011, he participated in an infamous sparring session with famed trainer Floyd Mayweather Sr., during which he sucker-punched the 61-year-old man while his back was turned.
A video of Wilder's fight with the Internet troll can be viewed below.
© Copyright IBTimes 2023. All rights reserved.