Deontay Wilder Shares Interesting Story About Pope Francis
KEY POINTS
WBC Heavyweight champ Deontay Wilder recently spent time with Pope Francis
Pope Francis is a huge boxing fan
Wilder wanted to urge Pope Francis to watch his next fight
WBC heavyweight champion Deontay Wilder shared his interesting encounter with a former pope.
It isn't everyday that a person famous for (professionally) hurting other people takes time to visit the pope. This was exactly what Wilder did when he got the chance to visit Rome recently. And It turns out, Pope Francis himself is a big boxing fan.
In an interview with Kevin Iole of Yahoo Sports, Wilder described how the meeting with the Pope went down. According to "The Bronze Bomber," spending time with the Pope was an amazing and "humbling" experience, Boxing News and Views reported.
"It was amazing. I must say. My life is blessed. Meeting so many people, being in so many different places around the world, so many times, and meeting the Pope was amazing. It was a humbling experience as well. He's every bit of what I thought he'd be and what others would say as well. He loves all the human race and it was amazing to interact with him and see him interact with others as well. It's nothing but love," Wilder said.
Wilder visited the Pope together with his fiancé. The 34-year-old admitted that the visit was also monumental for his fiancé as she is Catholic.
Upon learning that the Pope is a huge boxing fan, Wilder revealed what he really wanted to tell him. As per the champ, he decided not to ask about his past fights but wanted to urge the Pope to watch his upcoming fight against Tyson Fury.
"I didn't ask him that (did he see me fight), like, hey, did you see that Breazeale or Luis Ortiz fight? (laughs). Maybe this fight coming up (Tyson Fury) — hey Pope — click that button (buy pay per view) if you can't be there! It's on Fox!" (laughs)," Wilder revealed.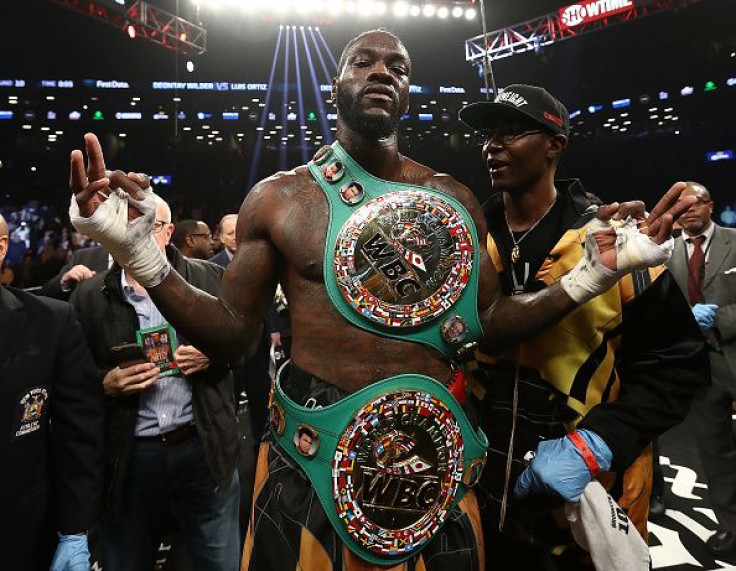 On a more serious note, Wilder pointed out that it is amazing to be a symbol of peace while doing completely the opposite of peace in his profession.
"It was just amazing. To name me the boxing ambassador of peace and you know my profession is like, so (laughs), the opposite of peace. I knock men put. I knock their brains out of their heads literally. All over the canvas. Then their body does weird things. And I'm the ambassador of peace? But, when I look it at, (the title) it resembles who I am. Every bit of it," Wilder pointed out.
Wilder is set for a huge pay-per-view fight on February 22 as he clashes with his long-time rival Fury in a highly anticipated rematch.
© Copyright IBTimes 2023. All rights reserved.