DeRozan Names Three Bulls Teammates 'Every Team Wants' Ahead Of NBA Trade Deadline
KEY POINTS
DeMar DeRozan acknowledges the absence of his injured Bulls teammates
DeRozan makes a bold claim about Lonzo Ball, Alex Caruso and Patrick Williams
The Bulls are linked to two possible trades as the deadline approaches
DeMar DeRozan is well aware of how important his Chicago Bulls teammates are.
The NBA is just days away from the trade deadline. With a couple of pillars sidelined, the Bulls look like they could use a valuable acquisition as an immediate solution.
However, that has not been the case for DeRozan.
Speaking after Chicago's tough 119-108 loss to the Philadelphia 76ers on Sunday, February 6, DeRozan emphasized the void left by his co-stars Lonzo Ball, Alex Caruso and Patrick Williams.
According to the five-time NBA All-Star, the Bulls need to look no further in the market for possible reinforcements. Instead, the team just needs to have Ball, Caruso and Williams back.
"We're missing Lonzo Ball, one of the point guards in the league, Alex Caruso, one of the best defenders in this league, Patrick Williams, one of the young stars in this league," DeRozan told NBC Sports.
"We haven't had those guys. And we have them, and they'll be back. We don't need to worry or stress about having nobody else. Those three right there, I guarantee every team in this NBA wishes they had those three guys. We're going to get those back and we'll be fine."
It can be recalled that Ball had undergone arthroscopic knee surgery last month. Caruso, meanwhile, underwent surgery for his fractured right wrist.
Williams, on the other hand, has been out for months after tearing his wrist ligaments early in the season.
Nevertheless, DeRozan is positive about his teammates' "itch to get back" on the court, having seen Ball on the Bulls' bench on Sunday to show his support.
"They definitely got the itch to get back," DeRozan said of Ball, Caruso and Williams. "Having 'Zo [Ball] on the bench [on Sunday], seeing him, was great."
"Just seeing those guys around working towards getting back healthy gives us that extra juice that we need," he continued.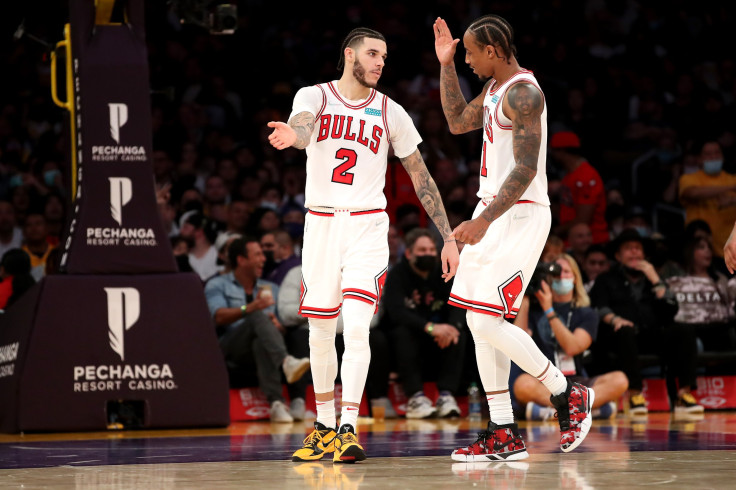 Bulls head coach Billy Donovan said before the game that he is optimistic about having a complete unit just before the regular season ends.
As for possible trades ahead of the Thursday deadline, recent reports have linked the Bulls to a swoop for Boston Celtics point guard Dennis Schroder and San Antonio Spurs big man Jakob Poeltl.
A deal has yet to progress between the Spurs and the Bulls for Poeltl.
However, Chicago already has "offers on the table" for Schroder, per The Action Network's Matt Moore.
© Copyright IBTimes 2023. All rights reserved.