NBA Rumors: Lakers Need To Do One Thing To Keep Malik Monk
KEY POINTS
Lakers guard Malik Monk has been of great help to LeBron James
Los Angeles needs to unload players' salaries to make room for Monk's extension
Frank Vogel wants the 24-year-old to start in the next games
The future of a breakout star with the Los Angeles Lakers is still uncertain.
Malik Monk is beginning to make his mark on the Lakers this season. He has been one of the pillars of the team's offense when LeBron James was sidelined.
With Monk now establishing his role in head coach Frank Vogel's setup, the Lakers should be thinking about prolonging his stay.
However, before Los Angeles even begin discussing the shooting guard's contract situation, it appears that the problem has already been identified.
Should the Lakers push for re-signing Monk, they need to offload a couple of players to "clear salary" at the end of the season.
Otherwise, their offer will be limited to the taxpayer mid-level exception, which is expected to around $6.3 million, per ESPN's Bobby Marks.
"Unless the Lakers clear salary in the offseason, the $6.3M tax ML [mid-level] is the max they can sign Malik Monk as a FA [free agent]," Marks wrote.
Monk has been in the zone in the Lakers' recent run. Over the team's last four games, the 24-year-old has averaged 22.5 points per outing.
In the latest win over the New York Knicks on Saturday, February 5, Monk started out cold and exploded in 18 in the quarter alone.
He racked up a total of 29 points to help lead the Lakers to 122-115 victory.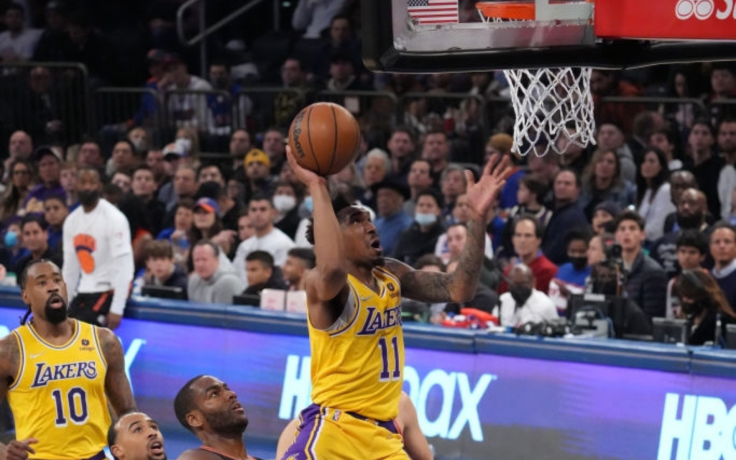 Sharing his thoughts to the media after the game, Monk said that he's playing a "perfect" role for the Lakers at the moment.
He also expressed his genuine gratitude to Lakers general manager Rob Pelinka for reaching out to him during the offseason.
"It's perfect," Monk said of his role. "This is what I wanted to do my whole career. This is what I'm trying to find. I'm happy that Rob [Pelinka] called me this summer man and gave me the opportunity. I'm going to continue to do that."
"Just to be aggressive," he continued. "I think I was a little passive in the first half second-guessing myself. My teammates told me to be you, be yourself and that's what I did."
To date, Monk has only started in 16 of his 48 games for the Lakers.
However, that number is expected to increase as Vogel recently confirmed that Monk is "likely to stay in the starting lineup."
"He picks up a big chunk of the scoring load with LeBron [James] out," Vogel said of Monk. "We use him in the second unit. That's something that's been a positive of ours. When a player is that hot, you got to maximize his usage. I would say he's likely to stay in the starting lineup, yes."
© Copyright IBTimes 2023. All rights reserved.