Despite Reform, High Cost Of Living Puts Many Chinese Off Having A Second Child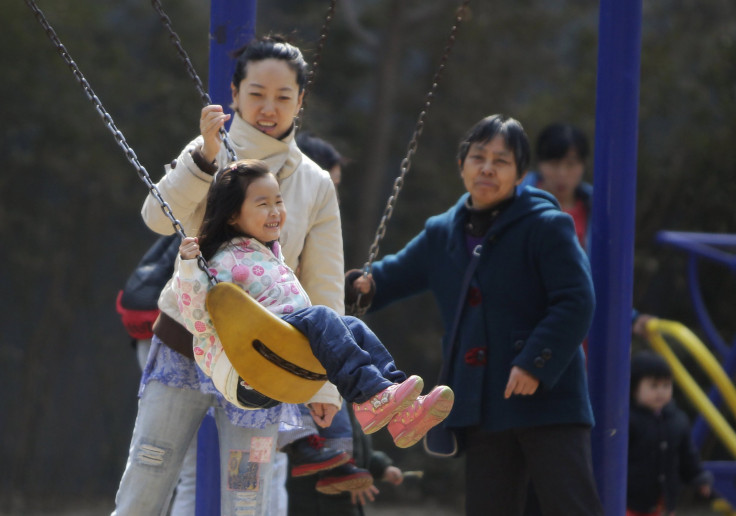 SHANGHAI -- On Shanghai's Changle Road, a street lined with shops catering to visitors to the nearby maternity hospital, babywear store manager Wang Yi was visibly excited about Thursday's announcement that China is replacing its one-child policy with a two-child policy:
"It will definitely be good for us," she said, her eyes lighting up. "Just imagine -- people will need more nappies, more milk powder, more baby clothes!"
The Chinese Communist Party's announcement that, beginning next year, it will allow all couples to have two children, is seen by observers as designed to bring a timely boost to an economy that is now slowing after two decades of breakneck growth. GDP growth fell to 6.9 percent in the third quarter of this year, its lowest level since the global financial crisis in 2009.
Analysts say the policy shift, after more than 30 years of enforcing the controversial one-child rule for urban residents, could lead to between 3 and 8 million extra births a year. This could help tackle China's problems of an aging population, manual labor shortages and a shortfall in the nation's pension fund. It could also boost everything from consumption to real estate, which was once one of the main engines of growth in China's economy, but has experienced far slower development over the past three years.
"This is designed to reactivate the real estate business, so developers can build bigger homes and more schools nearby," Ou Ning, a writer and social critic, told International Business Times. Shares in manufacturers of European baby milk formula -- popular with Chinese parents concerned about the safety of domestic products -- and Chinese baby goods makers have also soared since the reform was announced.
The problem, however, is how to guarantee that people take the opportunity to have more children -- when the pressures and costs of life, particularly in China's cities, are widely seen as discouraging many from doing so.
"In theory it's definitely much better to have two kids," James Ke, a Shanghai-based company manager in his mid-30s, told IBT. "They won't be so lonely, their childhood will be more fun. But who can afford it? It's really tough."
His opinion was echoed in many comments on Chinese websites Friday: Popular posts on China's biggest news portal Sina.com included one that estimated the cost of raising a child at between 600,000 and 700,000 yuan (around $95,000 to $110,000), and described this figure as "unimagineable" for an ordinary working family. Another mocked an official statement warning that despite the reforms there would still be fines for those who had more than the permitted number of children: "Ha ha," it said. "In five years' time they'll be offering rewards to those who have more. Raising a kid is so expensive – I can't afford one!"
China Overview | FindTheData
A relative lack of enthusiasm for larger family sizes has already been demonstrated over the past two years, since the government made an initial partial relaxation of the one-child policy in a few big cities: It allowed couples, if one spouse was an only child, to have two children. Chinese media say only around 1.5 million people out of some 11 million eligible have applied to take advantage of this policy so far.
"I think there may be very few people in big cities who want to have more kids," Hu Xingdou, a political economist at the Beijing Institute of Technology, said. "Chinese people's income is quite low -- and the cost of living and house prices are very high: Many middle class people are what we call 'housing slaves' [i.e., most of their salary goes toward paying off their housing loans], and the standard of welfare is much worse than in West. So having another child is a big burden."
Hu said that even though education is, in theory, free from age 6 to 15 in China, fees for kindergartens, senior high school and university are all seen as expensive, while many families also pay for extra private tuition to help their children stand out in a highly competitive educational and social environment. Parents also know they will have to help their sons buy an apartment when they get married, he said:
"In the big cities it can cost over 2 million just to get married -- if you don't buy an apartment first, the girl won't marry you!"
China's current economic slowdown may also be adding to worries about such pressures, with some indications that it has shaken consumer confidence in recent months. And there are wider worries for prospective parents too: concerns about China's well-documented problems of food safety and the environment -- as well as about the economy and the cost of education and medical care -- mean many people "don't really even want one child," according to another post on Sina.com on Friday.
And some observers said many Chinese people have simply grown used to a life where grandparents spend much of the time looking after young children -- allowing the parents to work and take more time for themselves. A second child could disrupt this model: As businessman James Ke put it, "I don't have the energy for that."
"Now in China many urban people would rather invest in their own happiness -- not in having more children," Professor Hu said. "We're not so different from developed societies in that respect. So, I'm not sure the change in the one-child policy will have such a big impact on either China's labor shortage or pension shortfall."
Indeed, two separate online polls on Friday showed that around 40 percent of more than 300,000 respondents were not interested in having a second child.
However, all may not be lost: Hu Xingdou noted that China's rural people have been more willing to have a second child in recent years, taking advantage of loopholes in the old one child policy -- and he said this trend may continue as the government encourages more of them to move into new cities being built in inland provinces. Shane Zhu, a café manager in his late-20s who moved to Shanghai a decade ago from Anhui province, is clear about his views:
"A lot of young people in my generation want to have two children -- most of my friends do," he said. "A single child will be too lonely." And Zhu knows of what he speaks -- like many people born in the countryside, he is one of two children:
"I have an older brother," he said. "It's nice -- we have fun together, we talk together, chat about things. So I'm definitely planning to have two children. It might be expensive, but I'm willing to pay!"
Many analysts, while cautioning that the immediate economic impact of the policy change might be limited, believe that public attitudes regarding having a second child may eventually change.
"While we believe that the impact on consumption will be quite small in this period, long-term benefits will be gradually significant," ANZ Bank said in a report on Friday.
"My feeling is that the impact of this change is going to take time," Frank Chen, executive director of research for China at real estate company CBRE, told IBT. "But in the medium- to long-term it will be positive: More childbirth will lead to more residential demand, and it will be positive for the retail sector as well."
And some observers believe there is still the potential for further reform. A number of influential Chinese intellectuals continue to call for a total scrapping of the country's family planning policy -- with critics saying even restricting births to two children is an infringement of citizen's rights.
And a report by Bank of America Merrill Lynch this week predicted that Chinese people might be allowed to have as many children as they liked within 10 to 15 years.
And even if some members of the young generation remain unsure about the policy change, the influence of their parents should perhaps not be underestimated -- in a country where parental pressure to get married and have children has long been a major factor in China's relatively low average marriage age. Some older people are already enthusiastic about the prospect of having more grandchildren:
"I'm too old to benefit from this policy change, sadly," said Wang Yi, the baby-ware store manager. "But I'm definitely going to encourage my daughter, who's 20, to have two children! Two children are definitely better, just having one is not good."
© Copyright IBTimes 2023. All rights reserved.