Detroit Automakers Rely On US Truck Sales For Global Profits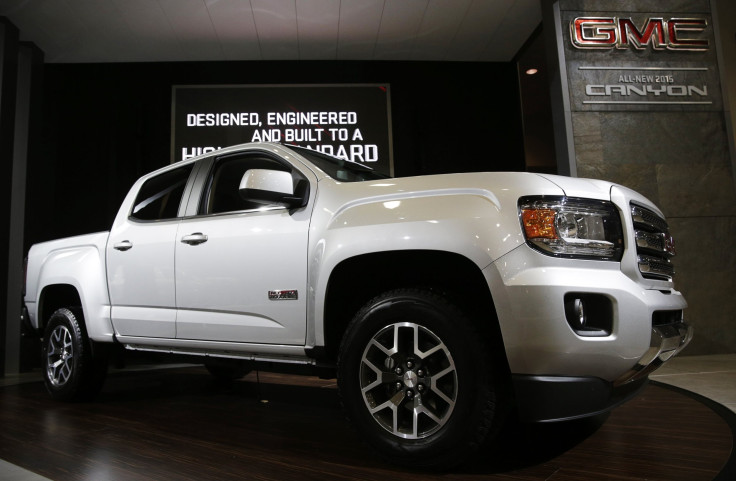 (Reuters) - Detroit automakers have come full circle, relying as they did before the financial crisis on profits from selling trucks and sport utility vehicles in the United States to cover losses overseas.
That's the profit formula Detroit was supposed to move beyond after the financial crisis, gas price shocks and the federal bailouts of General Motors and Chrysler. Ford Motor Co's (F.N) first-quarter results on Tuesday highlight how reliant the Detroit Three have become once again on their biggest, least- fuel-efficient models.
Industry executives and analysts say the pattern may look familiar, but the risks aren't the same.
Ford lost money in South American and Europe, and Chief Executive Mark Fields told analysts on Tuesday that "we are seeing slower growth" in the Chinese market.
But Ford reported $1.34 billion in pre-tax profits from North America for the quarter, down from $1.5 billion a year earlier. Higher costs for materials, manufacturing and engineering dented the results, but Ford's North American take was more than enough to offset the $404 million in pre-tax losses from other regions. Ford also reaffirmed its full-year profit guidance.
Central to Ford's profit forecast is continued success for the launch of the aluminum-body F-150 pickup, which is still chugging toward full speed. Company executives say demand for the new F-150 is strong.
General Motors Co (GM.N) last week reported a record $2.2 billion in first-quarter earnings before interest and taxes from its North American auto operations, but break-even results outside North America.
Fiat Chrysler Automobiles NV (FCAU.N) reports first-quarter results on Wednesday and is expected to show a similar dependence on North American sales of its Ram pickup and Jeep SUVs.
Some warning signs are popping up in the United States. The Conference Board's latest measure of U.S. consumer confidence on Tuesday hit its lowest level since December. The stronger dollar is allowing Japanese and European rivals to cut prices or offer more features on their U.S. products.
Japanese automakers over the past two years have garnered a $4,000 per vehicle advantage due to the weaker yen, according to Morgan Stanley analyst Adam Jonas.
"To put equipment on at no price or low price is exactly what they have traditionally done over many, many years," Ford Chief Financial Officer Bob Shanks told Reuters. "We'll have to continue to work on our costs."
Detroit's automakers have cut costs substantially since the financial crisis, buying insurance against a slowdown in the U.S. truck market.
"We're a little bit back to the future, although we kind of got there in different ways," said Brian Johnson of Barclays. Cars are not as profitable as large trucks, he noted, but they are profitable. In the past, Detroit's small and medium-sized cars were often losers.
Susquehanna Financial Group analyst Matthew Stover said Ford's reliance on the F-150 is "a problem every auto company would probably love to have. They've got to figure out a way to make more money on everything else."
© Copyright IBTimes 2023. All rights reserved.