Did Nicki Minaj, Meek Mill Break Up? 'Anaconda' Rapper Refers To Alleged Boyfriend As 'This Boy That Likes Me'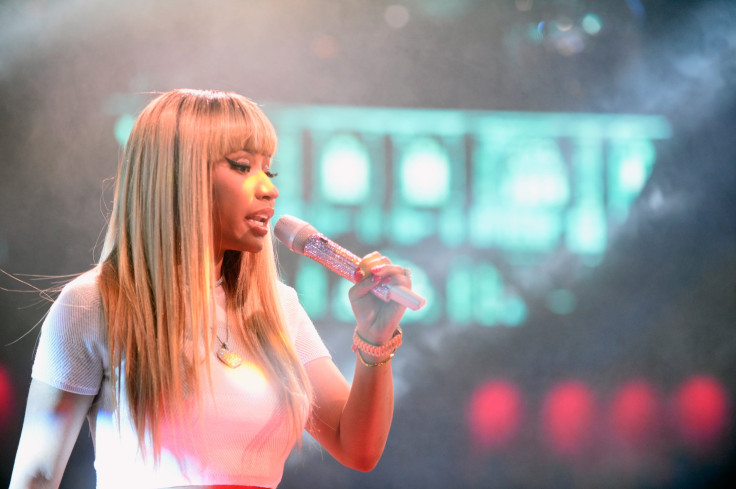 Nicki Minaj may be back on the market. The "Super Bass" rapper is set to appear on "Ellen: The Ellen DeGeneres Show" Thursday, when she will be asked about the two rings boyfriend Meek Mill gave her. Clips of the show feature her response, which left fans wondering whether she and the Philadelphia native — who is currently under house arrest — may have broken up.
According to E News, Minaj, 33, will sit down with host DeGeneres to discuss her "engagement ring." The Billboard Music Award-winner quickly corrects DeGeneres, assuring her it is not an engagement ring, but rather one of two gifts from "this boy that likes me." The talk-show host then gives viewers a look at a photograph of the massive ring, which left Minaj speechless. Minaj gathers herself before explaining that "this boy," whose name she refrains from saying, is well off. In closing, she claims the aforementioned, nameless man promised her three rings, the last of which will be an engagement ring.
"First of all, that's not an engagement ring. Right? I have two rings from this boy that likes me," Minaj says. "That boy has money. Whatever boy that is."
While Minaj and her beau have discussed getting engaged, the singer born in Trinidad and Tobago and raised in New York says she's unsure whether it is in the cards for them. She explains to DeGeneres that she and Meek Mill are "still figuring each other out" adding that she no longer wants to say that they're exclusive. Minaj claims that telling people that tends to elicit a negative response, which she finds tiresome.
Minaj's shocking interview comes just weeks after she professed her love for Meek Mill onstage during a concert in South Africa, so maybe there's hope for them, after all. Minaj took the stage March 23 performing "All Eyes on You," which features Chris Brown and his fellow "R.I.C.O" rapper. Video of the concert shows the crowd cheering wildly and singing along as photos of Minaj and her love flash in the background.
Her loving gesture came amid rumors that she and Meek Mill had called it quits. TMZ reported March 12 that they had gotten back together after a brief break. The rappers were said to have come to the realization that their communication was lacking. Meek Mill's legal trouble was also reportedly creating a rift between them. Minaj was reportedly trying her best to spend time with Meek Mill in his Philadelphia home where he is serving a 90-day house arrest sentence stemming from a probation violation linked to drug and gun charges dating to 2008.
Neither Minaj nor Meek Mill has addressed the most recent rumors about their relationship.
"Ellen: The Ellen DeGeneres Show" airs Thursday at 4 p.m. EDT. Check your local listings for network information.
© Copyright IBTimes 2023. All rights reserved.