Dietary Guidelines For Americans 2015: Food Sustainability Not A Factor, White House Says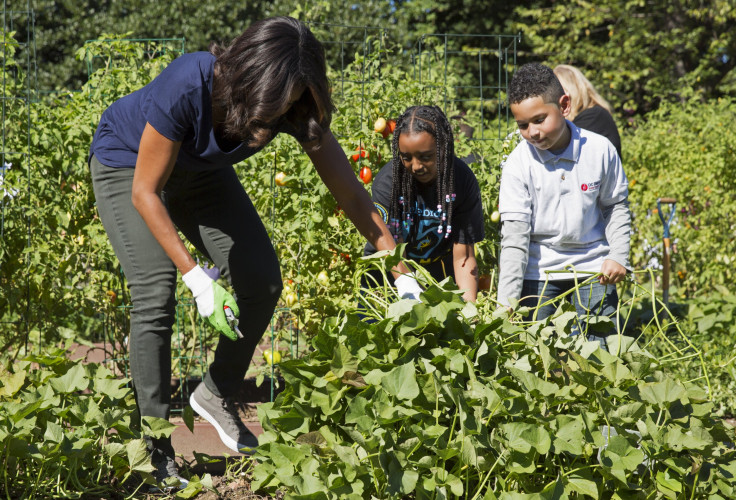 Americans are changing the way they eat, demanding more locally and sustainably grown foods, from hormone-free beef to organic strawberries, that they see as better for their bodies -- and their consciences. The U.S. government, however, is further behind. Questions of how food is grown or raised, and the impact of those methods on the environment, will not be factored into this year's edition of the Dietary Guidelines for Americans, the Obama administration announced Tuesday in a blog post co-written by Secretary of Agriculture Tom Vilsack and Secretary of Health and Human Services Sylvia Burwell.
"There has been some discussion this year about whether we would include the goal of sustainability as a factor in developing dietary guidelines," they wrote, defining sustainability as "evaluating the environmental impact of a food source" and pointing out, "some of the things we eat, for example, require more resources to raise than others." But that goal will not be included as the departments develop the 2015 guidelines, which should be completed in December, because "we do not believe that the 2015 DGAs are the appropriate vehicle for this important policy conversation about sustainability."
This year's guidelines overall will be similar to those of the past, officials said. They will emphasize a healthy diet rooted in fruits and vegetables, low-fat milk and cheese, whole grains and lean proteins while recommending that people stay away from saturated fats and foods with added sugar and salt.
Although sustainability and environmental issues are "critically important," Vilsack and Burwell said, those questions would not play a role in this year's guide, which is for "nutritional and dietary information and guidelines."
In recent years, a shift has taken place among American eaters, who want to know where their food comes from, how it is grown and what impact its production has on the surrounding environment and the planet as a whole. Farm-to-table restaurants have grown increasingly popular, as have farmers markets and community gardens. Organizations, businesses and a host of resources have sprung up to meet the swelling demand for fresh, local and socially responsible food.
There's the Eat Well Guide, launched in 2003, "a curated directory of over 25,000 hand-picked restaurants, farms, markets and other sources of local, sustainable food throughout the U.S." Movements such as Slow Food, meanwhile, work to "create a food system based on the principles of high quality and taste, environmental sustainability and social justice — in essence, a food system that is good, clean and fair," according to the New York City branch of the organization.
Private and non-governmental groups may have risen to the challenge of helping Americans find sustainable food, even if government recommendations have not yet caught up. Still, there's always next year. As Vilsack and Burwell wrote, the Department of Agriculture spends billions of dollars annually on sustainable food production, "and we are committed to continuing this investment."
© Copyright IBTimes 2023. All rights reserved.