Is Dirk Nowitzki Retiring? Clippers Coach Doc Rivers Stops Game To Honor Mavericks Star
Dallas Mavericks star Dirk Nowitzki is 40 years old and has done almost everything a player can do in his lengthy NBA career. With an NBA MVP, a Finals MVP and several years' worth of consistent production, he might be remembered as the greatest Maverick of all time when his career is over.
Plenty of people around the NBA seem to believe that day will come soon. In the waning seconds of the Mavericks' loss to the LA Clippers on Monday, Clippers head coach Doc Rivers took a timeout with the game already in hand. He grabbed a microphone and instructed the crowd at Staples Center to give a standing ovation to Nowitzki.
It is worth noting that Nowitzki has not said one way or another whether he will retire at the end of this season.
It was just the latest in a series of tributes to Nowitzki that have occurred around the NBA this season. For instance, former on-court rivals Nowitzki and Dwyane Wade exchanged jerseys in a game between the Mavericks and Miami Heat earlier this year.
Both of Nowitzki's NBA Finals appearances were against Wade and the Heat. Wade led an improbable comeback to win the championship in 2006, while Nowitzki snatched a title away from Wade, LeBron James and Chris Bosh in the 2011 Finals.
Even though his retirement is not official, it seems more likely than not. He is only making $5 million this year and will be an unrestricted free agent after the season. Nowitzki's scoring average is in the single digits for the first time in 20 years and he is only playing 12.2 minutes per game.
Nowitzki acknowledged the awkwardness of the situation while showing his appreciation.
"They're making the decision for me, I guess," Nowitzki said, per ESPN. "We'll see what the rest of the season brings, but it's been great."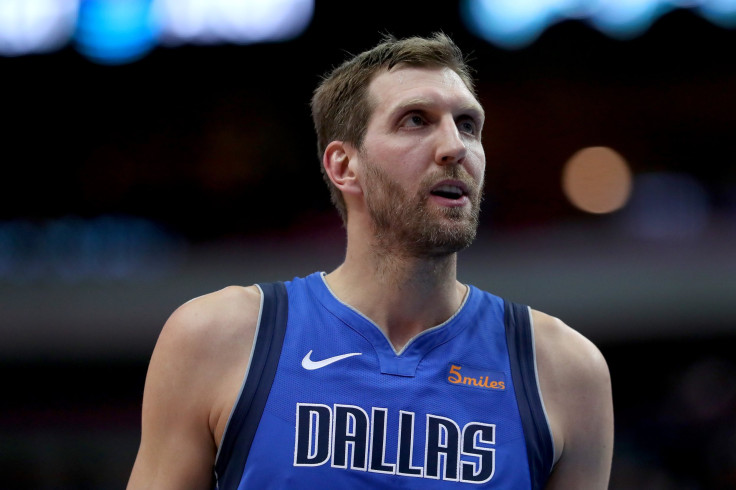 © Copyright IBTimes 2023. All rights reserved.