Djokovic Says 'Back At My Best Level,' Warns Federer And Nadal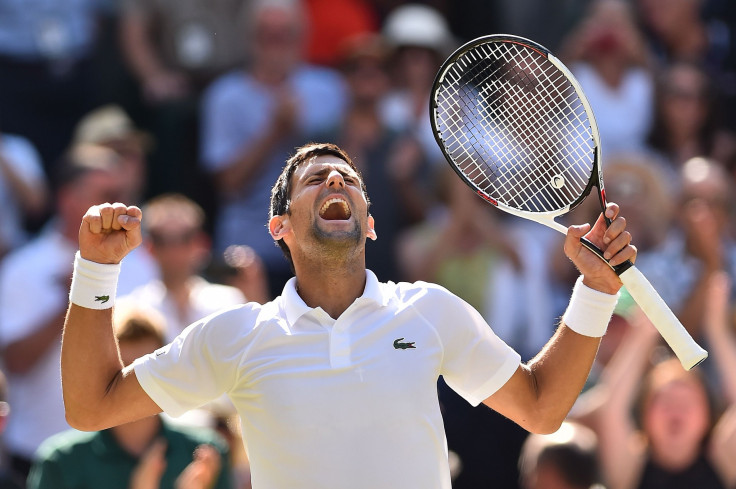 Rafael Nadal and Roger Federer have dominated tennis since returning from injury at the start of 2017 and are currently the number one and two ranked players in the world respectively.
Novak Djokovic spent most of the time during this period sidelined with an elbow injury, but has now returned and sent out a warning that he is back to his best following his triumph at Wimbledon in July.
The Serbian missed the second half of the 2017 season with an elbow injury, but his troubles started in 2016 after he won the French Open. He faced motivation issues which saw him struggle to win tournaments, with Wimbledon being just his fourth win since winning at Roland Garros over two years back.
Djokovic returned at the start of the 2018 season, but after losing in the round of 16 at the Australian Open in January, he again had a surgery to correct the problem with his elbow. The former world number one then returned in March at the BNP Paribas Open and has played almost every tournament since on hard, clay and grass courts.
Until reaching the final at the Queen's Club tournament in June, his best result was a semi-final appearance at the Italian Open, with many of the rest being second and third round defeats. He lost the final in Queen's to Marin Cilic but went one step further at SW19 when he claimed his 13th men's singles Grand Slam title.
Djokovic beat world number one Nadal on his way to the final and is now one of the favorites going into the hard court tournaments including the US Open in the second half of the season. Federer and Nadal will still be the top contenders, but the former world number one sent out a proper warning by admitting he is back to his best.
"It was quite a ride, quite a journey," Djokovic said talking about his success at Wimbledon, according to the Express. "Post-surgery, several months I was trying to find my form."
"I worked very hard, probably harder than ever. I had to trust the process and be patient and that's probably the biggest lesson I've learned because I probably wasn't that patient throughout my life!" he said.
"I had to learn that and understand that good things come with time and it takes time especially after surgery to hit thousands and thousands of balls and really get a comfortable feel on the court and eventually start playing well," he explained. "It has happened for me, the big comeback, winning a big trophy in Wimbledon, in the best possible scenario in the best possible setting. Wimbledon is definitely the most well-known tennis tournament in the world and the one that I always dreamt of winning so it was a true blast."
"When I started training for the new season I felt pain again and kind of played with the pain in Australia then the surgery was inevitable. After that, the season started, I wasn't fit and frustrations kicked in. Obviously I struggled mentally a little bit there," Djokovic added. "At the same time it had to happen for me to really understand myself on a deeper level, understand what I need to do and in which way I need to approach this sport and training and to get myself back on a desired level."
"The last couple of months have been terrific really; Roland Garros, Queen's and the Wimbledon title. I finally think reached the level that I want to play on," he said.
Djokovic is currently preparing for his second round clash against Peter Polansky on Wednesday in the Rogers Cup in Toronto.
© Copyright IBTimes 2023. All rights reserved.