Djokovic Wants To Face Nadal In Wimbledon Finals, 'Get Revenge' For French Open Loss
KEY POINTS
Rafael Nadal recently won his 22nd Grand Slam title
He defeated Djokovic at Roland Garros' semi-final
Wimbledon is set to go underway Monday (June 27)
Novak Djokovic wants to avenge his Roland Garros defeat against Rafael Nadal at the upcoming Wimbledon.
Nadal defeated Djokovic in four sets in the semi-final earlier this month. The Spaniard then eased past Norway's Casper Ruud in straight sets to clinch his record-extending 22nd Grand Slam title. The World No. 4 Nadal has won the French Open a record 14 times.
By beating Djokovic in the last four this year in Paris, Nadal took his revenge for his defeat to the Serbian in the 2021 Roland Garros.
Djokovic has revenge in mind as well ahead of Wimbledon, which is scheduled to begin Monday (June 27). With World No. 1 and 2 — Daniil Medvedev and Alexander Zverev — not participating in the All England Club major event this year, World No. 3 Djokovic is the top seed with Nadal seeded second.
"If we get to face each other, that means that we're both in the finals, which I think we both want. I'd love to face him in the finals and get revenge for Paris," defending champion Djokovic said on Sky Sports.
At the beginning of the year, Nadal, Djokovic and Roger Federer were tied with 20 Grand Slam titles each. However, by winning the opening two major events of the calendar year, Nadal has now gone ahead in the race. The Spanish ace player has already won four ATP titles this year. Apart from the Australian Open and French Open, Nadal has triumphed at Mexican Open and Melbourne Summer Set.
Nadal and Djokovic have faced each other a record 59 times over the years, with Djokovic winning 30 times and Nadal 29. At Grand Slams, the duo has faced off 18 times, with Nadal winning 11 of those games.
Djokovic also heaped praise on his arch-rival Nadal for everything he has achieved before adding that the former World No. 1 is one of the favorites to win Wimbledon this year.
"Of course, you have to put him as one of the favorites even though he hasn't played in Wimbledon for I think last three years. But still, you know, he is Nadal, he has achieved what he has achieved throughout his career. And also this year, which gives you a lot of confidence you know, in his case," Djokovic added.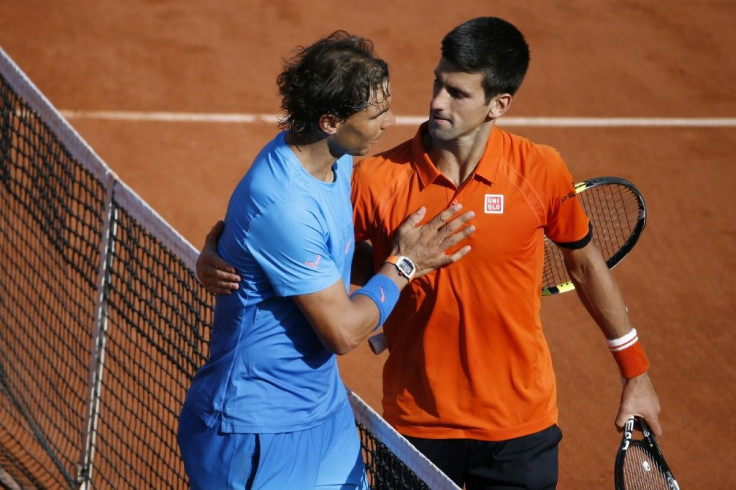 Djokovic's opening game at Wimbledon, which is scheduled for Monday, is against South Korea's Kwon Soon-woo. Nadal is scheduled to begin his campaign Tuesday when he goes against World No. 42 Francisco Cerundolo of Argentina.
Earlier, two-time Grand Slam winner Stan Wawrinka also backed Nadal to win the grass-court tournament.
"I don't know how he is feeling, it looks like normal Rafa. He has been saying he is feeling better and if he is playing he is ready to play his best and to win," Wawrinka said after losing to Nadal in a recent exhibition game.
© Copyright IBTimes 2023. All rights reserved.