Doc Rivers Won't Replace Luke Walton, Agrees Clippers Extension
Doc Rivers has pulled himself out of the running for the Los Angeles Lakers job next season by insisting that he sees himself with the Clippers in the long-term. Luke Walton, the current Lakers head coach, is expected to be shown the door after the conclusion of the 2018-19 campaign.
The Lakers have endured yet another disappointing campaign under Walton and are almost certain to miss out on a place in the playoffs for the sixth consecutive campaign. They are currently 9.5 games behind the Clippers, who occupy the final playoff spot in the Western Conference and their 115-109 win over the Indiana Pacers on Tuesday night will widen the gap.
LeBron James' arrival last summer was expected to change their fortunes and until December it looked almost certain that they will make the post-season. The Lakers were fourth in the West until an injury to the three-time NBA champion saw him miss 17 straight games.
Walton's team went 6-12 in his absence and dropped to 10th place and they have been unable to recover since his return. James has toppled multiple records this campaign but has not been able to ensure the team performs consistently with their record standing at 1-9 in their last 10 games.
The Lakers are certain to strengthen their lineup in the summer with cap space available to bring in one big free agent, but there is likely to be a coaching overhaul with Walton ushered out of the door. Rivers has done a commendable job with the Clippers and is set to take his team into the post-season as they are 6.5 games ahead of 9th placed Sacramento Kings.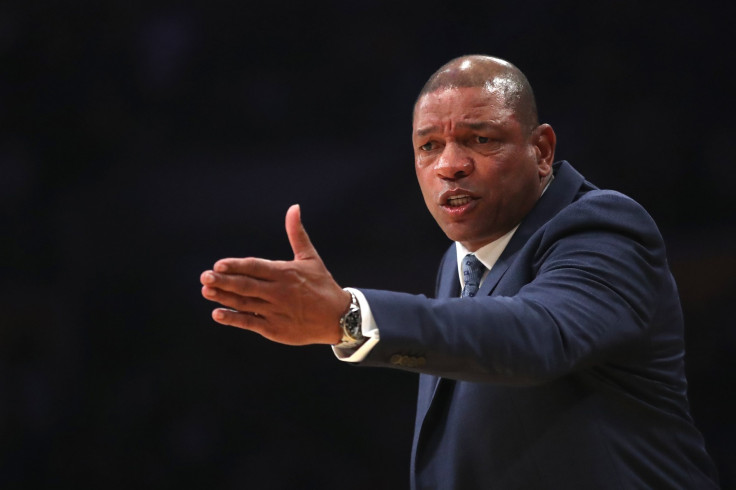 The former Boston Celtics head coach is highly regarded in the NBA and his close relationship with Lakers president of basketball operations Magic Johnson has seen speculation amount about a switch to NBA's second most successful team. But Rivers nipped the rumors in the bud by making it clear that he will not leave the Clippers unless asked to do so by owner Steve Ballmer.
"I'm going nowhere," Rivers said ahead of the Clippers game against the Pacers on Tuesday, as quoted by the Los Angeles Times. "I can tell you that straight and up front. I'm going to be here until Steve says 'Get out.' I plan on being here a long time."
Rivers also revealed that there is an agreement to extend his deal between him and the owner after the mutually agreed to take out the opt-out clause that was inserted when he signed his deal in 2018. The Lakers will have to look elsewhere when the time comes to replace Walton.
"Magic Johnson and I are very close friends, as you know. And that's what we are. We're good friends. I have great respect for him. But the whole history of everything is Steve Ballmer and I have a great relationship," Rivers said, as quoted on the OC Register. "And you know, this summer, we decided to extend my contract and he did something – he gave me an out, where I could opt-out this summer if I wanted to. We wanted to test each other, make sure that this was the right fit. We thought everything would work right, but we wanted to make sure. As my dad said, 'Trust everybody but cut the cards,' you know?
"And then early this year, we both decided, let's end this thing, take this out, and extend and make it a longer deal. We've long decided on that, we just have chosen not to say anything about it," the Clippers coach explained putting an end to speculation about any possibility of joining the Lakers this summer.
© Copyright IBTimes 2023. All rights reserved.
FOLLOW MORE IBT NEWS ON THE BELOW CHANNELS