NBA Rumors: Paul George Says Fans Misread His Plans Last Free Agency
Paul George could have been a vital cog of the Los Angeles Lakers had he decided to sign up in the NBA offseason. But as most probably know by now, the 28-year-old opted to sign with the Oklahoma City Thunder and the decision seems to be paying off.
As of this writing, the Thunder are at 6th place in the NBA Western Conference and bound to make the playoffs. Had George joined the Los Angeles Lakers, he could have been sulking alongside LeBron James and the rest of the team who are now struggling at the 11th spot. And from the looks of it, the purple and gold are out of the postseason picture.
Of course, the case would have been different had PG13 been around to help James. His presence would have addressed the lack of offense the Lakers have right now – something that could have improved their chances of at least making the playoffs.
Hence, this may be the reason why George continues to be questioned on his decision to choose the Thunder over the Lakers. This was despite the fact he had initially said that he wanted to go to LA. That led many Lakers fans to speculate that he would be signing on the dotted line – something that never even came close to happening, SB Nation reported.
"I think people just got caught up in the situation a little too much. But it's my life. It's my livelihood. It's my job, and I've got that right," said George.
Of course, Lakers fans would get peeved at that response. Add to the fact that LA fans felt burned by initially believing he was interested to head to Lakerland and yet failed to grant the purple and gold a chance during free agency, the Silver Screen and Roll reported.
But there are several things to ask as well. Did the Lakers really keep tabs on George and his status with the Thunder? Also, what are the chances Oklahoma City already jumped the gun on LA?
Playing with the Thunder last NBA season is another factor to consider. The setup may have allowed the 6-foot-9 forward to get comfy – hence the reason why he opted to stay in OKC.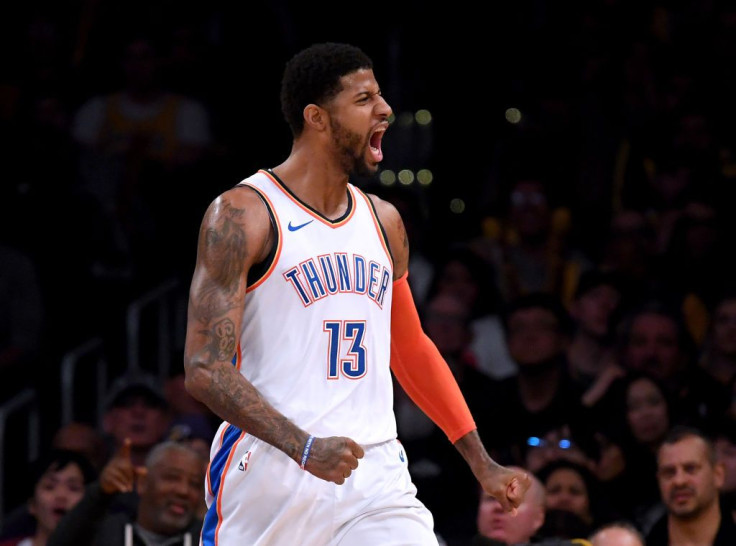 That decision rewarded him with a four-year contract worth $137 million. Given that James also signed a whopping $153.3 million deal, equalling or giving something more than the offer of the Thunder may be too much for the Lakers to handle.
© Copyright IBTimes 2023. All rights reserved.