Dodgers Ace Trevor Bauer Dismisses Report Of MLB Investigating His Baseballs
As part of its attempt to crack down on pitchers using foreign substances, MLB is investigating whether one of its top performers has broken the rules.
Some of the baseballs used by Trevor Bauer in his start Wednesday were sent to the league for inspection, according to The Athletic's Ken Rosenthal, though the Los Angeles Dodgers' star is pushing back on the notion that he might've cheated.
The baseballs collected by the umpires had visible markings and were sticky, Rosenthal reports. The report noted that it wasn't clear if Bauer was responsible for adding anything to the balls to create a trickier spin.
Bauer dismissed the report on Twitter, saying that baseballs in every other game this season have been collected. The 30-year-old has previously been outspoken against MLB pitchers using sticky substances to improve the spin rates of their pitches.
MLB sent a memo to every team shortly before Opening Day about pitchers doctoring baseballs. Collecting baseballs from Bauer's start might've simply been done because of the league's new emphasis on the rule and not in regard to any particular suspicion of Bauer.
Bauer surrendered three hits, one walk and two runs while striking out 10 Oakland Athletics batters in 6.2 innings Wednesday. The right-hander has 20 strikeouts in his first two starts with the Dodgers after becoming the highest-paid pitcher in baseball history this past offseason.
With help from the highest spin rate of any four-season fastball in MLB, Bauer won the 2020 NL Cy Young award. Bauer led the league with a 1.73 ERA and a 0.795 WHIP in the shortened 60-game season.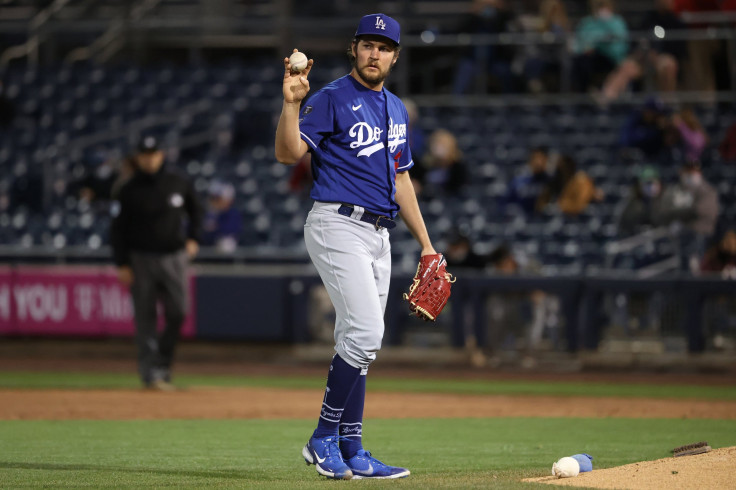 © Copyright IBTimes 2023. All rights reserved.