Domestic Violence Can Be Basis For Asylum, U.S. Court Rules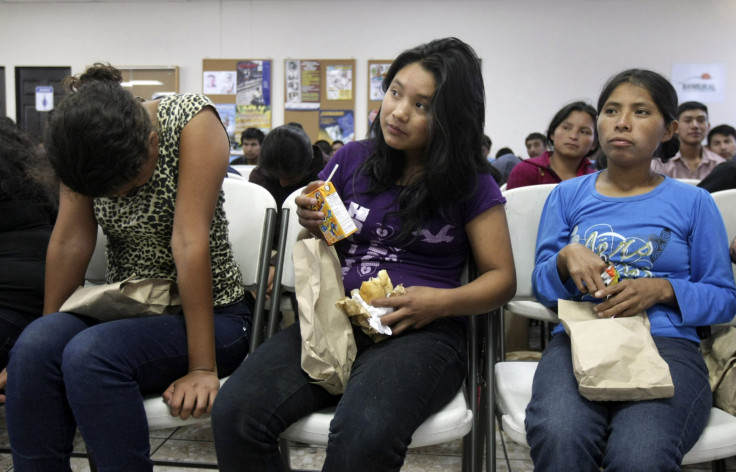 The United States' highest immigration court issued a landmark ruling Tuesday that recognizes domestic violence as a basis for granting asylum claims, capping off a 20-year campaign by immigrants' rights advocates to secure this legal recognition. The ruling could be a game-changer for asylum-seeking survivors of domestic abuse, including hundreds of Central American women who have crossed into the U.S. this year and are now facing deportation hearings.
The fight to recognize domestic violence as grounds for asylum came into the national spotlight in 1999, when the Board of Immigration Appeals (BIA) -- the highest U.S. administrative body for interpreting immigration laws -- rejected an asylum claim by Rody Alvarado, a Guatemalan woman who had undergone physical abuse and sexual violence by her husband.
Alvarado's case attracted widespread attention as it bounced through several immigration courts over the next decade. In 2009, the Obama administration agreed to grant her asylum. But while the government's decision was a long-awaited victory for Alvarado and her supporters, it still left a gaping hole in terms of concrete legal precedent. Immigration advocates say that judges in the post-Alvarado era still issued inconsistent rulings for domestic violence victims seeking asylum.
The BIA's ruling this week offers that missing piece. In reviewing the case of another Guatemalan woman, known in court documents as "C-G-," who similarly fled to the U.S. after her husband repeatedly beat and raped her, the BIA said that women fleeing domestic violence in countries where authorities have failed to protect them could constitute a valid social group eligible for asylum.
Asylum is notoriously difficult to obtain: A person must prove that he or she has been persecuted on the basis of race, national origin, religion, political views or membership in a particular social group. What constitutes a "particular social group" has been the thorny question that lawyers and courts have struggled to tackle over the years.
While "C-G-"'s asylum case is still in limbo -- the BIA ordered the immigration court that first reviewed her case to reexamine it to see if her situation met all the other requirements for asylum -- immigrants' rights advocates say the ruling could have far-reaching implications.
"This case was specifically looking at the context of machismo and patriarchy in Guatemala, but this could extend to countries all over the world," said Blaine Bookey, a staff attorney with the Center for Gender and Refugee Studies, which previously represented Alvarado. "This decision breaks down one of the main hurdles that have been so complicated for attorneys. We hope for it to have a pretty big impact."
One group that could feel the ruling's impact very soon is the hundreds of Central American women who have crossed into the United States with their children over the past year. Sexual violence against women and girls is a large aspect of the life-threatening conditions plaguing the home countries of Central American migrants who have entered the U.S. over the past several years.
While most of these recently arrived immigrants are still awaiting deportation hearings -- a waiting period that can take months or years, due to staggering backlogs -- the Obama administration has taken some measures to fast-track some cases. Many hearings are being expedited at the immigrant family detention center in Artesia, New Mexico, from where at least 280 women and children have already been deported since late June.
The BIA's ruling could potentially change the game for women at Artesia facing imminent deportation. But many immigration advocates have criticized conditions at the detention facility, saying families had severely restricted access to lawyers and legal counsel. The complaints sparked a lawsuit last week by a coalition of civil rights groups who said the government violated immigrants' rights to due process in Artesia.
Still, immigrants' rights advocates say the BIA's move finally establishes long-lasting, binding legal guidance that can help protect many other asylum-seekers fleeing abuse.
"In a lot of cases, a government has failed to protect women -- these are the types of people that are really deserving of refugee protection," Bookey said. "We're very pleased that the Board recognized this principle and applied it fairly."
FOLLOW MORE IBT NEWS ON THE BELOW CHANNELS