Donald Sterling Suffering From Alzheimer's For Last 3 Years, Neurologist Testifies In Court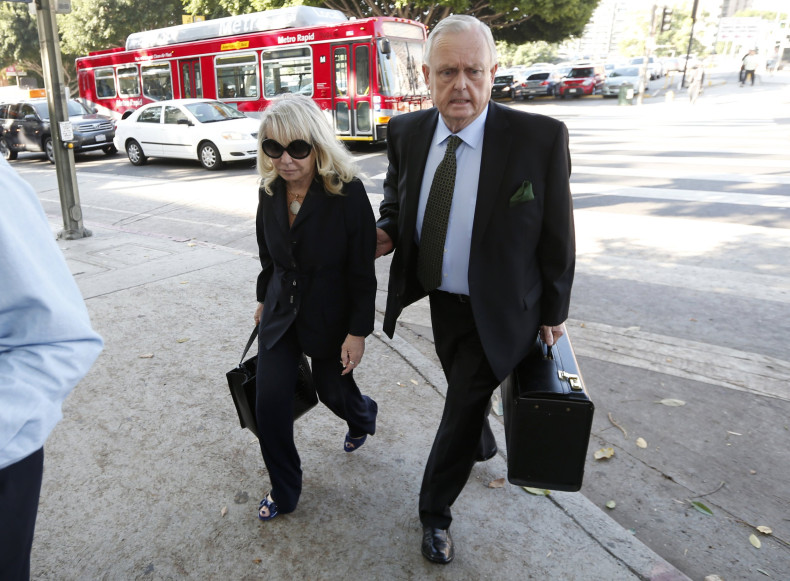 Donald Sterling, co-owner of the Los Angeles Clippers who caused a firestorm in the NBA for making racist remarks and is engaged in a legal battle with his wife, the Sterling Family Trust and the NBA, has been suffering from Alzheimer's for three years, a neurologist said on the first day of the trial.
Meril Sue Platzer, a neurologist who testified on behalf of Shelly Sterling, told the court Monday that she had reached the conclusion about Donald Sterling's condition after running all the necessary tests, including a Computerized Tomography and a Positron Emission Tomography. She also said that Shelly, from whom Donald has been separated for about a year, was shocked to hear the news.
When Platzer told Donald of his condition, he said, "I'm hungry. I want to eat," Agence France-Presse, or AFP, reported, citing Platzer's testimony. She reportedly added that Shelly "was taken aback, shocked. She felt bad for her husband," when she heard the news.
Although Donald was not present in court to testify, his lawyer reportedly said that he will be present Tuesday, AFP reported. Donald and his lawyers had also asked for the case to be moved to a federal court, but their request was denied by the court.
"The NBA wants to get rid of my client," Gary Ruttenberg, Donald's attorney, said in court, according to the Associated Press, adding: "They were colluding with Mrs. Sterling and her counsel to do this."
The case follows Donald's expulsion from the NBA in April with a fine of nearly $2.5 million, after leaked telephone conversations between him and his girlfriend revealed racist comments made by him.
The case's outcome will decide whether Shelly has the right to access the family trust to sell off the Clippers team to former Microsoft CEO Steve Ballmer in a transaction worth nearly $2 billion. Shelly had removed Donald from the Sterling Family Trust after doctors had initially said that he was mentally incapable of making a decision, and later filed a case because she needs a court order to sign off on the deal without Donald's approval.
Although last month's media reports had indicated that he was willing to sell the Clippers, later reports show that he subsequently changed his mind about the sale. Last week, Donald tried to stop the planned transaction stating that his privacy rights were violated when his medical records were leaked.
"This is just desperation from a man who will do anything to keep the sale from going through," Bert Fields, a prominent entertainment lawyer and one of Shelly's lawyers, said at the time, according to USA Today.
Donald has also sued the NBA for $1 billion in damages.