Donald Trump Blasts George W Bush, Jeb For Former President For Being Paid $100K To Speak To Veterans In 2012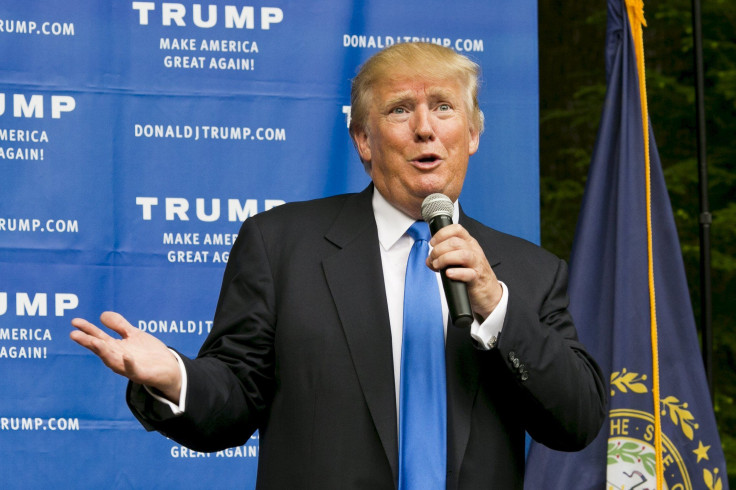 The war of words between two leading Republican presidential candidates continued Thursday with an early-morning tweet questioning a former president's fees for delivering a speech to a group of wounded war veterans. Donald Trump echoed the chorus of disapproval directed at George W. Bush for having "insisted" in 2012 on being paid $100,000 to speak plus $20,000 for a private jet to get to a Houston charity's function, according to multiple reports.
In what could be construed as a jab at Jeb Bush, Trump tweeted that it was "Not nice!" for Jeb's brother, George W., to demand the speaking fee to address wounded war veterans.
Some war veterans also expressed their dismay that George W. Bush wouldn't waive or at least reduce his asking fee for public speaking considering his audience. "It is kind of a slap in the face," said Marine veteran Eddie Wright, whose hands were blown off during an attack in 2004 in Iraq, according to ABC News. "For him to be paid to raise money for veterans that were wounded in combat under his orders, I don't think that's right."
Other users on Twitter sounded off over the perceived irony that George W. Bush would declare a war under what was later determined to be false pretenses, send Americans to Iraq and then charge such a high fee to speak to those who were wounded there.
The chairman of the charity, Helping a Hero, defended Bush's fee and said the organization got a bargain price for the former president's words. "It was great because he reduced his normal fee of $250,000 down to $100,000," said Meredith Iler. In comparison, representatives for former Presidents Bill Clinton and Jimmy Carter -- who each command hefty fees for speeches -- said neither were ever paid for speaking to groups of veterans, NBC News reported.
Jeb Bush on Wednesday took a shot at Trump's anti-Mexican immigrant stance after Trump tweeted that Bush "has to like mexican illegals" because Bush's wife is Mexican. "You can love the Mexican culture, you can love your Mexican-American wife and also believe that we need to control the border," Bush said at a campaign event in New Hampshire.
Trump has come under fire for saying during his presidential campaign announcement that Mexican immigrants were responsible for a number of offenses in the U.S., including "bringing drugs, and bringing crime, and they're rapists." Despite his comments, Trump has surged in polling, including most recently his lead in North Carolina among all Republican presidential candidates.
© Copyright IBTimes 2023. All rights reserved.