Dow Futures Drops 300 Points As US-China Trade War Intensifies
Wall Street is poised to take another painful beating Monday -- making August one of the worst months since the Great Recession -- after president Donald Trump again escalated the trade war against China he ignited over a year ago.
Trump also said he might declare a national emergency while at the G-7 summit in France. Analysts said Trump's actions and future threats taken together will do nothing but savage already battered world markets even as the tumultuous month of August draws to a close.
On Sunday evening, Dow Jones Industrial Average futures traded 290 points lower, foretelling a drop of 236 points at Monday's open. The S&P 500 and the NASDAQ 100 futures both pointed to drops of around 0.8% on Monday.
Presaging the impending rout are stock futures, which plummeted sharply Sunday night after Trump on Saturday retaliated to China's new tariffs by raising levies on $250 billion worth of Chinese goods to 30% from 25%. Trump also boosted tariffs on another $300 billion in Chinese products to 15% from 10%, he said.
This means all the items exempted from the previous 10% tariff Trump announced Aug. 10, which includes Apple iPhones, will be hit by the harsher and higher tariffs.
The plunge illustrated investors' worries Trump has no solution to his trade war other than by raising the tariffs again and again in a foredoomed effort to "win" his trade war. Trump escalated his trade war against China just ahead of the meeting of G7 leaders in Bizzarritz, France in the weekend.
"The problem facing stocks isn't restrictive monetary policy but instead Trump's destructive trade policy," said Adam Crisafulli, executive director at J.P. Morgan in a note to investors.
"Rates are already very low and low yields coupled with inverted curves are becoming counterproductive for stocks – as a result, central banks are doing about all they can right now."
A large number of American firms are increasingly anxious about their ability to operate and make profits in light of Trump's tariffs and the unrelenting uncertainties caused by the trade war. Companies are both bemused and incredulous that Trump ordered American firms to leave China and come back home after announcing his 30% tariffs.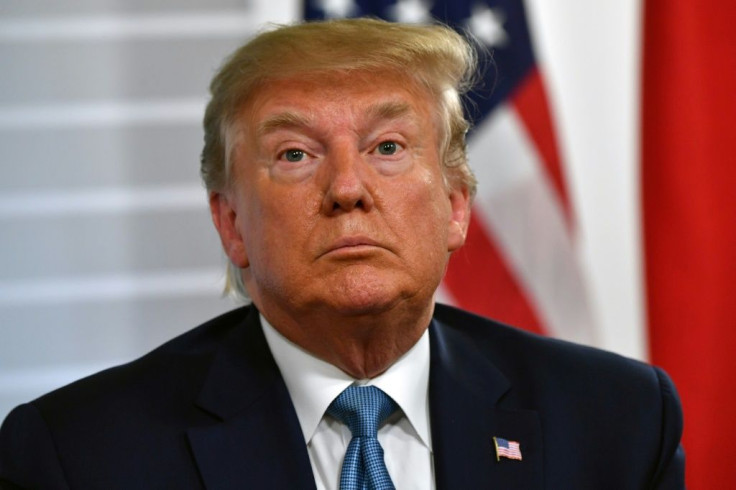 "The idea that companies will just come back to the U.S. is unrealistic," said Bethany Aronhalt, a spokesperson for the National Retail Federation, a retail industry lobby group, according to BuzzFeed News.
"Retailers and other importers could not easily or quickly switch to domestic sources, because they do not exist on the scale that would be needed. Even if there were to be an eventual switch to US sourcing, it would take years to build up a base to support it."
Trump's ramping up his trade war against China isn't doing any one any good.
"It's impossible for businesses to plan for the future in this type of environment," according to David French, the National Retail Federation's senior vice president of Government Relations.
"The administration's approach clearly isn't working, and the answer isn't more taxes on American businesses and consumers. Where does this end?"
© Copyright IBTimes 2023. All rights reserved.