Dow Futures Plunge 1,067 Following Trump Address On US Coronavirus, Europe Travel Ban
KEY POINTS
President Donald Trump announced new measures to help U.S. from the effects of COVID-19
Trump said measures "will be targeted for workers who are ill, quarantined or caring for others due to coronavirus"
He again brought up his proposal for a payroll tax holiday already opposed by both Republican and Senate Democrats
Undeterred by the rejection of Senate Republicans on Tuesday, president Donald Trump again went to bat for his cherished payroll tax cut as among a package of proposals -- including a ban on European Union travel to the U.S. -- he put forward Wednesday to combat the COVID-19 epidemic.
Immediately after Trump's announcement of the EU travel ban, Dow futures plummeted 1,067 points, indicating a loss of about 1,027 points at Thursday's open. S&P 500 and NASDAQ 100 futures were also considerably lower. Speculation of a 2,000 point loss for the Dow Thursday continues to mount.
Trump prefaced his announcement of this package with a surprising attack on Europe, which he chided for allegedly not taking the same actions he did to control COVID-19. "As a result" of Europe's inaction, "a large number of clusters" of coronavirus "were seeded by travelers from Europe," said Trump in this unwarranted criticism of a close U.S. ally.
This harsh scolding made Trump' subsequent announcement suspending travel from Europe to the U.S. for next 30 days appear as some sort of punishment. Exacerbating perceptions his criticism was intentionally leveled at the European Union is Trump's announcement only the United Kingdom -- whose prime minister Boris Johnson Trump counts as an ally -- is exempt from the travel ban. Trump's relations with the EU's top leaders, chancellor Angela Merkel of Germany and president Emmanuel Macron of France, have remained frosty for years. The EU is expected to retaliate for Trump's excessive travel ban.
"We will be suspending all travel from Europe to the United States for the next 30 days. The new rules will go into effect Friday at midnight. These restrictions will be adjusted subject to conditions on the ground," said Trump.
Trump said he decided on the travel ban in order to "keep new cases from entering our shores." He also said there will be certain exemptions made for certain Americans "who have undergone appropriate screenings."
"These prohibitions will not only apply to the tremendous amount of trade and cargo, but various other things as we get approval. Anything coming from Europe to the United States is what we are discussing," said Trump.
The Department of Homeland Security (DHS) later identified the banned countries as those comprising the Schengen Area: Austria, Belgium, Czech Republic, Denmark, Estonia, Finland, France, Germany, Greece, Hungary, Iceland, Italy, Latvia, Liechtenstein, Lithuania, Luxembourg, Malta, Netherlands, Norway, Poland, Portugal, Slovakia, Slovenia, Spain, Sweden, and Switzerland.
DHS said the ban doesn't apply to legal permanent residents, immediate family members of U.S. citizens, and other individuals identified in the proclamation.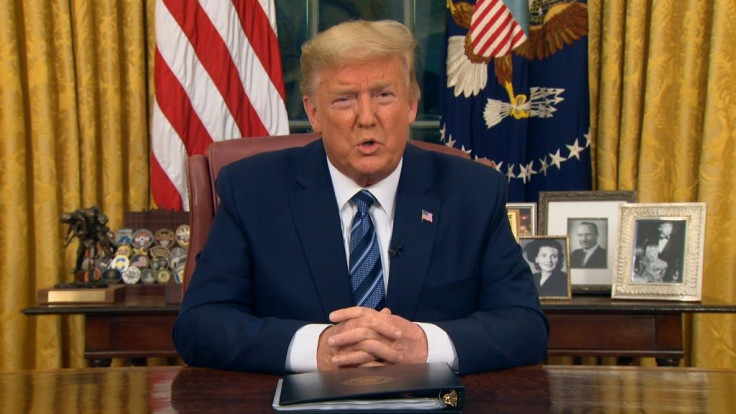 Trump again resurrected his payroll tax proposal in the same announcement Wednesday night but without going into specifics. Already given the cold shoulder by Senate Republicans, the payroll tax is roundly opposed by Senate and House Democrats.
House Majority Leader Steny Hoyer, D-MD, blasted Trump's payroll tax holiday a "non-starter." In place of the tax cut, Senate Democrats unveiled more than a dozen "critical measures" and "people-focused initiatives" like federal funding for local communities and emergency unemployment insurance.
Earlier, Sen. Mike Braun, R-IN, said "It's probably something I wouldn't do," referring to the payroll tax cut.
On Wednesday, the conservative newspaper, The Washington Examiner, slammed Trump's payroll tax cut proposal as a reelection stunt. It wrote Trump's $40 billion per month temporary payroll tax cut "is a blunt, crude tool ill-suited as a public policy response for this situation. Trump just wants to juice up the stock market before Election Day, rather than pursue serious policymaking that can actually help the root cause of the economic disruption: the spread of the COVID-19 virus."
In his announcement from the Oval Office, Trump revealed a series of economic relief measures for Americans impacted by COVID-19. He said he'd ask Congress for legislative action to provide payroll tax relief.
"To ensure that working Americans who are impacted by the virus can say home without fear of financial hardship, I will soon be taking emergency action, which is unprecedented, to provide financial relief," he said. "This will be targeted for workers who are ill, quarantined or caring for others due to coronavirus. I will be asking Congress to take legislative action to extend this relief."
Trump also said the COVID-19 crisis "is a just a temporary moment of time that we will overcome as a nation and as a world."
© Copyright IBTimes 2023. All rights reserved.