Trump Skips US Coronavirus Briefing, Then Blasts Democrats On Twitter
KEY POINTS
Trump tells reporters to expect "major" and "dramatic" news about his plan to mitigate the economic pain from the COVID-19 outbreak
Senate Republicans refuse to support his call for a payroll tax cut and bailouts
Following this defeat, Trump takes to Twitter to bash Democrats
President Donald Trump took to Twitter Tuesday to campaign for his re-election and blast Democrats after a meeting with Senate Republicans over his proposed temporary payroll tax cut and his bailouts to industries reeling from the COVID-19 outbreak turned sour.
Trump promised media he'd be back to talk to them Tuesday afternoon after discussing the U.S. coronavirus situation with them Monday.
"We'll be coming back from the Senate, and we have a lot of very important meetings set up," said Trump Monday. "And we'll have a press conference sometime after that, and we'll explain what we're doing on an economic standpoint and from an economic standpoint. I will be here tomorrow afternoon to let you know about some of the economic steps we're taking, which will be 'major' and 'dramatic'."
Trump didn't return Tuesday and there was no "major" and "dramatic" economic announcement after Senate Republicans turned lukewarm to his idea to offer a tax cut and spend billions of taxpayer dollars to rescue the distressed cruise ship and airline industry, among others.
Sources in the Senate quoted by media affirmed there was no consensus reached during Trump's lunch with Senate Republicans where he and his economic advisers talked about his payroll tax cut and bailout proposals. The fact a multitude of other options to tide the economy through the economic crisis being triggered by COVID-19 were discussed but no plan was agreed upon reflects the deep depth of GOP opposition to Trump's proposals.
GOP senators were especially aghast at Trump's proposal for a permanent payroll tax cut and the reasons advanced for it, which is to put more money into people's pockets. Some senators wonder what use the extra cash would be when people aren't leaving their homes to spend money in malls, restaurants and movies out of fear of infection by the coronavirus. They also question how effective it would be during the outbreak since federal and state governments are encouraging people to stay home.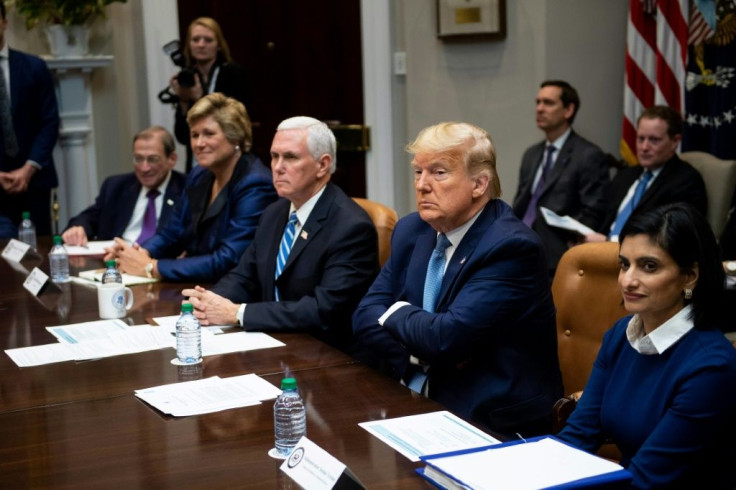 Trump and his advisers also raised the idea of paid family sick leave and targeted relief -- or bailouts -- for industries like hotels, airlines and cruises hardest hit by the outbreak. He refused to talk about his failed ideas but said, "You'll be hearing about it soon."
Instead of announcing "major" and "dramatic" news to the mainstream media Tuesday afternoon, Trump took to Twitter to push his re-election and bash Democrats. As Vice President Tuesday's briefing on the coronavirus, Trump was tweeting about unemployment while also attacking Demorats.
His first of two tweets Tuesday afternoon reads: "Best unemployment numbers in the history of our Country. Best employment number EVER, almost 160 million people working right now. Vote Republican, unless you want to see these numbers obliterated!"
He later followed that up with: "If you like automobiles, how can you vote for a Democrat who all want to get rid of cars, as quickly as possible, especially if they are powered by gasoline. Remember also, no more than one car per family. I, on the other hand, have new plants being built all over Michigan, Plus!"
© Copyright IBTimes 2023. All rights reserved.
FOLLOW MORE IBT NEWS ON THE BELOW CHANNELS