Dow Jones Industrial Average Closes Flat After ECB Turns Up The Heat On Greece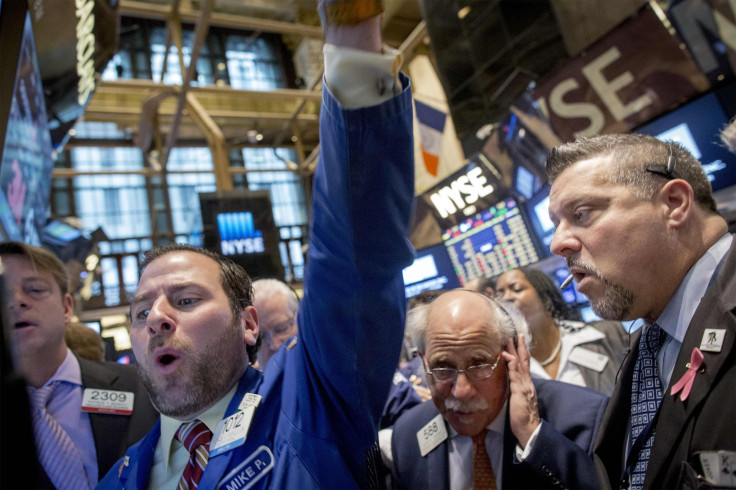 U.S. stocks closed lower Wednesday, with the blue-chip Dow swinging between negative and positive territory in the last hour of trading, after the European Central Bank said it is blocking banks from using Greek debt as collateral, increasing investors' concerns about the global economy. Meanwhile, crude-oil prices closed lower, snapping a four-day rally, after U.S. oil inventories surged to an 80-year high.
The Dow Jones Industrial Average, which measures the share prices of 30 large industrial companies, gained 6.62 points, or 0.04 percent, to close at 17,673.02; the S&P 500 stock index lost 8.52 points, or 0.42 percent, to end at 2,041.51; and the Nasdaq Composite shed 11.03 points, or 0.23 percent, to finish at 4,716.70.
All three major indexes fluctuated in the last hour of trading after the ECB announced it is lifting its waiver on using Greek government debt as collateral, beginning Feb. 11. "The governing council decision is based on the fact that it is currently not possible to assume a successful conclusion of the program review and is in line with existing Eurosystem rules," the ECB said in a statement Wednesday.
Stocks wavered in early trading Wednesday after U.S. crude-oil inventories, which is the amount of crude currently stored for future use, surged to the highest seasonal level in at least 80 years. Oil inventories rose by 6.3 million barrels from the previous week, the Energy Information Administration said.
After the report, crude prices traded in negative territory, erasing gains made during the previous session when U.S. oil rallied above $53 a barrel, its highest close of 2015. The futures contract for U.S. benchmark West Texas Intermediate crude fell 8.70 percent Wednesday, to $48.45 a barrel, for March 15 delivery at the New York Mercantile Exchange. Meanwhile, Brent crude, the benchmark for global oil prices, lost 5.63 percent Wednesday, to $54.67 a barrel, for March 15 delivery at the London ICE Futures Exchange.
On the economic calendar Thursday, investors will turn their attention to weekly jobless claims data after a report last week revealed U.S. jobless claims dropped to their lowest level in nearly 15 years. Initial claims for state unemployment benefits fell 43,000 to a seasonally adjusted 265,000 for the week ended Jan. 24, which was the lowest since April 2000, the Labor Department said Jan. 29.
Economists expect initial claims for unemployment benefits to rise 25,000 to 290,000 for the week ended Jan. 31, according to analysts polled by Thomson Reuters.
© Copyright IBTimes 2023. All rights reserved.