Dow Jones Industrial Average Dips As Wall Street Eyes FOMC Minutes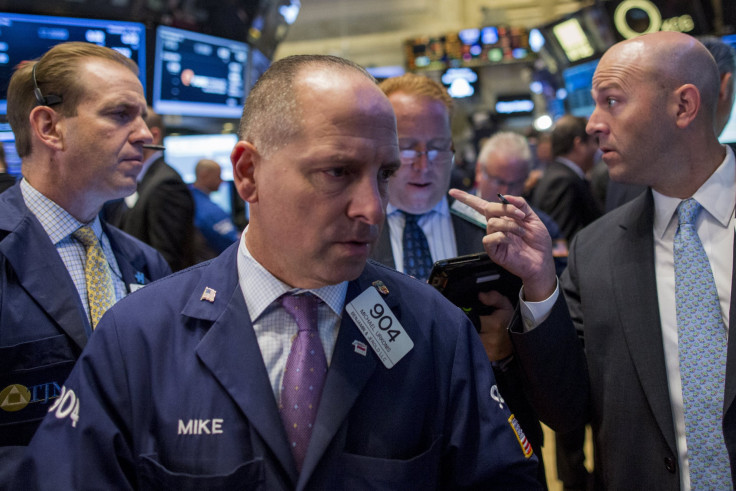 This story was updated at 4 p.m. EDT
U.S. stocks closed higher Thursday as investors digested the Federal Reserve's latest meeting minutes, which showed the Fed's policy-making committee was concerned by signs of a global economic slowdown. Fed officials delayed an interest rate increase in September because of growing risks to the central bank's economic growth outlook, driven mainly from China, minutes from the Federal Open Market Committee showed.
U.S. stocks initially traded lower in morning trading leading up to the minutes.
The minutes point to a 25 basis points rate hike at the FOMC's December meeting from its current near-zero level, said Stuart Hoffman, chief economist for PNC Financial Group. "That assumes that job growth picks backs up again, with solid wage gains. But if job growth remains below 150,000 in October and November, and inflation does not pick up, the FOMC is likely to hold off an any rate hike until March of 2016, or perhaps even June," Hoffman said in a research note Thursday.
All of the 10 sectors in the Standard & Poor's 500 index traded closed, led by declines in energy and utility stocks. The utility sector likely rose Thursday as it looks to benefit from a delayed rate hike.
Caterpillar Inc. (NYSE:CAT) led the blue-chip Dow higher, adding 2.5 percent, while Apple Inc. (NASDAQ:AAPL) was the biggest laggard, shedding about 1 percent of its value.
The Dow Jones Industrial Average (INDEXDJX:.DJI) leaped roughly 140 points, or nearly 1 percent, to 17,051. The Standard & Poor's 500 index (INDEXSP:.INX) added 18 points, or 0.8 percent, to 2,013. The Nasdaq composite (INDEXNASDAQ:.IXIC) gained 19 points, or 0.4 percent, to 4,809.
Continued inflation below the FOMC's 2 percent target, and the potential for further deflationary pressures, led the FOMC to hold off on a rate hike. The central bank was also concerned about slower global growth and the stronger dollar.
"Participants anticipated that recent global developments would likely put further downward pressure on inflation in the near term; compared with their previous forecasts, more now saw the risks to inflation as titled to the downside," the minutes said.
However, what participants did not appear particularly concerned about was the downturn in U.S. stock prices in the month prior to the meeting.
"Participants indicated that they did not see the changes in asset prices during the intermeeting period as bearing significantly on their policy choice except insofar as they affected the outlook for achieving the Committee's macroeconomic objectives and the risks associated with that outlook. Many of them saw the likely effects of recent developments on the path of economic activity and inflation as small or transitory."
Economists are split on whether the Fed will announce raising rates this year. The disappointing September employment report, coupled with recent stock market turmoil set off by concerns over China's cooling economy, could mean the Fed will hold off on raising the cost of borrowing for the first time in nearly a decade.
In September, U.S. Federal Reserve left interest rates unchanged last month but left the door open to a hike as soon as October. Nearly half (47 percent) of experts predict the central bank will raise rates in December, according to Bankrate.com.
Oil prices edged higher a day after closing lower after a rise in crude inventories offset forecasts for falling production. West Texas Intermediate crude, the benchmark for U.S. oil prices, rose 3 percent to $49.42 per barrel for November delivery on the New York Mercantile Exchange. On the London ICE Futures Exchange, Brent crude, the global benchmark for oil prices, added 3.2 percent to $52.97.
Alcoa Inc. (NYSE:AA), the world's third-largest producer of aluminum, will kick off third-quarter earnings season Thursday when it announces its latest quarterly results after the closing bell. Corporate earnings are forecast to fall by 4.1 percent, according to analysts polled by Thomson Reuters.
© Copyright IBTimes 2023. All rights reserved.