Dow Jones Industrial Average Leaps 70 Points; Twitter Inc (TWTR) Stock Price Plunges 18% After Earnings Leak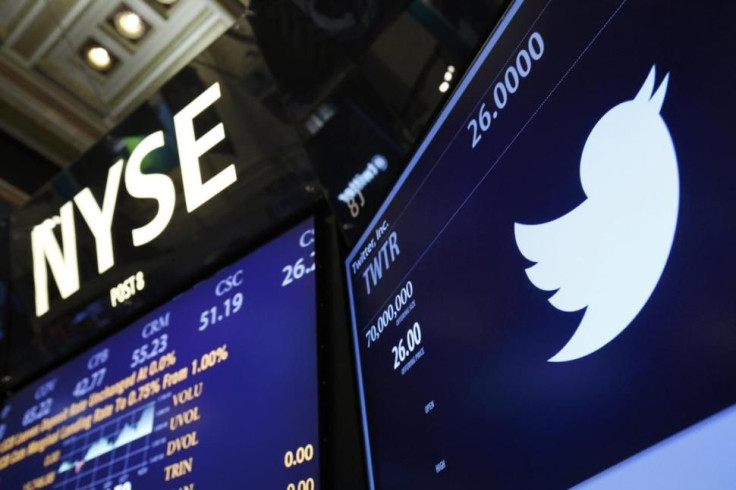 U.S. stocks closed mostly higher Tuesday, with the Dow Jones Industrial Average rebounding after briefly tumbling more than 100 points in morning trading, as investors look ahead to a statement from the Federal Reserve on Wednesday. Meanwhile, shares of Twitter Inc. (NYSE:TWTR) plunged 18 percent Tuesday after the social media company's quarterly earnings were leaked early.
The Dow Jones Industrial Average (INDEXDJX:.DJI) climbed 70.17 points, or 0.40 percent, to close at 18,110.14. The Standard & Poor's 500 (INDEXNASDAQ:.IXIC) added 5.84 points, or 0.28 percent, to end at 2,114.76. The Nasdaq composite (INDEXSP:.INX) dipped 4.82 points, or 0.10 percent, to finish at 5,055.42.
Twitter shares began tumbling more than 18 percent less than an hour before the closing bell after the company's first-quarter earnings report was posted early and shared by financial intelligence service Selerity. The service posted four tweets with what it said were first-quarter earnings, revenue and user figures, followed by another tweet that said the release was sourced from Twitter's Investor Relations website. Then Twitter issued a press release nearly a half hour later confirming Selerity's figures.
Although Twitter's quarterly profit beat estimates, revenue and mobile monthly active users both missed forecasts. The company also cut its outlook for 2015. Shares of Twitter tumbled 18 percent to close at $42.27, but the stock edged up more than 1 percent in after-hours trading. Twitter's stock has gained 16 percent this year, and has added nearly 4 percent in the last 12 months.
Meanwhile, shares of social networking company Facebook Inc. (NASDAQ:FB) and professional networking site LinkedIn Corp. (NYSE:LNKD) closed lower Tuesday, dropping 1.5 percent and 1.3 percent, respectively. LinkedIn will post quarterly results after the closing bell Thursday.
The Federal Reserve kicked off its two-day policy meeting Tuesday, and will release a statement from the Federal Open Market Committee on Wednesday at 2 p.m. EDT. Market professionals will look for clues to the timing of the Fed's rate hike, which most economists anticipate will happen in late spring or early fall.
The Commerce Department will release the U.S. first-quarter gross domestic product Wednesday at 8:30 a.m. EDT. U.S. GDP, the broadest measure of goods and services produced across the economy, was revised lower last month to an annualized 2.2 percent in the fourth quarter of last year, the Commerce Department said last month.
Economists forecast U.S. economic growth to expand at a 1 percent seasonally adjusted annual rate last quarter compared with a 2.2 percent the last three months of 2014, according to analysts polled by Thomson Reuters.
© Copyright IBTimes 2023. All rights reserved.