Dow Jones Industrial Average Lower As Investors Anticipate US Fed Rate Hike, Watch Oil Prices Drop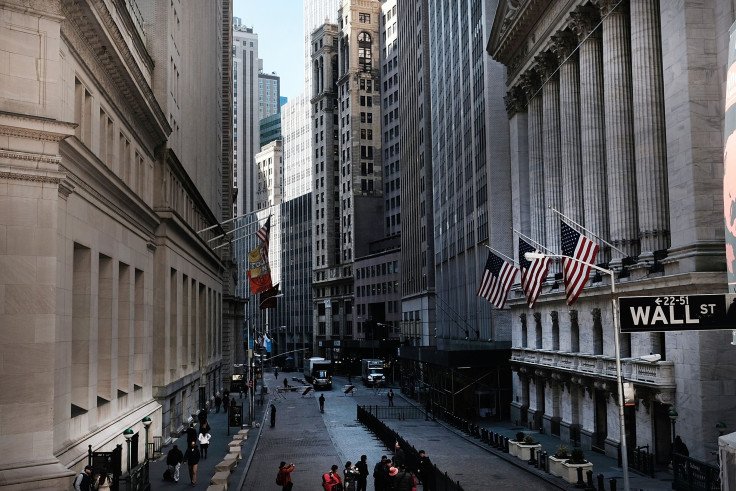 This story was updated at 4:40 p.m. EDT.
U.S. stocks closed relatively flat on the last day of a shortened and light Easter trading week. Investors digested comments Thursday from St. Louis Fed President James Bullard that the next U.S. interest rate hike "may not be far off."
Traders also watched oil prices drop and reacted to a closely watched monthly measure of U.S. manufacturing activity that showed a lower-than-expected decline last month. A stronger dollar also weighed on sentiment. Private-sector data released later in the morning showed lower-than-expected growth in the U.S. services sector in March after contraction a month earlier.
"Commodities denominated in the greenback are falling, taking oil and basic resource sectors of the stock market down with them," Jasper Lawler, market analyst at U.K.-based CMC Markets, wrote in a note on Thursday.
The Dow Jones Industrial Average (INDEXDJX:.DJI) closed up 13 points Thursday, or 0.1 percent, to 17,515. The broader Standard & Poor's 500 index (INDEXSP:.INX) dropped 0.8 points, or 0.04 percent, to 2,036. The Nasdaq composite (INDEXNASDAQ:.IXIC) gained 5 points, or 0.1 percent, to 4,774.
Six out of the 10 S&P 500 sectors closed up Thursday led by telecommunications stocks in the green. Heavy machine manufacturer Caterpillar Inc. (NYSE:CAT) led Dow advances while Nike Inc. (NYSE:NKE) led declines.
Bullard's comments about a possible rate hike, possibly as early as next month, weighed on stocks because higher borrowing costs adversely impact corporate earnings by making investment more expensive. But the current rate of between 0.25 and 0.5 percent is well below the historical average and what is considered a sign of a vibrant U.S. economy.
U.S. oil prices fell below $40 Thursday amid their biggest drop since January a day after the U.S. government's Energy Information Administration (EIA) said crude stockpiles increased by 9.4 million barrels last week. That measure was way above the 3.1 million barrels forecast by a Reuters poll. Oil prices narrowed losses later in the day after weekly private sector data showed the number of active U.S. oil rigs fell by 15 percent.
U.S. West Texas Intermediate fell 0.45 percent to $39.61 after topping $40 last week for the first time since early December. Brent crude, the other major global oil-price benchmark, settled flat to $40.47.
Monthly U.S. Commerce Department data released Thursday morning said new orders for durable U.S.-manufactured goods (items made to last at least three years) fell 2.8 percent in February compared with the same month last year. Economists polled by Thomson Reuters had expected a 2.9 percent drop. Orders that exclude defense-related goods, including aircraft, decreased 1.8 percent in February.
This so-called core capital goods metric is a closely watched proxy for business spending plans. Economists had expected a 0.1 percent decline for the core reading in February. The larger-than-expected drop in the core reading adds to concern over a decline in U.S. manufacturing activity, which accounts for 12 percent of the U.S. economy. A strong U.S. dollar, weak global demand and cuts in energy sector spending have adversely impacted the sector.
Weekly U.S. Department of Labor data on jobless claims showed fewer-than-expected Americans sought unemployment benefits in the week ending March 19. Initial claims increased by 6,000 to a seasonally adjusted 265,000, lower than an economist's forecast of 268,000. The government revised data going back to 2011, showing claims have been trending lower than previously reported. Claims for the week ending March 5 were the lowest in 43 years.
The benchmark U.S. 10-year Treasury rose to 1.91 percent Thursday from Wednesday's settlement of 1.88 percent. The bond yield has settled below 2 percent since Jan. 28. The yield typically rises when investors are more confident about the markets and falls when concerns flare and demand for U.S. debt increases.
Gold, another so-called safe harbor investment, fell early Thursday to its lowest level since Feb. 27 early Thursday, falling 0.56 percent to $1,217.20. Gold prices tend to rise as confidence in the markets falls.
European shares were headed lower on the last day of a short Easter trading week over concerns about a rise in interest rates in the U.S. and falling crude prices that weighed on shares linked to energy and other basic resources.
The broad pan-European Stoxx Europe 600 closed down 1.35 percent Thursday. The Paris-based CAC 40 dropped 2.13 percent while London's FTSE lost 1.49 percent. Frankfurt's DAX fell 1.71 percent.
Asian stocks closed lower Thursday following losses in U.S. stocks overnight and concerns over the U.S. Fed rate hike and lower oil prices.
China's broad CSI 300 Index of the mainland's largest companies closed down 1.68 percent. Hong Kong's Hang Seng shed 1.63 percent. Australia's S&P/ASX 200 lost 1.13 percent and South Korea's main Kospi Index shed 0.46 percent.
© Copyright IBTimes 2023. All rights reserved.