Dow Jones Industrial Average Rallies 117 Points, Turns Positive for 2015 As Fed Rate-Hike Fears Ease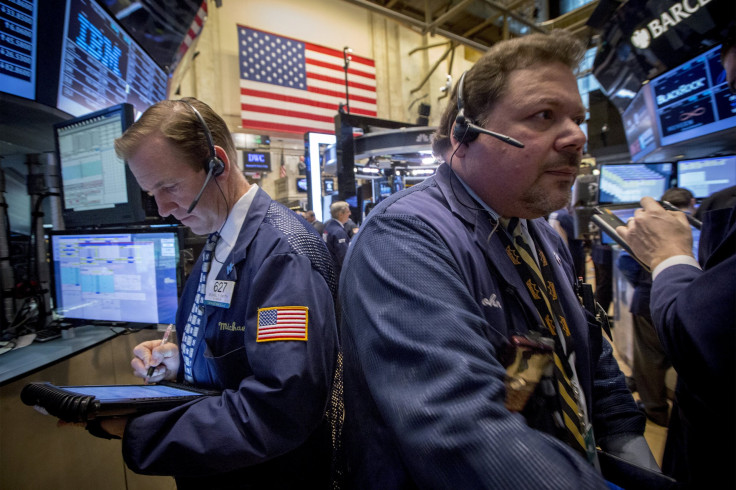 U.S. stocks closed higher Monday, with the Dow Jones Industrial Average leaping more than 100 points after a surprisingly weak March jobs report eased fears of a Federal Reserve rate hike coming as soon as June. The rally Monday helped boost the Dow positive for the year, driven by gains in the energy sector after crude oil prices rallied more than 6 percent.
The Dow Jones Industrial Average (INDEXDJX:.DJI) leaped 117.61 points, or 0.66 percent, to close at 17,880.85. The Standard & Poor's 500 (INDEXNASDAQ:.IXIC) added 13.66 points, or 0.66 percent, to end at 2,080.62. The Nasdaq composite (INDEXSP:.INX) rose 30.38 points, or 0.62 percent, to finish at 4,917.32.
For the year, the Dow is now up 60 points, or 0.34 percent. The S&P 500 index has added 22 points, or 1.06 percent, while the Nasdaq composite has gained 182 points, or 3.83 percent.
The U.S. Bureau of Labor Statistics will release its monthly Job Openings and Labor Turnover Survey (JOLTS) for February on Tuesday at 10 a.m. EDT, which helps measure job vacancies. Meanwhile, the Federal Reserve will post its consumer credit report for February on Tuesday at 3 p.m. EDT, which estimates changes in the dollar amounts of outstanding loans, which are mainly used to purchase consumer goods.
Energy stocks led the S&P 500 higher after the sector gained around 2 percent, boosted by a surge in crude oil prices. Shares of Halliburton Company gained more than 4 percent to close at $45.88, and ConocoPhillips jumped 3.5 percent to end at $65.39.
Dow component Microsoft Corporation was among the biggest leaders in the blue-chip index Monday, gaining more than 3 percent to close at $41.54. Energy stocks Chevron Corporation and Exxon Mobil Corporation gained 1.5 percent to $106.92 and added 0.98 percent to $85.13, respectively.
Crude oil leaped more than 6 percent Monday, its largest one-day gain since Feb. 3, after Saudi Arabia raised crude prices to Asia for the second month. West Texas Intermediate crude, the benchmark for U.S. oil prices, jumped 6.11 percent to $52.14 a barrel, for May 15 delivery, on the New York Mercantile Exchange. Brent crude, the benchmark for global oil prices, gained more than 5 percent to $57.80 a barrel, for May 15 delivery, on the London ICE Futures Exchange.
Meanwhile, the U.S. dollar rebounded from early losses and gained more than 0.6 percent to $97.20 against major world currencies.
U.S. stocks began Monday with a roller-coaster trading session as the Dow tumbled more than 100 points, only to rebound after investors digested Friday's weak jobs report. The report signaled the Fed may wait until after June before raising interest rates.
The psychology behind Monday's volatility was chalked up to the financial markets trading unpredictably in a mixed economic environment ahead of the central bank's pending rate hike. "The market is a fickle girlfriend," Keith Bliss, senior vice president and director of sales and marketing at Cuttone & Co. Inc., said in a research note Monday. "Fickle in what and how she focuses her attention upon to either rally us up, or send us spiraling down."
© Copyright IBTimes 2023. All rights reserved.