Dow Jones Industrial Average Resumes Drop Following Brief Rebound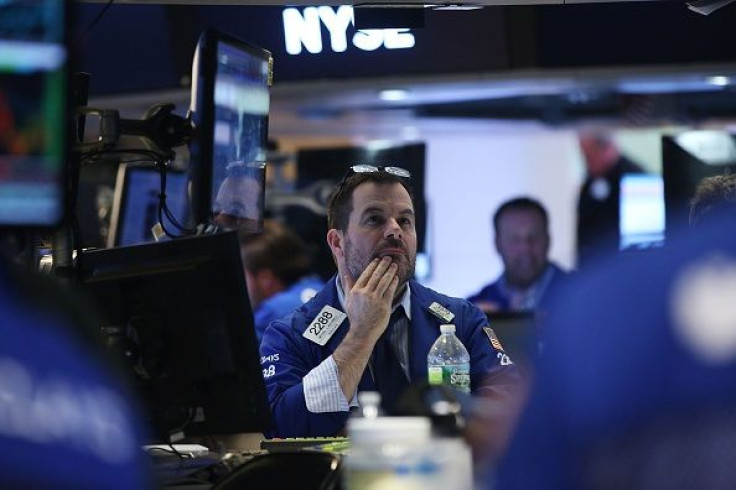 This story was updated at 4:14 p.m. EST.
It was a wild day in U.S. markets on Wednesday as traders tried to seek balance in one of the worst starts to a year on record as concerns mount over the health of the global economy. After dropping more than 560 points, the Dow Jones Industrial Average recovered more than 300 points in afternoon trading Wednesday. U.S. oil prices, however, ended the day at their lowest level since May 7, 2003.
"The market started out up on Tuesday and collapsed as the day went on. Now the opposite seems to be happening today — an effort to climb back toward positive territory," Stuart Hoffman, chief economist at PNC Financial Services, said. "It's a reminder of how skittish and overly emotional the market is right now. Everyone went from the left side of the boat to the right side, and that's no way to steer a ship."
The Dow Jones Industrial Average (INDEXDJX:.DJI ) was down 249.21 points, or 1.56 percent, by the closing bell Wednesday. The broader Standard & Poor's 500 index (INDEXSP:.INX ) lost 21.99 points, or 1.17 percent. The Nasdaq composite (INDEXNASDAQ:.IXIC) edged down 5.69 points, or 0.13 percent, after rising into positive territory Wednesday. The S&P closed at its lowest level since February 2014.
Oil prices continued their drop after a brief respite for U.S. crude Tuesday. U.S. West Texas Intermediate crude oil plummeted 6.71 percent to $26.55 per barrel for February delivery on the New York Mercantile Exchange. This closing price is lower than it's been since May 7, 2003, when the price settled at $26.23. Brent crude, the global benchmark, shed 1.91 percent to $28.33 for March delivery on the London ICE Futures Exchange. Brent was trading at its lowest level since November 2003.
Investors were fleeing to safe-haven investments in gold, U.S. bonds and the Japanese yen as markets were on their way to their worst monthly performance on record amid a historic rout in global commodities.
"I am quite pessimistic about the equity markets for the next two to three months," said Andreas Clenow, hedge fund trader and principal at ACIES Asset Management, according to Reuters. "I do not see a 2008-style scenario, but I do see a bear market coming."
So too does MSCI Inc., which deemed global equities to be close to entering a bear market — generally understood as a decline of 20 percentage points. Since Nov. 3, 2015, when the S&P 500 closed at 2109.79, that index has dropped some 13 percent.
All 10 S&P 500 sectors were in the red Wednesday afternoon, with the biggest losses in energy, industrials and consumer staples. Consumer discretionary and materials stocks rebounded slightly from steeper losses earlier in the day.
All 30 Dow components were down, led by Chevron Corp. (NYSE:CVX), IBM Corp and (NYSE:IBM), Exxon Mobil Corp. (NYSE:XOM) and Cisco Systems Inc. (NASDAQ:CSCO). Four Dow components were eking out gains by mid-afternoon trading: UnitedHealth Group Inc. (NYSE:UNH), Nike Inc. (NYSE:NKE), American Express Co. (NYSE:AXP) and Microsoft Corp. (NASDAQ:MSFT).
Safe-haven investments were high on traders' agendas.
The U.S. dollar lost 0.57 percent against the Japanese yen, which typically strengthens when there's concern about stocks. A stronger yen adversely impacts Japanese exports and hurts corporate earnings.
The yield on the benchmark U.S. 10-year Treasury yield dipped to 1.98 percent, its lowest level since October. The bond yield typically drops over concerns about equities as investor demand for U.S. safe-harbor debt rises. Gold, another so-called safe-harbor investment, gained 1.14 percent to $1,101.50 per ounce. Gold prices tend to fall when stocks rise.
U.S. Inflation, Housing Starts Dip
Meanwhile, U.S. inflation dipped 0.1 percent as low oil and gasoline costs contributed to lower prices for many consumer goods. Unseasonably warm winter weather attributed to a strong El Niño also drove down demand for goods like winter clothing and other seasonal gear. The U.S. Fed wants annual inflationary growth to touch 2 percent, considered a sign of healthy economic growth. Inflation grew by 0.7 percent in the 12 months through December, the U.S. Labor Department said Wednesday.
The Fed is concerned that raising rates could help tip the economy into a deflation, and December's data will help build a case for delaying further borrowing-cost increases after the Fed raised rates in December for the first time in nearly a decade
"The renewed turmoil in financial markets and the increasing probability of a sharp slowdown in fourth-quarter [U.S.] GDP growth had already dented expectations of a second rate hike from the Fed in March," Paul Ashworth, chief U.S. economist for Capital Economics, said in note Wednesday. "December's CPI figures will probably lower those expectations even further."
In other U.S. economic news, permits for new-home construction dipped 2.5 percent in December, the Commerce Department said Wednesday, further indicating a cooling U.S. economy. Groundbreaking on new homes dropped to a seasonally adjusted 1.15 million units, but November's preliminary figure was adjusted upward from 1.8 million units. Housing starts averaged 1.11 million units in 2015, up from 1.00 million in 2014.
Global Markets
Major stock markets and indexes were down Wednesday.
China's broad CSI 300 Index lost 1.51 percent. China's mainland Shanghai Composite Index lost 1.03 percent. The Shenzhen Composite was down 1.01 percent, Hong Kong's Hang Seng plunged 3.82 percent, and Japan's Nikkei 225 dropped 3.71 percent.
European shares closed deeply in the red Wednesday, with the broad Stoxx 600 index losing 3.54 percent. The Paris-based CAC 40 was down 3.53 percent, while London's FTSE lost 3.14 percent and Frankfurt's DAX lost 2.7 percent.
Market Movers
Netflix Inc. (NASDAQ:NFLX) shares dropped after an after-the-bell rally Tuesday. The Silicon Valley internet television reported more subscribers than previously expected.
Microchip Technology Inc. (NASDAQ:MCHP) shares rallied after it won a takeover bid for rival chip maker Atmel Corp. (NASDAQ:ATML).
Metlife Inc. (NYSE:MET) shares dropped after the insurer announced a joint venture in real estate with the New York State Common Retirement Fund. Last week the largest U.S. insurer said it planned to spin off a large portion of its retail business.
Advanced Micro Devices (NASDAQ: AMD) shares plunged after the company said demand for its graphics cards would help push a 14 percent drop in revenue for the current quarter. The company also cited China's economic slowdown as a factor.
IBM (NYSE: IBM) shares dropped steeply after the technology giant said earnings would be weaker than expected in 2016.
© Copyright IBTimes 2023. All rights reserved.