Dow Jones Industrial Average Sinks 100 Points After Chinese Stocks Tumble 8.5% In Shanghai Index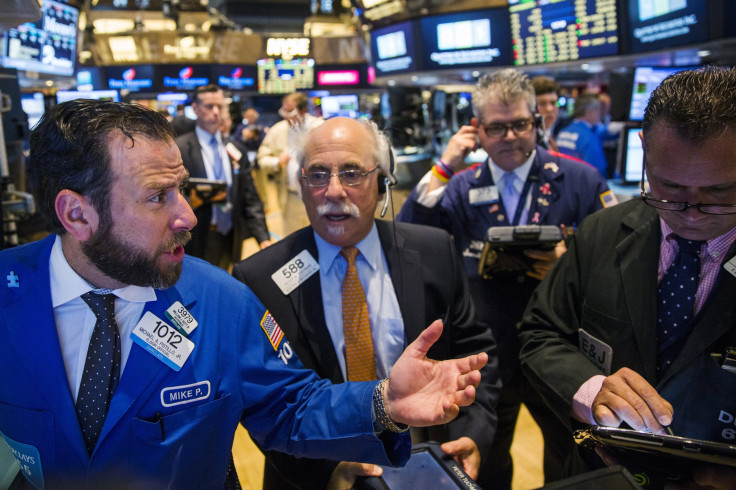 U.S. stocks were under pressure in midday trading Monday after China's benchmark stock market tumbled 8.5 percent, suffering its biggest one-day loss since 2007. Eight of the 10 S&P 500 sectors traded lower, led by declines in financials.
The Dow Jones Industrial Average (INDEXDJX:.DJI) dropped 117.28 points, or 0.67 percent, to 17,451.25. The Standard & Poor's 500 index (INDEXSP:.INX) dipped 8.94 points, or 0.43 percent, to 2,070.65. And the Nasdaq composite (INDEXNASDAQ:.IXIC) lost 39.11 points, or 0.77 percent, to 5,049.19.
Investors continue to grapple with concerns about the extreme volatility roiling China's stock markets, adding to fears the world's second largest economy is slowing. Asian markets have dealt with frequent bouts of extreme volatility in the past month, with the Shanghai Stock Exchange Composite index tumbling more than 30 percent from its peak in mid-June.
The panic in Chinese mainland markets rippled across the globe, knocking down Hong Kong's Hang Seng index dropped by 3 percent, while Japan's Nikkei 225 dropped 1 percent, both indexes hitting a 2-week low. The losses also hit European stocks, sending Germany's DAX and France's CAC down 2 percent.
All three benchmark U.S. indexes traded lower amid a lackluster second-quarter earnings season. Investors have been spooked this month, with almost one-half of all China-listed companies now having instituted share-trading suspensions in an attempt to insulate themselves from the meltdown.
"What you've had in the last three weeks is blatant market manipulation and a desperate attempt to forestall a collapsing market," said Phil Davis, founder of PSW Investments.
Despite the temporary nervousness around the world, Keith Bliss, senior vice president and director of sales and marketing at Cuttone & Co. said the Chinese stock market's gyrations aren't likely to have a lasting spillover effect on other global financial markets.
The price of Chinese stocks gained more than 100 percent in the last six months, and Davis says there was no way that was going to be sustained. "It was a result of them changing regulations, pumping money into the market and allowing new accounts to be opened. People piled into the market and drove it even high, which is usually the end game for a bubble," Davis said.
China's stock market plunged from $10 trillion to $6 trillion, losing some $4 trillion in the last month. "At the end of the third quarter, there'll be companies that can't hide the losses," Davis said.
Shanghai Composite Index (Closing) | FindTheData
Economists are looking ahead to the Federal Reserve's two-day policy meeting Tuesday and Wednesday, with a statement from the central bank Wednesday afternoon.
Even before China's stock market began to tumble this month, the U.S. Federal Reserve was questioning its stance on an interest rate increase planned for sometime later in 2015, minutes from the Federal Open Market Committee meeting on June 16 and 17 showed.
However, most experts anticipate the Federal Reserve will remain on course to lift interest rates for the first time in nearly a decade so long as the labor market continue to expand and financial conditions don't tighten in the U.S. stock market.
© Copyright IBTimes 2023. All rights reserved.
FOLLOW MORE IBT NEWS ON THE BELOW CHANNELS