Dow Jones Industrial Average Surges After China Launches $22B In Stimulus To Boost Growth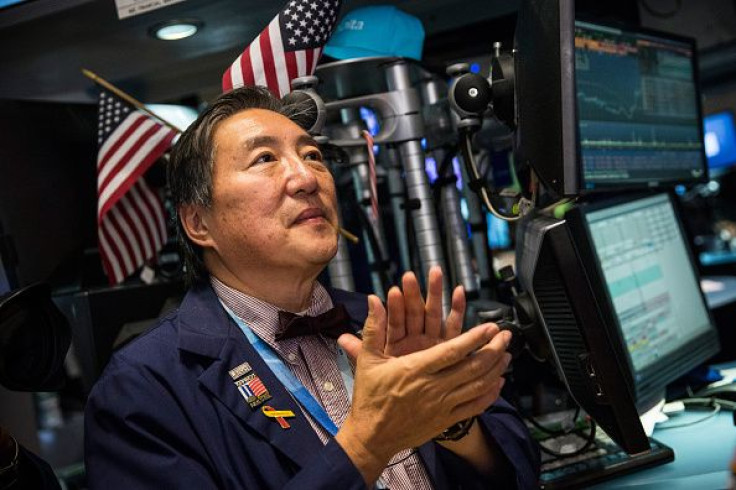 This story was updated at 5:50 p.m. EDT.
U.S. stocks skyrocketed Wednesday, with the Dow Jones Industrial Average surging 4 percent to its third-biggest one-day point gain in history. The 619-point rally came after China unveiled fresh stimulus measures in a bid to shore up growth in the world's second-largest economy. The Chinese central bank's move came a day after U.S. stocks gave up 3 percent gains in the last half-hour of trading, their biggest negative reversal since the height of the financial crisis in October 2008.
"A lot of damage occured in the last five trading days, so it's normal to see the market rally during downtrends and rally in a very fierce fashion," said Adam Sarhan, founder and chief executive officer of Sarhan Capital.
The gains Wednesday helped U.S. stocks snap a six-day losing streak. All three major indexes jumped roughly 4 percent, marking their best day since 2011, which helped the Standard & Poor's 500 pull out of correction territory.
"It was a welcome sight to see us rally higher in the last hour," said U.S. trader Mark Otto of J. Streicher, who works on the floor of the New York Stock Exchange. "The oversold conditions had traders anticipating a rally was on the horizon. However, after the pattern of sell-offs into the close that we've witnessed over the past few days, most traders were skeptical it would hold."
The Dow Jones Industrial Average (INDEXDJX:.DJI) gained 619 points, or 4 percent, to close at 16,285.97. The S&P 500 index (INDEXSP:.INX) rose 73 points, or 4 percent, to end at 1,941. And the Nasdaq composite (INDEXNASDAQ:.IXIC) gained 191 points, or 4.2 percent, to finish at 4,698.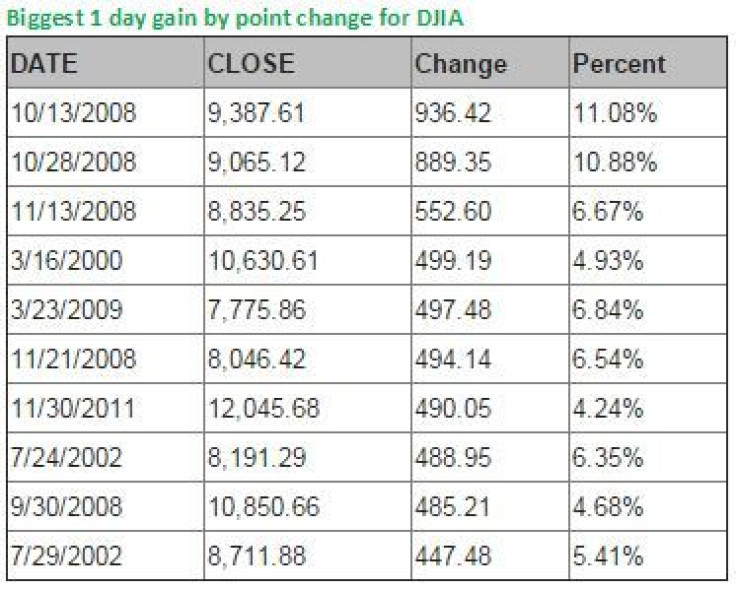 After giving up slight gains in morning trading, stocks continued to grind higher after a top U.S. central bank official said a September interest rate hike appears "less compelling," said William Dudley, president of the New York Federal Reserve.
"From my perspective, at this moment, the decision to begin the normalization process at the September FOMC meeting seems less compelling to me than it was a few weeks ago," Dudley said in a question-and-answer session with the media following a speech at the New York Federal Reserve.
The blue-chip Dow's gain of 619 points was its third biggest one-day point gain ever, behind Oct. 13, 2008, and Oct. 28, 2008, when the index gained 936 points and 889 points, respectively. Wednesday's place in history is a dubious honor. The top two record-setting single-day point gains occurred in the midst of a global financial crisis that coincided with the Great Recession.
All 10 sectors in the S&P 500 traded higher, led by a 5 percent gain in technology stocks. The healthcare, consumer discretionary and financial sectors rallied roughly 4 percent.
Dow component Merck & Co. Inc. (NYSE:MRK) led the Dow higher on Wednesday, adding more than 6 percent. The index also got a boost after iPhone maker Apple Inc. (NASDAQ:AAPL), credit card issuer Visa Inc. (NYSE:V) and Microsoft Corporation (NASDAQ:MSFT) all gained more than 5 percent.
The New York Stock Exchange invoked Rule 48 for the third day in a row Wednesday to pre-empt panic selling, Dow Jones reported.
Dow Jones Industrial Average ($DJI) Stock Price - Trailing Year | FindTheBest
The Dow made a failed attempt Tuesday to rally from the index's worst three-day point decline in history. The S&P 500 had lost a total of $900 billion in the Monday and Tuesday trading sessions and nearly $2 trillion in market capitalization in the last week-and-a-half.
"We're all a little more skeptical of the markets than we were way back on Sunday night," Stephen Guilfoyle, managing director NYSE Floor Operations at Deep Value Inc., said in a note Wednesday.
The U.S. markets are being driven to some degree by China, but not by its stock markets, Guilfoyle said.
"Our markets are being driven largely by two factors, and one certainly is Chinese. Global demand is clearly a problem for U.S. international corporations. China has been the engine behind global demand, and the ability for China to continue to do so is a great uncertainty," Guilfoyle said.
The other factor is smaller cap, domestic corporations have been taking a hit as if they, too, had exposure overseas. "You might think that smaller caps with less international exposure would be safer places to hide. But the American public, also known as the American consumer, has just suffered a blow to his or her perceived level of wealth," Guilfoyle said.
Ahead of Wednesday's open, the Russell 2000 small-cap index, which is often considered to be less dependent on global growth, had lost nearly 6 percent since Friday.
When consumers have smaller balances in their trading accounts and retirement accounts, and when older people earn even less on their CDs [certificates of deposit], they end up spending less. "So for domestic corporations, future activity by consumers will likely have to be repriced as well," Guilfoyle said.
The Russell 2000 closed higher Wednesday, adding 28 points, or 2.5 percent.
After Asian markets closed Tuesday, the People's Bank of China announced it would inject 140 billion yuan ($22 billion) into the financial system in a new easing effort. The move came a day after the Chinese central bank cut its benchmark interest rates and lowered the reserve-requirement ratio for banks in the wake of recent stock-market turmoil in the country.
However, Tuesday's interest-rate cuts failed to revive the Chinese equity market, with the Shanghai Composite closing 1.3 percent lower to 2,927.29. Chinese equities have now extended their steepest five-day drop since 1996, losing half their value, or $5 trillion, since mid-June.
European stocks pared mild gains to close lower, as the pan-European Stoxx 600 closed 1.5 percent lower. Meanwhile, Germany's DAX and France's CAC rose 1.3 percent and 1.4 percent, respectively.
© Copyright IBTimes 2023. All rights reserved.
FOLLOW MORE IBT NEWS ON THE BELOW CHANNELS