Dow Jones Industrial Average Tumbles 150 Points As 'Grexit' Drama Escalates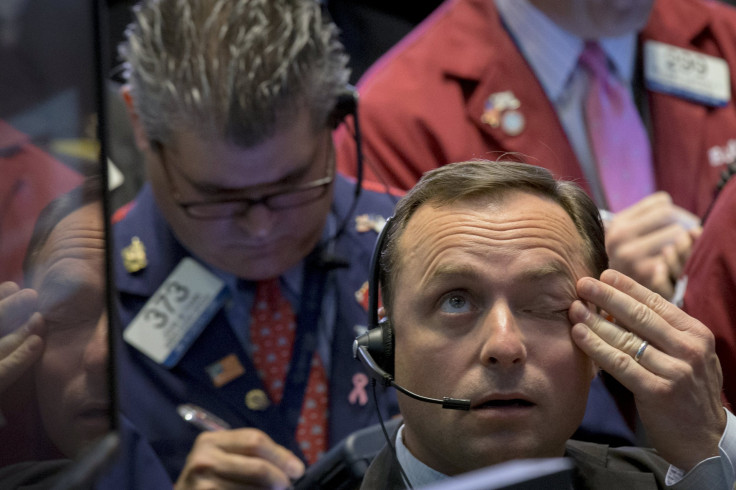 U.S. stocks traded sharply lower Monday, with the Dow Jones Industrial Average tumbling 150 points, after Greece failed over the weekend to secure additional funding for its bailout program. Global stock markets tumbled on fears that a "Grexit" would ensue--a situation in which Athens would default and leave the eurozone.
The Dow (INDEXDJX:.DJI) tumbled 150 points, or 0.74 percent, to 17,814.09. The Standard & Poor's 500 index (INDEXNASDAQ:.IXIC) lost 14.7 points, or 0.71 percent, to 2,086.49. The Nasdaq composite (INDEXSP:.INX) dropped 46.83 points, or 0.92 percent, to 5,037.38.
U.S. stocks followed their European and Asian counterparts Monday and tumbled after Greece announced bank closures and capital controls to prevent a run on the country's banks. Last-ditch negotiations between Greece and its European creditors broke down Saturday, prompting the European Central Bank to cap emergency funding to the country's banks at current levels.
Athens is headed for a bailout referendum on July 5, and European Commission President Jean-Claude Juncker warned a "no" vote in the referendum "will mean that Greece is saying no to Europe."
"You shouldn't commit suicide because you're afraid of death," Juncker said at a press conference in Brussels Monday. "You should say 'yes' regardless of what the question is."
A meeting over the weekend between Greece and its creditors, known as the "troika" (the European Commission, European Central Bank and International Monetary Fund) was one of the last opportunities for the country to reach a deal before it must repay 1.6 billion euros ($1.8 billion) to the International Monetary Fund on Tuesday.
The Athens Stock Exchange closed Monday and will not reopen until July 6.
The Greek government's decision to call a referendum has elevated the crisis to a higher level. While a deal may yet come together, a near-term "Grexit" now seems more likely than not, says Jonathan Loynes, chief European economist at Capital Economics.
Loynes anticipates a short-term deal will come together that will kick the can a bit further down the road for Greece's debt dilemma. "It is possible that such a deal yet emerges, driven by the Greek public's apparent desire to stay in the eurozone and the reluctance of officials to finally push the exit button. But the risks of a near-term 'Grexit' are clearly substantial and probably now above 50 percent," Loynes said in a research note Monday.
All 10 sectors in the S&P 500 traded lower Monday, led by declines in the financial sector. JPMorgan Chase & Co. (NYSE:JPM) was the biggest laggard in the blue-chip Dow, shedding nearly 2 percent.
European and Asian markets tumbled Monday, with the European STOXX 600 down more than 2 percent, while Spain's IBEX 35 index fell nearly 4 percent. The Shanghai Composite index dropped 3.3 percent, its lowest level since April 16.
The euro fell as low as $1.0953, touching a one-month low against the U.S. dollar.
© Copyright IBTimes 2023. All rights reserved.
FOLLOW MORE IBT NEWS ON THE BELOW CHANNELS